On Sunday, January 29, before I could wrap my own head around the details of the murders that took place at a Quebec City mosque, I had received a text from a friend expressing how she was afraid for me and her Muslim friends: that we were in her heart and prayers.
On Monday I expected more of the same -- an overflow of sentiments expressed by concerned colleagues and friends -- sentiments of sympathy and of assurance that the views of the killer are not theirs or of their country's. But none came. Not a single person mentioned or acknowledged, let alone asked how I might be feeling as a Muslim man the day after six males were gunned down while praying.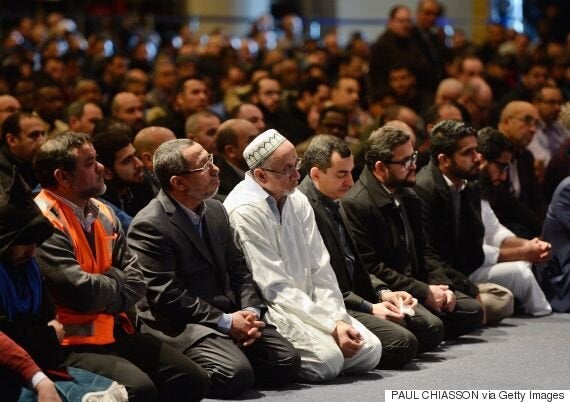 That Friday also happened to be the first time (in a long while) that I had a day off, so I went to Friday prayers. I was running slightly late when I ran into a familiar face outside the doors. Thinking he was also late and entering behind me, I quickly said my salam and went into the prayer hall. It wasn't until afterwards, when we had finished and the hall was emptying, that I saw him in the back corner praying by himself. That's when I realized. He wasn't late. He was keeping guard at the door while we were inside.
I looked around me as people hurried back to their cars. In them, I saw the faces of the victims. Fathers. Professionals. Community members. Sons.
As I sat around my apartment the weekend after Friday prayers I thought about how within a week most of the discussion and mention of the incident in popular media had subsided, and completely disappeared from conversations around work and my inner circle -- not that they were prevalent to begin with.
We don't know that you're thinking about us - we don't know that you care.
It's been a month since the massacre now and I realize how angry this makes me. How sad I feel.
I'm angry, but I know I can't let it consume me. There are demons the killer himself was facing, and hating him and his actions and the things he represents is not rising above but dropping down to the same level. After all, he himself is a victim of Quebec's political and social discourse, as it was elegantly said (more elegantly than I could ever put it), by Imam Hassan Guillet at the funeral service for three of the deceased.
I'm sad, and I know this is more difficult to overcome. Where is the continued outcry? Where are the vigils and marches? Where are the protesters demanding something concrete be done to make a whole segment of the population of this country feel safe? Where are the interviews and coverage of the family and friends affected by the murders? Where is the outrage against politicians who fuelled the flames of this hatred in Quebec over the years, and as recently as the last national election in the rest of Canada?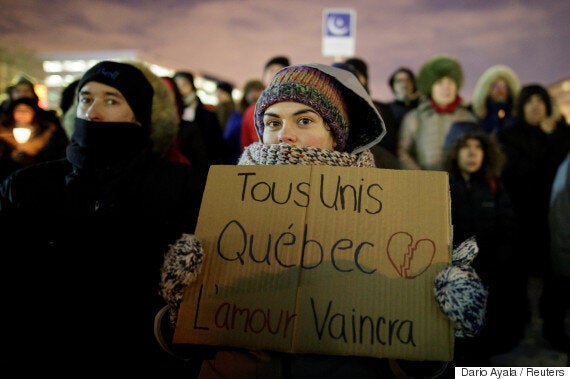 I'm saddened because I realized that they're all online, sharing articles, liking posts, sending tweets and showing sympathy with pictures and updates; and there is nothing wrong with this. I understand that we live in a digital world and it's how we organize and create change. I myself have participated in marches and protests, read articles and shared information that I otherwise would have no idea existed.
However uncomfortable you think you are feeling, it's not as bad as the sadness we feel from your real-life silence.
But I'm saddened about this, because I've realized that it's also created a situation in which we are unable to say anything to the actual people in our lives, in this case Muslims. I'm saddened because outside of the online bubble, no one is able to reach out and express sentiment, emotion, feeling or solidarity. If it's not through a like or a sharing of an article or a follow: we don't know how to express it. No one is saying hi to the person that just got on the bus with them or to the table next to them at the restaurant. Our sympathy, just as our joy, is limited to being expressed online. In real life, are we really connected to the people that are different from us?
I'm saddened because we (Muslims) are still not OK.
So, unless you're Facebook friends with all the Muslims in this country: we don't know that you're thinking about us -- we don't know that you care. Next time, speak to the girl wearing a hijab and sitting next to you in class. Talk to the Muslim guy at your work and tell him you are with him, regardless of how uncomfortable it might make you feel. Because however uncomfortable you think you are feeling, it's not as bad as the sadness we feel from your real-life silence.
Follow HuffPost Canada Blogs on Facebook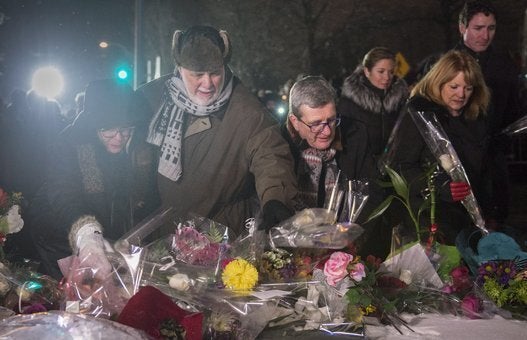 Vigil For Victims Of Quebec City Mosque Attack