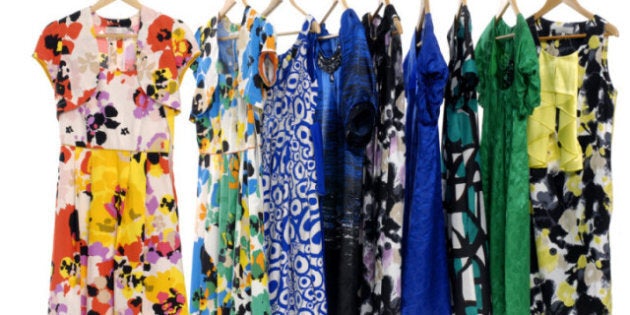 Whether or not you're a shopaholic, there's nothing like the rush that comes with discovering a truly fantastic pop-up store. Finding deliciously unique and exclusive items is a feature and the real novelty of a good pop-up store. Cool items for less, or exclusive perks you can only find for a short period of time, make checking out these temporary stores worthwhile. Over the years pop-up stores have been appearing with increasing frequency all over Canadian cities, especially during the fall and well into the holiday gift-giving season. Although there's more of them now, stores are still hard to come by, and the surprise of finding a pop-up is part of the fun.
It's okay if you're not into fashion. There's a pop-up store for everyone, whether you're looking for a vintage lamp, video game console, or dildos and ice cream (seriously... it's been done).
Stumbling upon a pop-up store is one way to find these limited-time-only shopping engagements, however if it's exclusive fashion you're looking for, a great way to discover a pop-up near you is to check out your local fashion blogs. Fashion bloggers get invitations to check out the stores, and then often post about them. A few great examples of blogs/websites to check out are I want - I got, fab Magazine, Eat. Live. Shop., Vitamin Daily and Sweet Spot. There's a ton of places to look online if you're into fashion blogs and have the time to look. Looking for something other than clothing? Check out your local city blogs or search blogs of the product genre you're looking for.
Marketers leverage pop-up stores to build up the emotional connection between a consumer and their brand by providing a one-of-a-kind experience through an exclusive event, a short engagement being held for a select few. Of course every pop-up store can't be a winner. Sometimes marketing takes over and the experience is too much about product messaging and less about the consumer experience itself.
A couple of years ago, Vitamin Water held a pop-up store in New York City to show off their 10 calorie drink. They placed two "naughty school girls" in the windows doing "traditional school activities" that burn 10 calories (you know, the obvious school exercises like crunching numbers on a giant calculator or licking a giant lollipop). Once enticed to enter the store, consumers found fridges with every flavour of the drink free for the taking, with a catch, of course. You couldn't comfortably sit in the lux, modern, funky, air conditioned lounge and enjoy your beverage without filling out a long and annoying survey first. So, hence Vitamin Water's attempt to use sexy school girls to sell their new 10 calorie drink to thirsty passers-by, the experience left many with a bad taste in their mouths.
Looking for a great pop-up store to check out near you? If you're in Toronto, here's a few you don't want to miss:
Where: 328 Queen Street West, Toronto (Vancouver and Montreal coming soon)
When: Monday to Thursday 1 p.m. to 9 p.m., Friday 12 p.m. to 10 p.m., Saturday 11 a.m. to 10 p.m., Sunday 12 p.m. to 6 p.m.
What: An open concept space for people of all ages to experience the latest core titles, try out Kinect or get up to speed on Xbox LIVE. If you've ever wanted to try Xbox 360's Kinect games, here's your chance. Dance, play tennis or go for a joy ride all from the comfort of Xbox 360 Central's super relaxed and loungey atmosphere and when you're done, you can conveniently purchase what you played, usually with no line.
Where: 587 King Street West
When: Saturday Oct. 29 12 p.m. to 4 p.m.
What: Market's tagline is FASHION.PEOPLE.MUSIC. It's designed for people to shop premium brands, socialize, enjoy music and some yummy cocktails. The shop features brands such as Dutch Blonde, Sass & Bide, Lover, Greta Constantine, Vivienne Westwood, Tosca Delfino and many others.
Where: 1040 Queen Street West
When: Tuesday to Sunday, 11 a.m. to 8 p.m.
What: Vintage coats, furs, hats, scarves and art
Where: Queen West - exact location to be determined
When: December 2011
What: Exclusive fashion from Australia (Ladakh, Bardot, One Teaspoon), L.A. brands such as Brandy Melbille.