There are places around the globe that affect you deeply and resonate long after your visit is over. Ireland is one of those places, the green, lush beauty of the countryside and the warm personalities of the Irish offer charms that can't be found anywhere else. My biggest challenge on this trip was to stop myself from photographing everything that crossed my path. My September journey driving around Ireland took me down the south coast for a visit to luxury hotels and a famous cooking school.
Michelin Starred Cuisine at The Cliff House Hotel
The Cliff House Hotel is located, as its name suggests, on a cliff overlooking Ardmore Bay. Ardmore, a small fishing village situated in Ardmore Bay, is about a four-hour drive south of Dublin. The quaint and very pretty town has a number of pubs and restaurants. There is a well-known cliff walk nearby of an early Christian settlement, featuring St. Declan's Church and Holy Well. The monastic ruins pre-date St. Patrick's arrival in Ireland.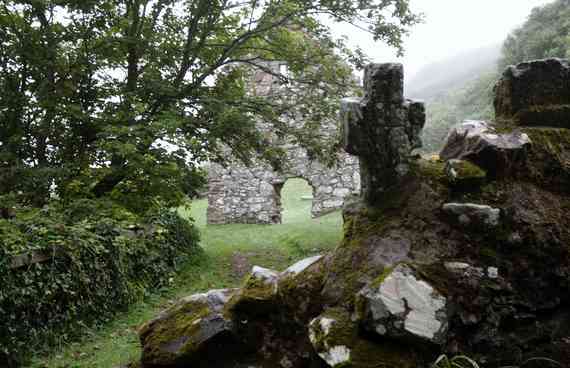 When I arrived at The Cliff House Hotel, I was greeted by the hotel manager and given a tour of the lavish hotel. The sleek, modern design of the hotel is very appealing. Each room, 39 in total, each featuring ocean views, has been designed with the local flora and fauna as a source of inspiration. From colour coordinated floor tiles to deep inviting bathtubs, I was charmed by the vibrant colour schemes and original artwork displayed in the guest rooms.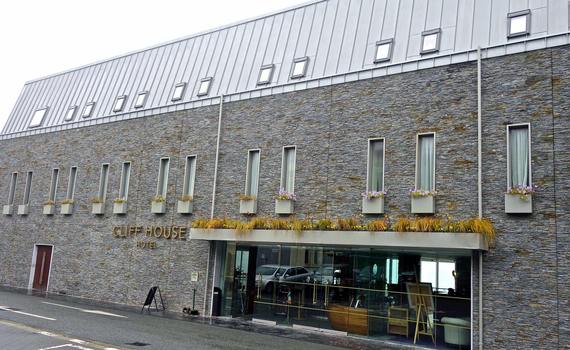 My room was a two-level luxury Cliff Veranda suite, with a walkout balcony and spectacular view of Ardmore Bay. Unfortunately, as the evening progressed, the weather chose not to cooperate. The next morning, thick fog had rolled in over the bay, obscuring the view.
The Cliff House Hotel has been in operation since the 1930s. The O'Callaghans purchased the hotel in 2005 and closed the property for a full renovation. The hotel was re-opened in 2008. Over the years, the hotel has hosted some very notable guests, along with visitors from all over the globe.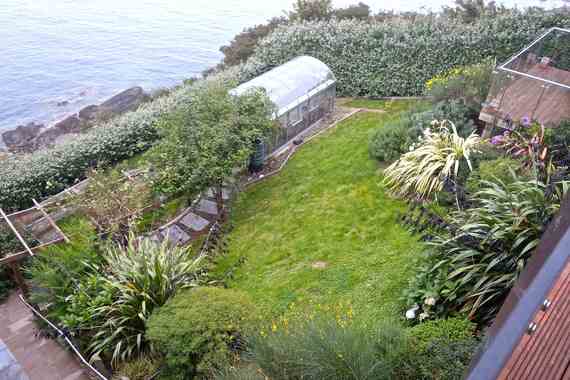 Driven by my desire to search out culinary excellence, I was drawn to the hotel to dine at the Michelin-starred restaurant, run by Executive Chef, Martijn Kajuiter. Chefs are artists and those that reach a high level of prominence, like Kajuiter, tend to be perfectionists. When Chef Kajuiter arrived at the Cliff House Hotel in 2007, he scoured the outlying Waterford communities for the best local fisherman, farmers, and growers could offer for his kitchens. Everything served in the dining room and bar is made in-house, from jams and breads to sauces. Nothing is served that does not meet Kajuiter's exacting standards.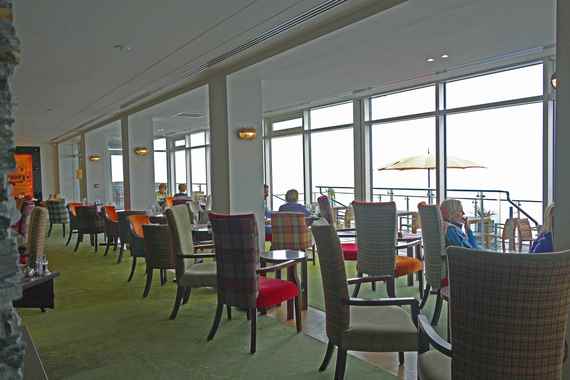 Sea Front Bar, Cliff House Hotel
My evening started with meeting Marketing and Sales Director, Honor Byrne for cocktails. Since it was Sunday, Chef Kajuiter had the day off and the formal dining room was closed. After drinks, we had dinner in the relaxed atmosphere of the sea facing bar.
On the Menu: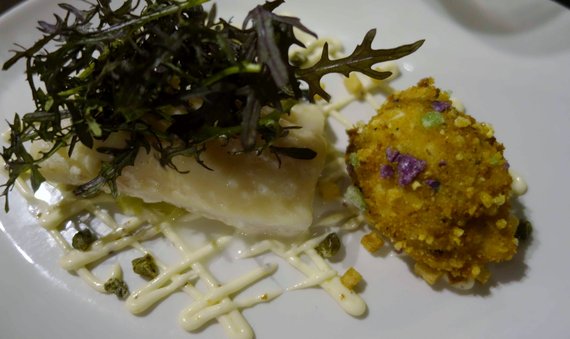 Filet of Halibut served with Shrimp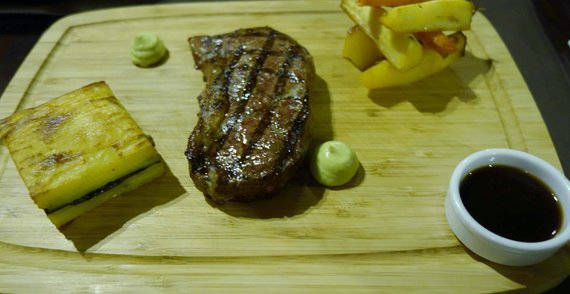 McGrath's Beef: Rib Eye, Grilled, Red Wine Jus, Gratin Potato, Onion, Mushroom
Visit Photo Gallery for an inside look at the Cliff House Hotel and surrounding area.
Ballymaloe House and The Ballymaloe Cookery School
On the southern coast of Ireland, a 45 minute drive from Ardmore, you'll find Ballymaloe House Hotel and Restaurant. Located in Shanagarry Village, the sleepy rural community is also home to, the famous Ballymaloe Cookery School, established and run by celebrity chef, Darina Allen.
While driving to the Ballymaloe Cookery School, I had no idea what to expect from my afternoon. As I walked into the school's dining hall, packed with students having lunch with Chef Darina Allen, I couldn't help feeling amazed. Allen is the author of several successful books focusing on Irish cuisine, is a leader of the Slow Food movement in Ireland, and was also a key player in establishing a network of farmers' markets in the Cork area.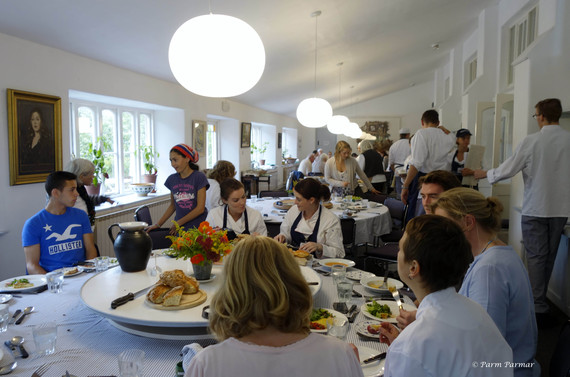 I spent the afternoon in a cookery class with Allen and her students; I learned the proper technique to debone and joint a chicken for cooking. Allen stressed the importance of using organic, locally grown produce and believes that all people should have affordable access to healthy, natural foods.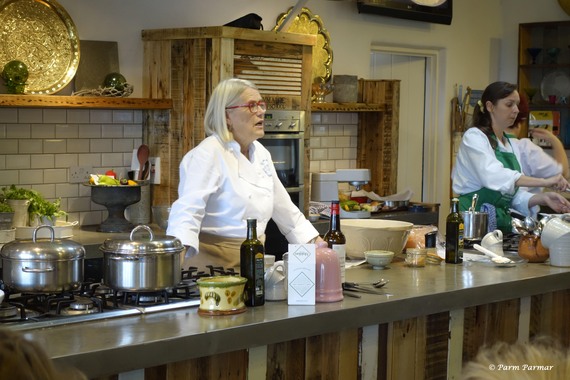 Darina Allen
I found it interesting how she stressed the importance of bees in the ecosystem. "The bees are dying worldwide," she stated, "we, as future food growers and purveyors, must think about what we can do to help restore the balance. Bee keepers are sprouting up all over the place -- and even in major cities, like New York."
The amount of knowledge she imparted to her students was very impressive. In fact, I learned quite a bit about the potato, different tomato varieties, and about "Cassia," a close botanical relative of cinnamon, but is considered faux cinnamon.
The property includes residential cottages for students, a shop that is open to the public, and an organic farm with a greenhouse garden, where a large variety of crops are grown all year round. Tomatoes, cucumbers, spinach, green beans, and pumpkins, along with a wide variety of flowers and herbs are just a sample of what is grown at the school. Freshly gathered produce from the farm is fundamental to Allen's curriculum.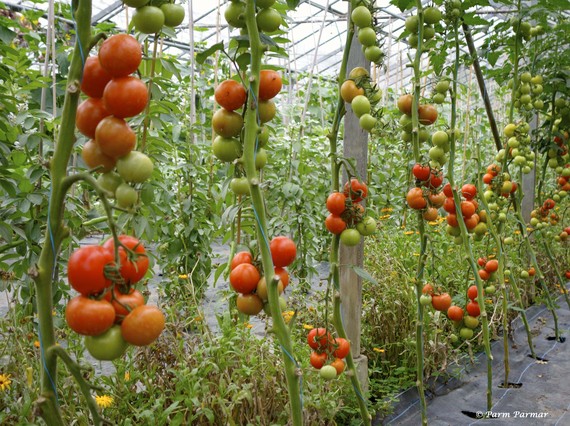 A sea of tomatoes growing in the organic greenhouse
Tim Allen, Darina husband, teaches the art of butter- and cheese-making. Rachel Allen, Allen's daughter-in-law, also teaches at the school and is a celebrity in her own right. She makes regular television appearances and contributes to many magazines and newspapers.
Ballymaloe House and Country Restaurant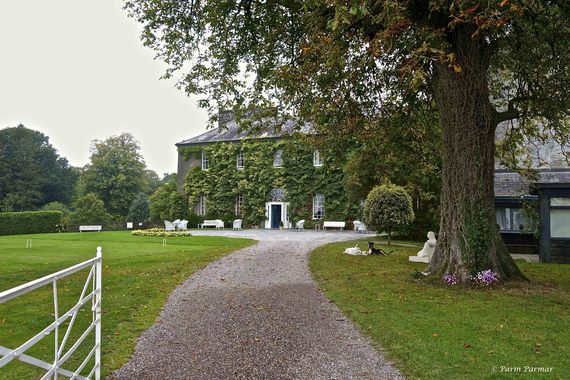 Ballymaloe House, located about a few kilometers away from the school, is a picturesque country hotel. The hotel grounds feature a working farm with grain storage, a country shop, self-catering cottages, and, of course, the Ballymaloe House Hotel and Restaurant.
Myrtle Allen, matriarch of the Allen family, opened the doors of Ballymaloe House as one of the first country restaurants in Ireland. It was here that Darina Allen first honed her culinary skills. Today, it is a five-star escape featuring 30 guest rooms and one of the finest dining experiences in the area. The property is managed by Myrtle's daughter-in-law, Hazel Allen. The Allen family resides either in the main house or on the farm.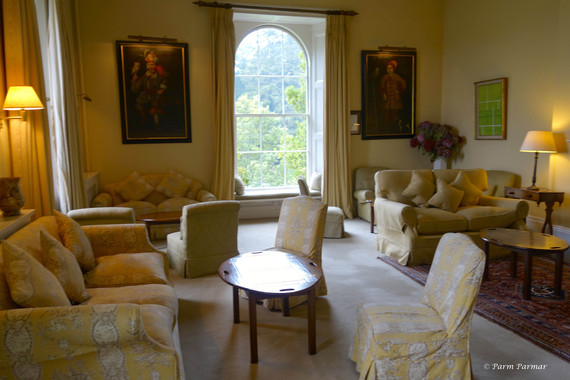 Ballymaloe House's elegant living room
Visit Photo Gallery for a tour of the Organic Farm and Ballymaloe House cuisine.
NB: My trip to Ireland was assisted by Ireland's Tourism Board. All opinions expressed in this article are my own.