Skip the Food Court and Go Gourmet at the Airport
Have you noticed what's happening at airports? Gone are the days where your only choice is grabbing unhealthy, fat-laden food or having to settle for pre-packaged on-board food options as you make a mad dash for a flight.
On a recent flight out of Toronto's Pearson International Airport, I had time to take in breakfast. At Nobel Burger, I was able to order from the chicly designed menu on a tableside iPad while relaxing at a fabulous dining/work table. In less than 10 minutes, my scrambled eggs, toast, and fruit arrived, along with a great cup of coffee. Instead of feeling hurried, I felt as if I was having brunch at a downtown Toronto cafe as I browsed the iPad and enjoyed my meal.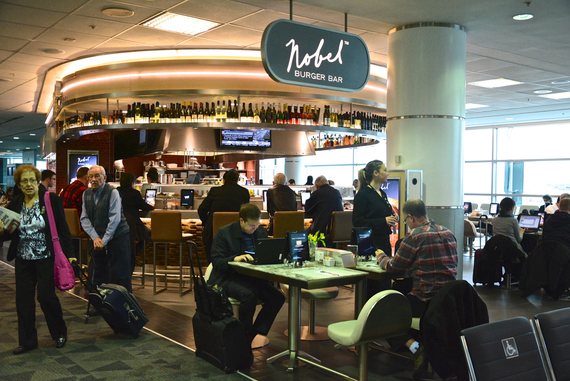 Mark McEwan's Nobel Burger Bar at Pearson Airport Terminal 3
The Chefs Are Here
Executive Chef, Winlai Wong, a Stratford Culinary School graduate, is responsible for overseeing the food transformation at Pearson International Airport's OTG Management, an award-winning airport food and beverage operator. Wong honed her skills in the kitchens of some of Toronto's best restaurants, but remarked on how she had to rethink her whole approach to serving gourmet food when time is of the essence. The transformation is not over; Wong mentioned that additional restaurants would be opening soon.
Chef Wong has opened 12 restaurants in one year, in Terminals 1 and 3, under the guidance of OTG's Head Concept Chef, Michael Coury. Reflecting the diverse culture of Toronto, savvy travellers are now offered the same first class menus they have come to expect in their favourite chef-driven Toronto restaurants.
Just as the menus at Pearson International Airport have been upgraded, so has the decor. Each restaurant offers unique visual dining experiences that help to calm and relax busy travellers. Manhattan's ICRAVE is responsible for creating these aesthetically appealing restaurants and holding gates.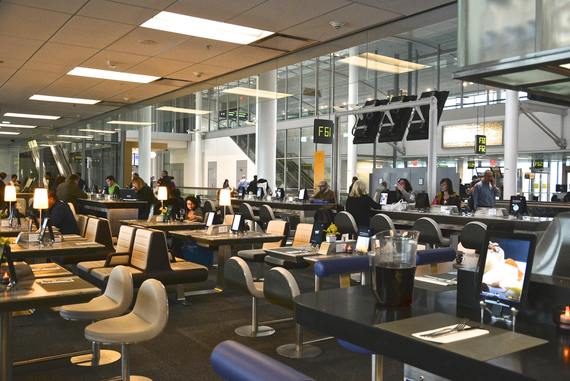 Corso: Travellers can delight in Italian snacks, from small plates of charcuterie, to Corso's thin-crust personal pizzas by Chef Rocco Agostino, of Pizza Libretto fame.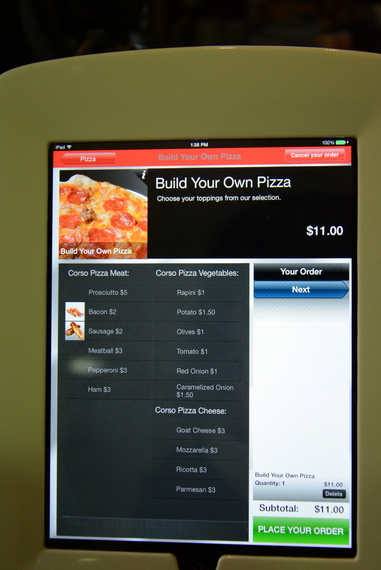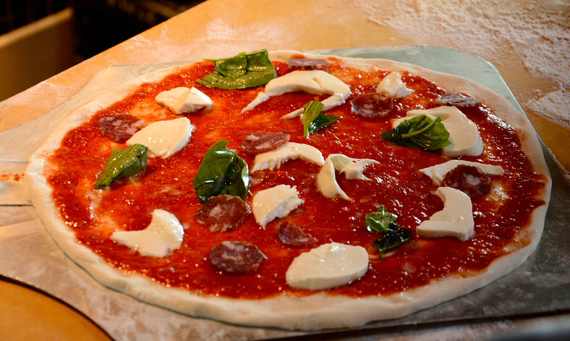 Corso's made to order pizza
Marathi: Indian street food, is available in Terminal 1. The menu was created with Toronto's Hermant Bhagwani, from the Amaya group of restaurants.
Behind the scenes look at Marathi Kitchen, staff prepping orders.
Vinifera Wine Bar offers over 80 wines. The best of Ontario and international labels have been selected by Master Sommelier, John Szabo. This impressive wine list is accompanied by small plates created by Chef Michael Coury. Not sure what wine to order with your small plate? Let the iPad's menu make suggestions for you. Impressive!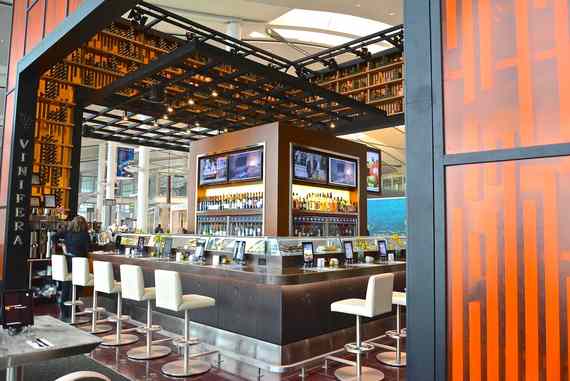 Vinifera - Wine Bar at Terminals 1 & 3
Cibo Express Gourmet Market: offers a variety of grab-and-go products from local shops and markets. Gluten-free, kosher, and vegan products are on hand to accommodate the dietary needs of almost any traveller.
Interesting Fact
Many travellers don't realize that when you have passed through to the international gates, especially the United States, certain food restrictions come into play in order to legally adhere to that nation's agricultural guidelines. Certain meats, like goat, can't be taken on planes, due to health regulations. This makes Wong's job that much more complicated, but she loves the challenge.
LaGuardia Experience
I spent time with OTG's Director of Public Relations, Sean Aziz, in New York, where he led me on a tour of LaGuardia Airport's Delta Terminal experience.
"It's not just about the dining experience that is on offer," Azis stated, adding, "It's the whole way you experience travel. You have great design married with technology and chef-inspired food. You can come to the airport early and have a great meal in a beautiful setting and then catch your flight."
The new dining options also offer guests free access to iPads at every seat. From there, diners can order meals through an intuitive visual menu that can be easily converted to one of 12 languages, including Chinese, Japanese, German, English, Hebrew, Greek, French, Hindi, Italian, Arabic, Korean, and Spanish.
The multi-lingual capabilities of the iPad platform allow non-English speaking international travelers the ability to easily communicate, order food, and check the status of their flights.
The Chefs of New York
New York is one of the best dining capitals in the world. Its only natural Chef Michael Coury would have an abundance of A-list Chefs to collaborate with for Delta terminals C and D at LaGuardia Airport.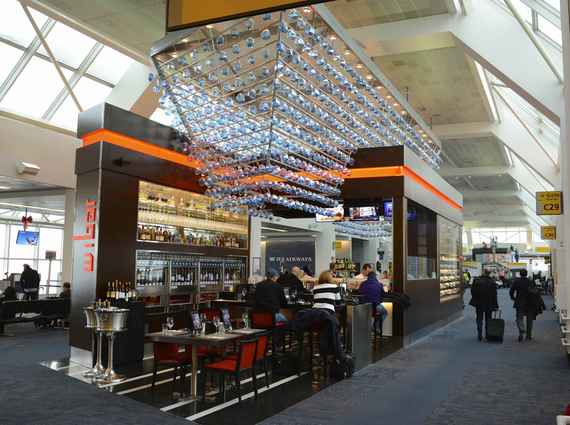 LaGuardia's Terminal C
Cotto: this enticing trattoria, by celebrity chef, Andrew White, features traditional Italian cuisine with a modern translation
Vuelo Taqueria: under the hands of celebrated Chef Aaron Sanchez, Mexican spices and flavours come alive with flavourful tacos.
Custom Burgers: Pat LaFrieda's Custom Burgers offer delicious gourmet burgers made from a custom beef blend.
Kevin O'Neil, Executive Chef at Delta Terminals C and D, works to ensure the day-to-day operations of the restaurants run smoothly. In other words, he is Chef Winlai Wong's New York counterpart. I met O'Neil during my tour with Sean Aziz. Judging by the commuter traffic in both terminals, O'Neil is kept on his toes, but he did take time to put together a tasting menu for me to sample at lunch.
Minnow: Andrew Carmellini's seafood and raw bar serving fresh fish and shellfish. Carmellini run's Tribeca's popular Locanda Verde restaurant.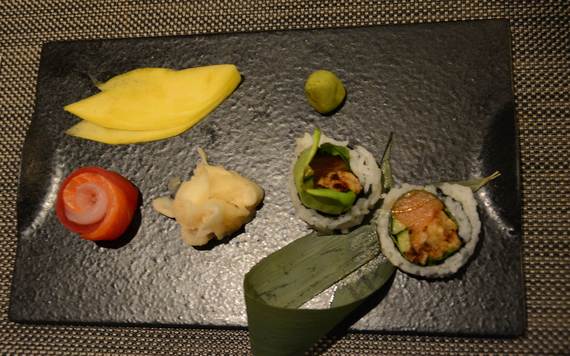 Minnow Roll, tempura oyster, tokyo scallions, spicy salmon, bibb lettuce, cucumber. SASHIMI - king salmon, hamachi, yellow fin tuna
Wibar: ultimate wine bar with 101 premium wines by the glass. The wine list is composed by Roger Dagorn and features wines from California, France and all around the world.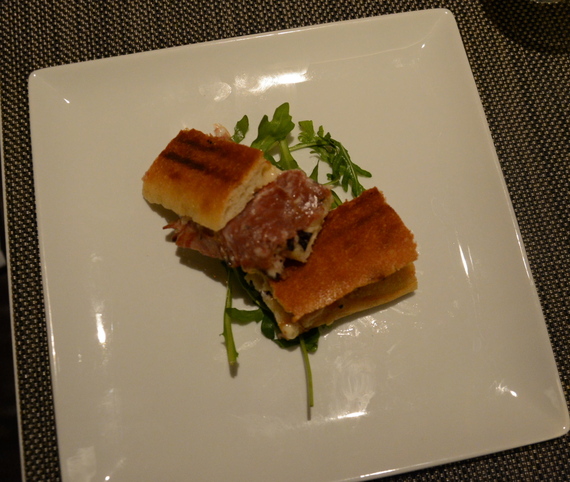 Garlic salami and mozzarella panini, radichio and extra virgin olive oil.
Bisoux: A bistro inspired by Provencal cuisine, the menu has been created by celebrated Chefs Riad Nasr and Lee Hanson. These chef's are behind successful restaurants -- Balthazar, Pastis, Schiller's and Minetta Tavern.
According to Aziz, OTG takes their coffee experience very seriously. In fact, there actually exists a "Director of Coffee." This person is responsible for training baristas and ensuring that high quality beans, used at all locations, deliver the best cup of java.
See more behind the scenes by clicking on Photos.
The visionary behind this whole enterprise is OTG's CEO, Rick Blatstein. Judging by the success of these airport initiatives we can expect to see more improvements across the continent.
Next time you're at the airport, take the time to look what is being offered. You might just begin to hope that there is a layover soon in your future!
ALSO ON HUFFPOST: