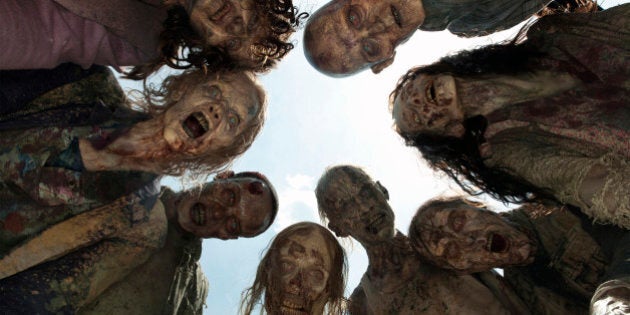 It's official. Our society is obsessed with vampires, paranormal activity and the supernatural. The blockbuster movie series Twilight, current television hits like Vampire Diaries and The Walking Dead, and a surge of new vampire and zombie-based games illustrate our society's utter fascination with paranormal characters, stories and overall entertainment.
Here are a few reasons why vampires, paranormal activity and supernatural stories continue to intrigue and entertain our society.
We are scared of the paranormal
Fear of the unknown is one of the most powerful human emotions.
From an evolutionary perspective, the emotion of fear protected humans from predators and other threats to the survival of the species. Today, paranormal and supernatural entertainment facilitates a fear of the unknown triggering a unique and evolutionary emotion.
In fact, the human nervous system, like any other muscle in our body, actually requires a good workout every once in a while. This accounts for demand and desire to experience stimulation and excitement through entertainment based on fear. Movies, TV shows and games that explore the paranormal can actually provide a cathartic effect, offering an emotional release that we don't get in day-to-day life.
So it is no surprise that evoking fear is, in fact, functional and even necessary.
Vampires are a perfect reflection of the culture that creates them
There have been hundreds of depictions of vampires over the years. From the 1931 classic film Dracula to the recent Twilight series, vampires have been around in one form or another since ancient times. Bram Stoker's now legendary novel, Dracula, is often viewed as a time capsule containing popular thoughts and beliefs of the Victorian era in which it was written.
In looking at vampires stories from any given era, you see what they thought was sexy, frightening, and even forbidden. Vampire and paranormal stories have offered and will continue to provide important cultural context.
True Blood, the popular television series that ran from 2008 through 2014 on HBO, illustrated the co-existence of vampires and humans in Bon Temps, a fictional small town in northwestern Louisiana. Articulating the cultural reflection, USA Today's initial review stated, "Sexy, witty and unabashedly peculiar, True Blood is a blood-drenched Southern Gothic romantic parable set in a world where vampires are out and about and campaigning for equal rights. Part mystery, part fantasy, part comedy, and all wildly imaginative exaggeration, 'True Blood' proves that there's still vibrant life -- or death -- left in the 'star-crossed cute lovers' paradigm. You just have to know where to stake your romantic claim."
We need to escape the doldrums of daily life
In developed societies around the world, we all too often allow ourselves to become complacent and accepting of monotony. Daily work schedules, family commitments and even social engagements are leading to more boredom and monotony than ever before.
Paranormal and supernatural entertainment has gained significant traction in recent years as it offers a unique opportunity for us to escape our daily lives.
Society's love for zombies, vampires and other supernatural entertainment offers escapism. In fact, this recent AP article demonstrates how this form of entertainment peaks when society is most unhappy or feeling disempowered.
While society's fascination with paranormal or supernatural themes does tend to ebb and flow, don't expect this trend of paranormal and supernatural infatuation to disappear any time soon. In fact, I'm signing off now to play one of my favourite vampires in the ImmortalDay.com game!