Parmjit Parmar
While no one can predict the future with 100 per cent certainty, travel, tourism and hospitality insiders are able to pick up various trends; the growth of eco-tourism and eco-resorts is really gaining momentum. Unite this growth with the slow-food movement and you have a match made in heaven.
On a recent trip to Italy, namely the Piedmont region of northwest Italy, I discovered the most picturesque landscape with a breathtaking backdrop of Alps. This is an area not usually top of mind with many tourists, as they are normally lured by the charms of Venice, Florence, Rome and the Amalfi coast. But they're missing a great deal, as I discovered because Piedmont is considered Italy's most culinary-progressive region.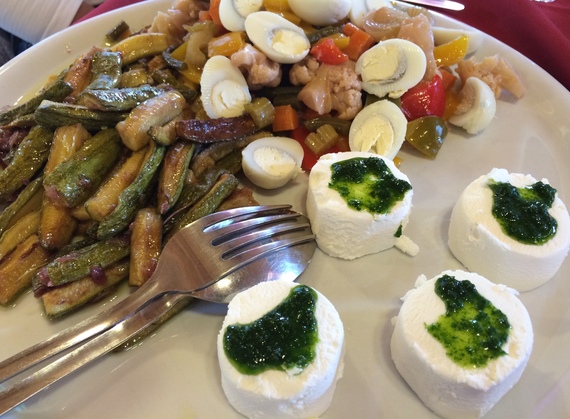 The fertile ground of Piedmont is custom made for eco-resorts and eco-tourism. (Piedmontese means meat of our livestock, vegetables, fruits, vegetables, herbs, proposed in old recipes). One company has recognized this, Vistaterra. This is a new resort being developed near Ivrea, Italy (scheduled to open, at least in part, in 2017).
It's rising from the remains of the castle of San Martino di Parella on lands that are part of a historic park that was slated to be a vast vineyard. Vistaterra's mission is to serve as the heart of a local agricultural and artisanal renaissance, sourcing skills and knowledge from local suppliers, boosting businesses and creating jobs. It's called Vistaterra because land is what the entire project starts with, and is the origin of many of the activities that will be offered.
Vistaterra is the brainchild of Manital CEO, Graziano Cimadom, and Manital (an Italian facilities management company) is the resort's owner and developer.
The centre of Manital's restoration efforts will be the castle itself, which is undergoing a massive refurbishment that seeks to reuse as much of the original materials as possible -- including roof and floor tiles. Once finished, the castle will have about 10 luxuriously-appointed guestrooms, according to Cimadom, while another 10 guestrooms will be housed in a separate building. There will be a host of other services offered, including a spa and wellness center, a business services center, events facilities, a gourmet restaurant -- serving dishes with ingredients sourced on site -- as well as a cafeteria.
The resort will be marketed aggressively in northern Europe and the U.S. Visitors will be able to buy wines and beer produced at Vistaterra as well as products made by local artisans which will be sold in the little bottheghe (shops) set up in the castle's courtyard. This is taking the idea of eco-resort to a higher level.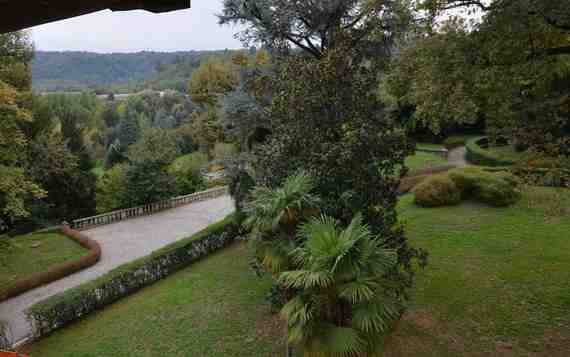 Vistaterra Park
The initiative's backing by the slow food movement, founded by Carlo Petrini, will make it appealing to the increasing number of eco-tourists, in Italy and abroad, who are on the lookout for sustainable vacation options.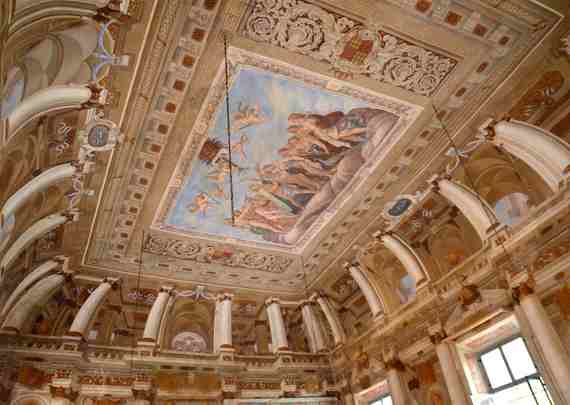 Vistaterra Frescoes
Slow Food, headquartered in Bra, Piedmont, is an international movement as an alternative to fast food. The idea is to preserve traditional and regional cuisine and encourage farming of plants, seeds and livestock. Their motto is "Good, Clean and Fair." The movement is slowly expanding globally and now has 100,000 members in 150 countries.
Petrini is also the founder of the University of Gastronomic Sciences, located in Pollenza, near Bra. He established the school as the first university to focus on the organic relationships between food and cultures. More than 2,000 students have taken courses at UNISG since it opened in 2004. UNISG offers a variety of courses leading to undergraduate and graduate degrees in areas related to gastronomy, food culture and heritage, food journalism, farming methods, Italian food preparation and marketing, paying particular attention to environmental and sustainability issues.
As part of their curriculum, students go on study tours in European countries and other parts of the world. In early 2015, a group of UNISG students studied food culture in Minas Gerais, Brazil. The university welcomes visitors; they can take a tour and visit the "Banca del Vino" for tastings.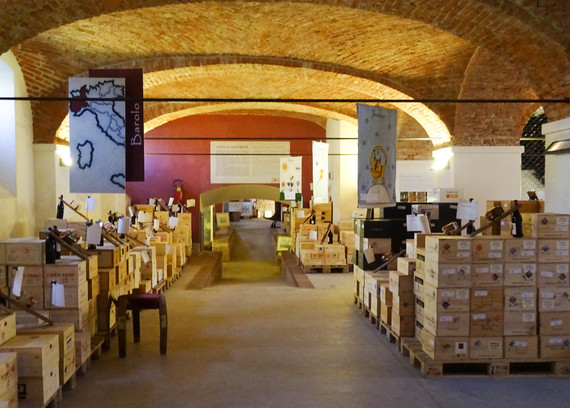 According to Michael Howell, board member of slow food Canada, eco-tourism must engage the community to be successful. This in turn will attract urban travelers who are looking for an eco-experience. They will still visit the touristy sites but at the end of the day they want to get back basics -- be in the heart of the country.
Howell, based in Wolfville, Nova Scotia is founder and executive director of the "Devour: The Food Film Festival" held every November with a stellar line-up of celebrities, chefs and movies. It is a perfect showcase of what the region has to offer. Howell's vision is to have Wolfville declared a slow food city in the near future and events like "Devour" just strengthen the case.
Disclaimer: Manital Corporation organized the author's visit to VistaTerra and the Piedmont region.
MORE ON HUFFPOST: