James Joyce, Trinity College, Temple Bar, Grafton Street shops and cobbled streets with history everywhere you look are often what comes to mind when you think of Dublin. The city of Dublin has come long way from its origins as a Viking Trading Post, now the modern city is a choice destination for many North American travellers.
The "Gathering" an ingenious idea from Failte Ireland to heed all Irish to come home and discover their ancestral roots. According to Jayne Shackleford, Manager of Tourism Ireland in Canada ''Canadians have participated in many of the 4,000 events and festivals throughout the year -- including clan Gatherings, sporting events, arts and cultural events and food festivals such as the recent Galway Oyster Festival. A Canadian Jason Gould was even crowned 'Best International Beard' at one of The Gathering's great quirky events 'The Town of a 1,000 Beards!''
My visit to Dublin was rather short but I had the opportunity to explore some of the culinary scene and see a few things in this intriguing city. When Irish food comes to mind it's quite amazing the first thing that people say is ''cuisine? What cuisine? Do you mean Irish stew, potatoes and Guinness beer?" Well, you couldn't be more wrong. In today's Ireland young chefs like their counterparts Europe have embraced their heritage and are taking Irish cuisine to new heights.
Afternoon Tea with an Artistic Flair
If you're in the mood for a lavish tea affair The Merrion Hotel is the place to go in Dublin. Located in the heart of Georgian Dublin the hotel is made up of four remodelled 18th-century townhouses. Across the street are the Government Buildings where the Irish President and government offices are located.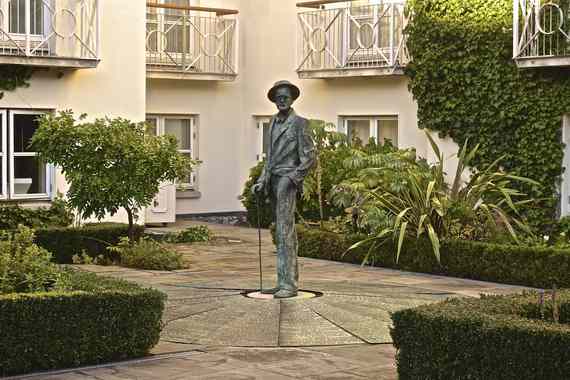 James Joyce sculpture in Merrion gardens
The "Art Tea" is inspired by the hotel's impressive Irish private art collections featuring the likes of Martin Mooney, Jack B. Yeats, William Leech and more. After a late arrival to Dublin I was running very late for afternoon tea. The concierge, who was aware of my visit immediately alerted assistant hotel manager Garrett Power who graciously proceeded to give a walking tour of the property and explained the art adorning the walls.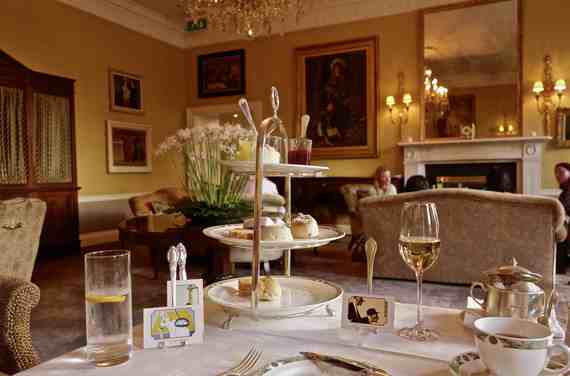 Drawing Room at The Merrion
The "Art Tea" is served course by course with a wonderful collection of savoury tea sandwiches, scones, and Battenberg cakes. The piece de resistance is the "Art Tea Pastries, each one based on a different work of art. Executive pastry chef Paul Kelly and his team choose three selections from the in-house art collection and rotate serving these each day. Everything I tasted is delicious. Each guest is given a keepsake copy of the hotel's "Art Tea" catalogue, which explains all the artists featured in the hotel along with beautiful photographs.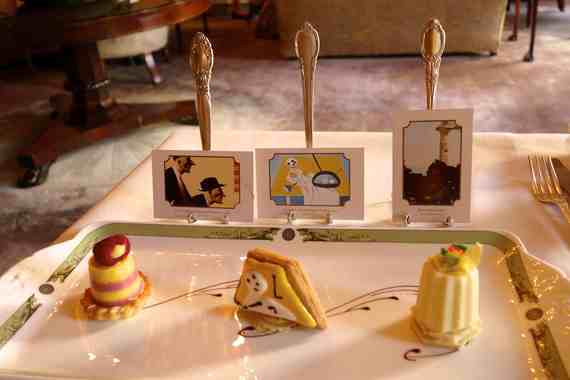 Dylan McGrath's Fade Street Social
Dylan McGrath is an award winning celebrity chef and television judge on Masterchef Ireland. Fade Street Social is Mcgrath's latest venture on the Dublin culinary scene doors opened in late fall giving an ode to Irish cuisine with a modern flair.
His farm-to-fork approach has been taken to new heights with a menu stating its desire to support homegrown produce. The restaurant is divided into a formal dining downstairs and a Gastropub -- tapas menu upstairs. The food looked so enticing I had to stop myself from photographing other patron's plates. The friendly server gave advice on what to order on my first jetlagged night in Dublin.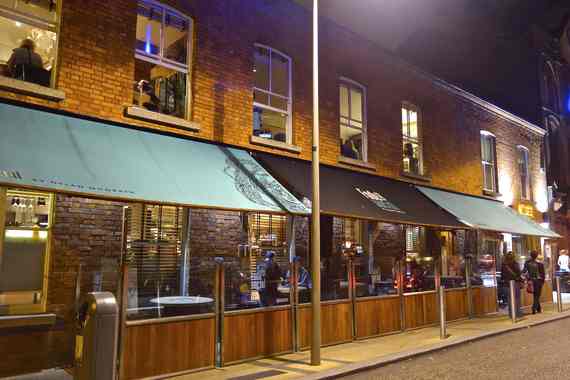 One of the challenges of dining solo is portion size because I really hate wasting food. Much of the menu is geared towards sharing plates especially the pizza styled flatbreads and seafood appetizers. Luckily for me you can order small plates. I chose smoked salmon layered on filo, baked with seaweed, crème fresh and trout caviar as the starter. The blend of flavours was delectable on my palate. For my second course I choose the Rump of Wicklow lamb basted in thyme and barley along with seasonal micro vegetables pulled from the ground bound in butter, chervil, mint. One of the most popular dishes is the blackened cauliflower & hazelnut with pea purée, a creatively delicious way of serving a bland vegetable.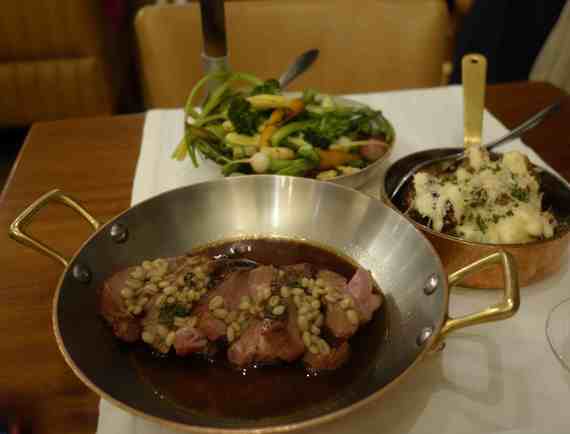 Tables were turning over every couple of hours and as the evening progressed it got even busier. The only disappointing part of my dining experience was no one came back to take coffee order or show desert menu, that was my cue to leave.
Ancient Feasts at Seven Social
"Everything featured on the menu, made its way there because at some point in our history, it played a role in our food heritage & culture. This is explained to you as each dish is being served" - Chef Emma Bowe
One of the highlights of my culinary experience in Dublin was Seven Social. Twice a year Seven Social hosts an Ancient Feast with a focus on traditional Irish cuisine from circa 1400-1900 AD. For four hours a 10 course meal is served with items like Organic Carrickmacross grey squirrel soup, wild mushrooms to Clove spiced ham hock, marsh samphire, carlingford crab devilled eggs. Each course is paired with a suitable wine, cider or port.
First of all as soon as you use the word "ancient" in the menu you have my attention. Food ingredients steeped in history and tradition are like a mystery waiting to be discovered. I arrived at the restaurant located at Bemburg street north of river Liffey, formerly a red light district that's going through a transformation, on my last night in Dublin.
Owner/chef Emma Bowe and her business partner Poitr Kalkowski, opened Seven Social two years ago. They had a cash budget of $10,000 to refurbish and furnish the establishment that had been formerly been a butcher shop. The quaint Seven Social only seats only 24 diners at a time with food prepared in a small back kitchen. The main part of the restaurant divides up into a open bar/ food prep area plus seating for guests. Chef Bowe hails from Donegal and is no stranger to the food scene, her family has owned a restaurant in Donegal going back five generations. Seven Social rears their own certified organic pigs on a farm in Enniscorthy and 80 per cent of the produce used is organic, the remaining 20 per cent is pesticide free.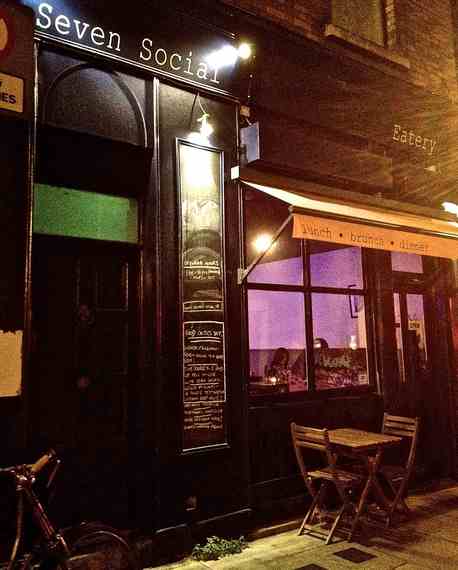 My dining experience consisted of an excellent Spanish Lacuesta, Tempranillo, Rioja wine (biodynamic) with an appetizer of Pink Organic Onglet (beef flank) shavings, mature coolea, organic Irish seaweed crumbs and lemon. The main consisted of Kilmore Quay Scallops, shredded orgnic tamworth (rare breed) pork belly, wilted lusk village scallions, native purple potatoes and peach salsa. Just tasting all these magnificent ingredients I felt as if I was having my own ancient feast. Already completely full I ordered the desert of oat and apple crumble because they used Glendalough Poitin in the flavouring. Pointin is a spirit made by early monastic settlements using malted barley, sugar beet and potatoes circa 580 ad.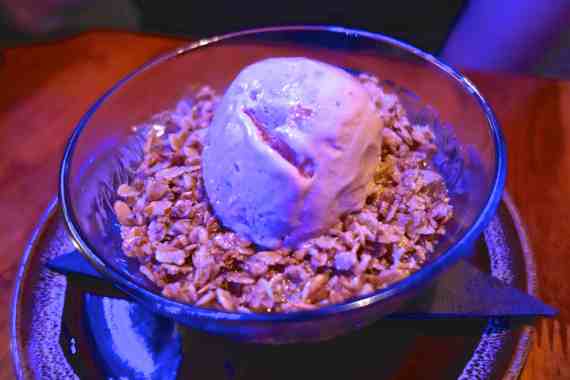 Must See While You're In Dublin:
Trinity College Library is the home of the Book of Kells, an illuminated manuscript dating back to circa 806. Created by celtic monks it contains the four gospels of the New Testament in Latin. A prime example of early western calligraphy it is an absolutely beautiful manuscript. While at the library head upstairs to the Long Room which houses 200,000 of the Library's oldest books in oak bookcases. It's a sight to behold.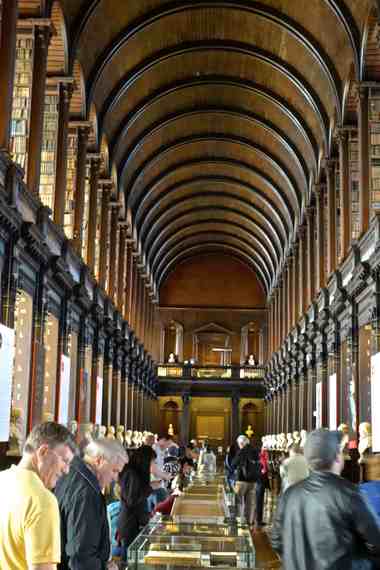 On a sunny day Dubliners stroll through the park with their families, teenagers hang out and friends hold picnics at Steven's Green Park, This famous Victorian public park is a wonderful place to people watch.
Temple Bar is known as the cultural quarter where tourists and locals mingle amongst the hundreds of attractions from shops, music to Guinness serving pubs. Its boisterous and can be a bit rowdy but definitely worth a visit to get lost amongst the cobbled medieval streets. As one charming shop owner told me it's the place he came in his late teens with his friends to meet American girls and party.
Day trip to Glendalough, Wicklow Mountains
Glendalough is one of the most beautiful places you can visit outside of Dublin. Settled in a valley in between two lakes, its has incredible scenery, a rich monastic history and archaeological ruins. This early Christian monastic site founded by St Kevin in the 6th century. By visiting you can discover much about the region in its early days and the community that flourished about the site. The drive through the Wicklow Mountains is spectacular and Glendalough is also surrounded by hiking and nature trails for activity seekers.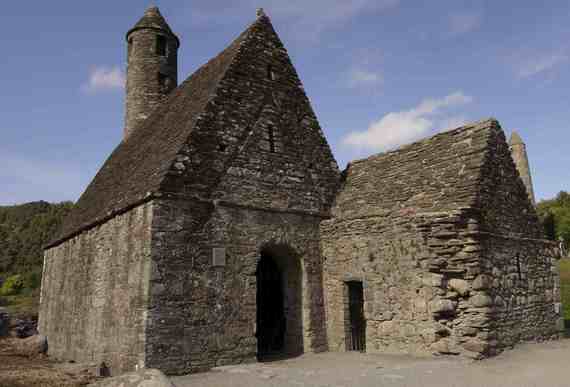 If you don't have a car, a direct bus service run's from Dublin to Glendalough Monday to Friday http://www.glendaloughbus.com/.
Where to Stay
Brooks Hotel - Gorgeous boutique hotel located on the South side of the River Liffey, on Drury Street. In the heart of busy Dublin, near the Grafton street shopping area, Trinity College, Temple Bar and many other attractions. $$$
Steven's Green Hotel - A modern contemporary designed Dublin hotel across form the 9 acres of St Stephens Green Park. $$$
How to get to Ireland
Air Transat has several non-stop or direct charter flights available between May and December to Dublin.
Aer Lingus starting April 21st, 2014 will launch its inaugural flight from Toronto to Dublin, bringing to a close its 32 year hiatus from the market.
Air Canada launches new leisure brand rouge departing for Dublin on May 1st, 2014.
My trip to Ireland was assisted by Tourism Ireland. For more information about visiting Ireland check http://www.ireland.com/