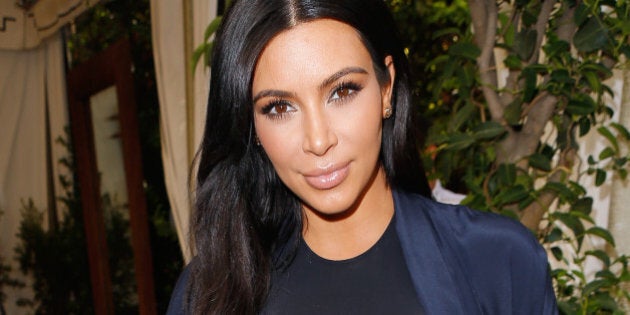 I'm not having any more kids, so I'll never know.
Would eating my placenta have stopped my postpartum depression?
Kim Kardashian seems to think so.
So last night I took to Facebook and randomly surveyed women on their experiences.
I got a huge positive response.
Jamie-Lea is a registered health nurse in Barrie, Ontario who decided to encapsulate her placenta after experiencing postpartum depression following the births of her second and third children.
"My postpartum was 1000x better in all aspects of healing with my fourth child," says Jamie-Lea. "I would most definitely attribute my well-being and not getting postpartum depression to using the pills. I felt more energized, happy, and able to handle life. My milk supply was also better."
Rachel MacDonald of Beeton, Ontario, attributes her placenta pills to a better postpartum experience the second time around.
"I didn't have the baby blues and breast fed for 11 and a half months without a problem," says Rachel. "I had so much energy and my recovery from my C-section was easy peasy."
She'll be eating her placenta again when she delivers her third child next week.
"Women are doing it because it can increase milk supply, balance hormones, ward off postpartum depression, replenish deleted iron, increase energy levels, assist the uterus with returning to its pre-pregnancy state, reduce post-natal bleeding, and speed up recovery time."
With a history of major depression, Shelby Mastrotucci of Barrie wasn't taking any chances.
"The first time I heard about it I totally thought it was weird and gross," says Shelby who decided to have her placenta encapsulated using the raw method after the birth of her first child. "But the more research I did, the more it made sense and they gave me an incredible energy boost, I had a plentiful milk supply and zero depression."
So does this really work?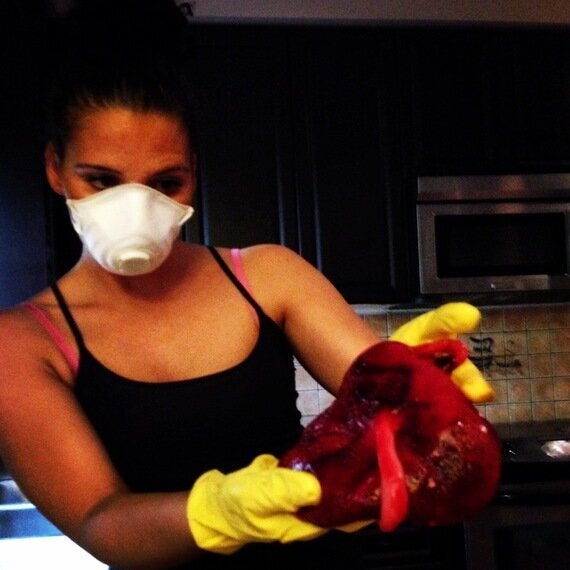 "My clients have noticed a big difference," says Tiffany Smith, a doula and placenta encapsulator in Innisfil, Ontario. "Women are doing it because it can increase milk supply, balance hormones, ward off postpartum depression, replenish deleted iron, increase energy levels, assist the uterus with returning to its pre-pregnancy state, reduce post-natal bleeding, and speed up recovery time."
Technically called, "placentophagy", though not mainstream, eating your own placenta goes back thousands of years but has become popular of late thanks to celebrities like Kim and Kourtney Kardashian, Holly Madison, January Jones, Alicia Silverstone, and Mayim Bialik who've been talking openly about their experience.
Of eating their own placentas.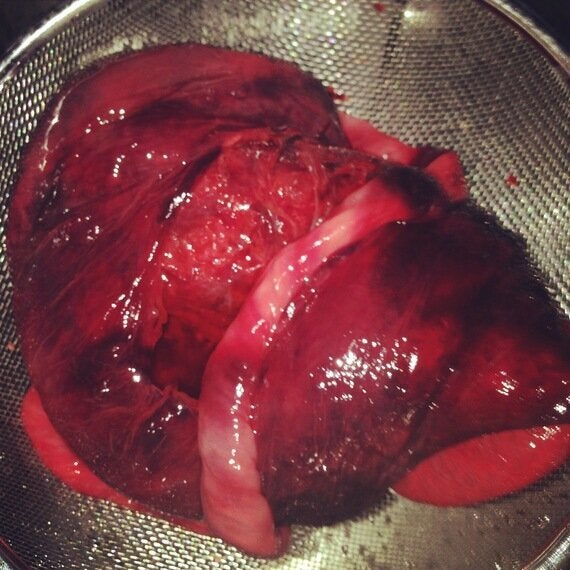 Samantha Audia is a child birth educator, doula, and calls herself a "professionally trained placenta encapsulation specialist" in Orillia, Ontario.
I catch up with her Tuesday on her way to pick up a fresh placenta in Barrie.
"I will be processing the placenta tonight using the raw method," says Samantha.
I'm surprised to learn that Samantha is a vegetarian.
How does someone who doesn't eat mammals be OK with harvesting and eating human placentas?
"I got over the ick factor," says Samantha. "Once you do one, it's fine."
Samantha tells me that she gets a call when her client is in labour and either she or the parents bring a cooler to the hospital or have one ready at home with ice. When the placenta comes out, it's placed in a double ziplock bag and placed in the cooler which Samantha then brings to her home and puts in a separate fridge.
After properly sanitizing her work space, she will either steam the placenta first which is the traditional Chinese method, or begin the process of cutting it in its raw form with scissors into thin pieces which she then places in a dehydrator overnight.
Once dehydrated, the placenta pieces are ground into a powder with a special blender blade and then put into capsules using an encapsulator machine.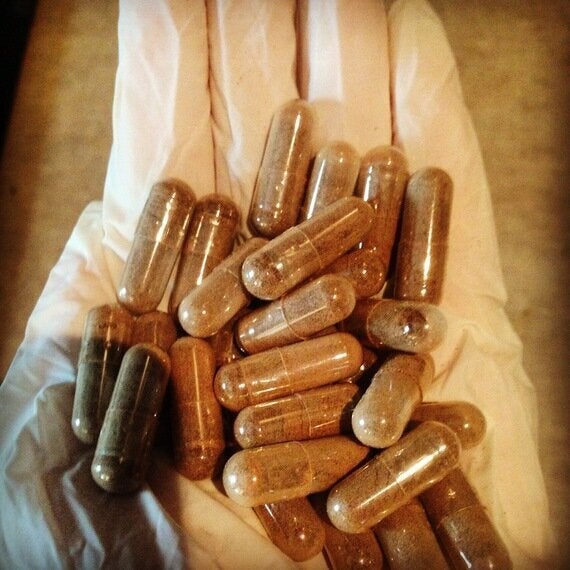 While most of her clients go the capsule route, some opt for placenta smoothies along with the capsules.
For moms that want a piece of the action right after birth, Samantha will show up with her blender and cut a thumb-sized piece of the placenta and blend it with half a cup of frozen berries, Greek yogurt and orange juice.
Samantha will be doing this herself when she gives birth to her second child in February.
"In some cultures they prepare it as a meal," says Samantha. "You can grind the meat and make a lasagna if you want to."
She's even made placenta chocolate truffles.
At this point, my gag reflex is kicking in.
Does eating your placenta ward off postpartum depression?
Turns out, there aren't any scientific studies proving the benefits of ingesting your placenta in humans.
The belief is that eating the placenta replenishes the hormones a woman loses immediately following delivery which some say is a contributing factor to postpartum depression.
A survey of 189 women who ate their own placenta, published in the Ecology, Food and Nutrition Journal in 2013 concluded that 96 per cent of them reported a "positive" or "very positive" experience.
The Las Vegan Sun reports that the authors of the survey plan to release the "world's first definitive study on the effectiveness of placenta pills" and solve the debate once and for all whether eating your placenta actually helps stave off the baby blues or whether this is all just a placebo effect. To do this, they will have to analyze the nutrient and hormone content of the placenta and the best ways to harvest it.
It's important to remember that the baby blues is not postpartum depression.
"I personally never tell women that's it's going to prevent or solve their postpartum depression," says Samantha. "I prefer to stick with the baby blues which is a milder occurrence postpartum. But the anecdotal evidence is overwhelmingly positive."