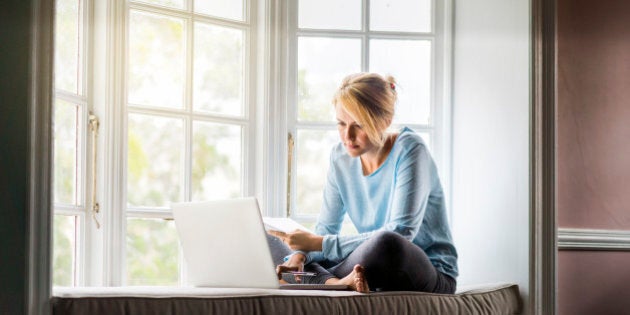 It's crazy to expect a new mother with postpartum depression (PPD) to attend regular therapy sessions.
That's if she can get access to therapy at all what with the ongoing shortage of psychiatrists and psychotherapists across Canada and the U.S.
That's why I think online therapy for postpartum depression makes the most sense.
Not only does a new suffering mom not have to leave her home, baby in tow, or try to find a reliable babysitter, she also doesn't have to go on a huge waiting list and run the risk of not seeing a therapist at all.
Which is exactly what happened to me.
Since I wasn't willing to wait months on end to see a publicly-funded psychiatrist located an hour's drive from where I lived, couldn't bring my baby anyway and didn't have childcare, and couldn't afford to pay $200 an hour to see a private psychologist, I decided to forego therapy altogether and rely solely on medication which is unfortunate because research tells us that therapy is a vital method of treatment for moms with postpartum depression.
Had online therapy existed then, well, who knows how much quicker I may have been able to recover.
Though still in its infancy, more and more private online therapy services are popping up as demand outpaces supply in our current healthcare system.
"Counselling has been proven to be the most effective way of coping with most mental health difficulties," says Julie Sabine of Inkblot Therapy, an online therapy service that recently launched in Canada. "However, there is a gap in our health care system and finding the right therapist is difficult and expensive. Our platform eliminates these barriers."
Inkblot has over 55 registered psychotherapists available from Ontario and is expanding into more provinces. For insurance purposes, a client is matched with a therapist from their own province. A psychotherapist herself, Sabine joined the team at Inkblot after struggling to find a therapist to treat her postpartum depression.
"My general practitioner prescribed medication yet had no idea where to send me for psychotherapy," says Sabine. "I pushed and searched and spent way too much time looking for help until I finally got it...If Inkblot had been around when I needed help, I would have been able to hop online and book a session to have counselling right here at home. I would have started treatment immediately and I wouldn't have had to worry about finding help for my newborn and toddler."
Although online therapy for postpartum depression is proving to be beneficial, as well as cheaper and more accessible than in-person therapy, still, not all moms have access or can afford it.
Thankfully, our public health care system is catching on. Women's College Hospital in Toronto, Ontario just completed a randomized trial of 100 women on an online postpartum supportive psychotherapy group, Mother Matters. The demand is so high, they've decided to continue offering it while they analyze the results.
WCH is also currently running a randomized control trial comparing the use of in-home individual virtual psychotherapy to in-person care and are preparing to launch a similar study on online psychiatric care this summer.
"The concept of virtual care is amazing to try to reduce access barriers, including distance but also other barriers such as stigma and practical issues like childcare, transportation, and unpredictable child schedules," says Dr. Simone Vigod, psychiatrist and lead of the Reproductive Life Stages Program at WCH. "That being said, I think that it is really important to evaluate virtual care rigorously to ensure that it definitely improves access while ensuring that all women get effective care matched to their clinical needs."
An ongoing study at the Centre for Addiction and Mental Health (CAMH) in Toronto, Ontario is looking to see whether an online cognitive behavioural therapy program can help patients aged 18-29 with depression and anxiety.
"Having been a mom and having two kids of my own, sometimes it can be difficult to make it to a weekly appointment and knowing when you can actually do that with a newborn," says CAMH psychologist, Dr. Nikki Fitzgerald. "At the end of the day, it's about accessibility."
Follow HuffPost Canada Blogs on Facebook