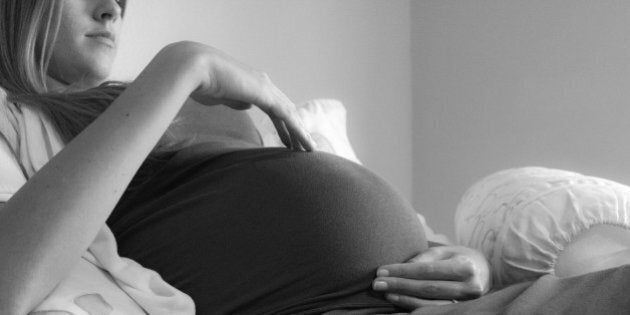 I remember making the decision to wean off antidepressants before trying to get pregnant.
No one helped me make that decision.
It was something I did myself because I was scared that antidepressants might harm my baby.
I had been on medication for a year for panic disorder and seemed to be doing well enough in my mind, to try to go off them.
I had begun practicing yoga and eating well and it all seemed to be helping.
However, a year later, after I became pregnant, I suffered from a panic attack while meditating during my first trimester.
And it got worse from there.
I was anxiety-ridden throughout my entire pregnancy and I suffered from awful depression and anxiety after my baby was born.
Obviously I should have been on meds throughout my pregnancy, but my OBGYN didn't know I was suffering from perinatal anxiety.
I didn't know I was suffering from perinatal anxiety.
I just thought I had the first time pregnancy jitters.
I thought I had brought on the anxiety myself.
Fast forward eight years, and though we still have a long way to go, at least we're talking more openly about perinatal and postpartum depression enough to know that these serious disorders which can affect up to 15% of women in varying degrees occur through no fault of our own.
If there had been more awareness and more importantly, more knowledge available back then, not only could I have made an informed decision based on facts rather than fear, I could have very likely avoided the suffering I and my daughter endured during and after pregnancy.
And in some ways, still to this day.
That's why I'm beyond thrilled to learn of a new online tool currently being tested with the potential to help women all over Canada, and the world make better, informed decisions about their healthcare and the health of their babies.
Dubbed the "Online Patient Decision Aid for Antidepressants in Pregnancy", the study is the first of its kind recently launched out of Toronto's Women's College Hospital that'll look at whether an online tool can help reduce a woman's 'decisional conflict' around whether or not to take antidepressants during pregnancy.
"Our previous research showed that women have a lot of difficulty deciding about whether or not to use antidepressant medication in pregnancy," says study researcher, Dr. Simone Vigod. "The decision is complicated - untreated depression or anxiety may have a negative impact on the pregnant woman, and may also have a negative impact on the developing fetus and newborn."
Recent studies have linked antidepressant use in pregnancy to autism and dyslexia in offspring but the information can be misleading, says Dr. Vigod.
"Most studies are comparing women who decided to take medication, to women who decided not to take them," says Dr. Vigod. "Sometimes this is like comparing apples to oranges, since for the most part, women who choose to take medication have more severe depression, and therefore have the most high-risk pregnancies irrespective of medication."
"No choice comes without the potential for undesirable consequences," says Dr. Vigod.
High levels of decisional conflict, which the online tool hopes to decrease, have been associated with poor outcomes such as delays in getting treatment or making ineffective choices, explains Dr. Vigod.
In one of her earlier studies, more than 50% of women facing the decision over whether to take an antidepressant during pregnancy had high decisional conflict and simply learning about the risks of antidepressants alone was not enough to reduce it either through googling the information or meeting with a health care provider.
"Decision aids go a step further and help women to really clarify what their priorities are and what specifically they are worried about," says Dr. Vigod.
Women will have the opportunity to tailor the tool to their specific situation, says Dr. Vigod. It will explain the pros and cons of treatment the risks for untreated depression.
Women enrolled in the study will work through a set of exercises to identify for themselves which risks and benefits are most important to them as well as anything that is making their decision-making easier or harder including partners, family, social or cultural expectations and health care providers.
The information will then be summarized in printable form which women can share with their healthcare provider if they wish.
Sarah Ross of Innisfil, Ontario faced a difficult decision on whether or not to take antidepressants during her third pregnancy.
"I just knew in my heart and brain that something was not right," says Sarah, who says she was angry all the time, short tempered and easily agitated during her pregnancy. "My husband and mother both thought it was something I could battle without medication."
It wasn't until Sarah ended up in the hospital that her family began to understand how bad she was suffering.
"I needed it (antidepressant medication) to keep myself alive," says Sarah. "And that was all I needed to make the decision."
Follow HuffPost Canada Blogs on Facebook