Long before the Huffington Post Québec launched on Feb. 8, 2012, I had a gut feeling that it would succeed. Now, five years later, I'm proud to see what we've built in Quebec.
We launched 15 days before the beginning of the 2012 massive student protests in Quebec, and since then HuffPost Québec has exploded, reaching a record 1.6 million unique visitors in March 2015 (comScore, Inc., MultiPlatform, Canada). Monthly, we drew an average 1.3 million Canadian unique visitors in 2016 according to comScore.
We started with a team of six people and we've grown to 21, including six sales representatives. The HuffPost was in four countries in 2012 and there are today 17 editions with 200 million unique visitors in the world.
Since we launched, we've published more than 15,000 blog posts from over 3,000 bloggers, making our site one the most important opinion forums in Quebec.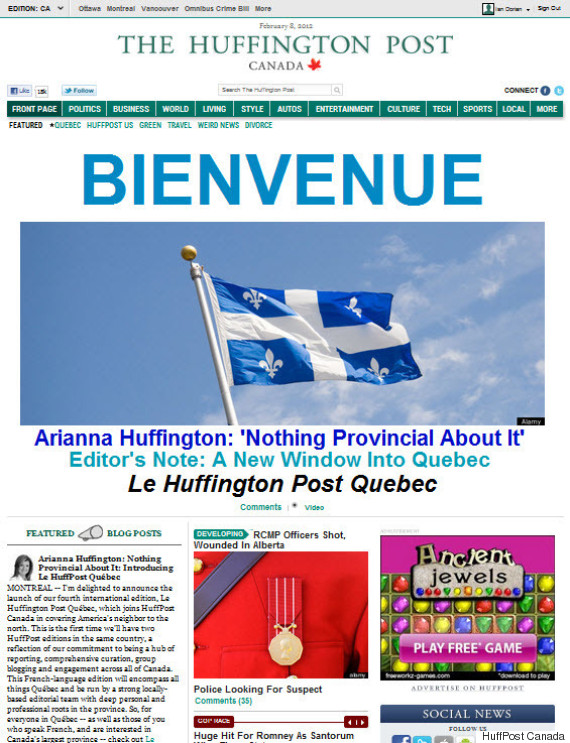 The front page of Huffington Post Canada on Feb. 8, 2012
Today more than ever, the real battle takes place through social media and Facebook in particular.
I'm most proud when I think of the big stories we've covered over these five years, from the impact of the so-called Plan Nord to finance mining projects in Northern Quebec, on women and the environment of the Côte-Nord, the literacy crisis in Quebec, to the precarious situation of Quebec artists and the development of the subway network in Montreal. We also won three important journalism awards in 2016 at the Canadian Online Publishing Awards (COPA), and were nominated by the awards of Fédération professionnelle des journalistes du Québec (FPJQ) last year.
Political coverage in French has been in our DNA. We have two parliamentary correspondents in Quebec City and Ottawa. It's one of our cornerstones -- it's simply not true that Quebecers are not interested in politics in Quebec. They do care.
We are planning to continue the big shift towards video at HuffPost Quebec. Since 2014, the Huffington Post's turn to video has been significant, and it has become one of my team's priorities. Most of our stories now include video and we've started to experiment in 360-degree videos. We will be working in new formats so the storytelling evolves.
"It's simply not true that Quebecers are not interested in politics in Quebec. They do care."

This year, we're planning to launch four major series, including one on abandoned sites in Montreal. This series will be posted over several weeks and is the result of several months' work by our journalists Daphnée Hacker-B and Camille Lopez.
Over the next year, I will continue focusing on our four pillars in terms of content (News, Politics, Wellness and Quebec Entertainment), and we want to develop better products and technology, for example, by giving our front page a makeover, as well as our mobile/web apps. And for obvious reasons, since nearly 60% of our readers access content through their phone or tablet, and very often Facebook is what leads them to HuffPost Québec.
HuffPost Quebec's staff
Our content continues to be distributed across several platforms, including Facebook Instant. But social media remains at the core of what we do, and blogs will remain in order providing one of the largest forums for diverse opinions in Quebec.
We are progressives and proud of it. The HuffPost exists to give people a voice and not tell them how to think or who to vote for.
We also want to continue to entertain you though our Style and Lifestyle sections, now found under the Wellness banner. It's a section that covers galas and glamour events here in Quebec and around the globe, and that also takes interest in your personal fulfillment, your career, your family and your beloved children, what you eat and your concern for our planet. And the purpose of all these themes and subjects is to inform you, make you smile, and make your life better.
We are progressives and proud of it. The HuffPost exists to give people a voice and not tell them how to think or who to vote for.

Our Entertainment section, which is at the heart of our readers' interests, will also pursue its mandate to decode the mysteries of the Quebec star system, while giving lots of space to home-grown artists.
I would like to thank the first-rate journalists who founded HuffPost Québec with me in 2012: Jean-Philippe Cipriani, Tamy Emma Pepin, Geoffrey Dirat, Myriam Lefebvre, Bob Perez and Isabelle Marceau. And I want to say THANK YOU to all those who earned their stripes at Huff from 2012 to 2017, as well as all our freelancers and content providers. This has been a real team effort.
And today, I would like to thank, one by one, the current architects of the Huffington Post: Christian Duperron, Elsa Vecchi, Bob Perez, Émilie Clavel, Myreille Simard, Geoffrey Dirat, Sara Barrière-Brunet, Camille Lopez, Daphnée Hacker-B, Hugo Jolion-David, Marion Bérubé, Dominique Gagnon, Jean-François Vandeuren, Francis Pilon, Mélissa Pelletier, Patrick Bellerose, Catherine Lévesque, Marion Bérubé, Pénélope Champigny, Maude-Isabel Laferrière, Geneviève Landry, Alex Harvey, Philippe Breton, Virginie Chesnay and Marielle Marra.
HuffPost Québec is here to stay. More than ever, Quebecers need media to sort through events, analyse and explain information and provide context. I am committed to offering a quality product that meets your expectations.
Long live the Huffington Post Québec. Thank you for following us!