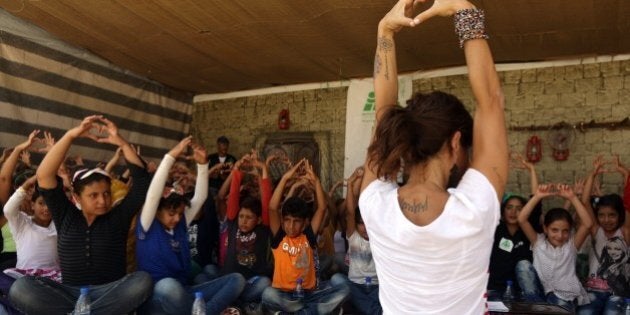 Every day, students at our yoga studios get on their mats to stretch, strengthen and breath beside a wall-quote stating the importance of recognizing our shared humanity. This quotation from the Yoga Sutras expresses a hope that "beings everywhere will be happy and free", and then directs us to focus our energy towards making this happen: "May the thoughts, words and actions of my own contribute in some way to that happiness, and to that freedom for all."
The word yoga means "union," and in our studio we not only encourage students to unite their movements with their breathing but most importantly to find a common base from which to connect with others. Yoga provides one path to recognize not only our shared humanity, but also the responsibilities we incur as a result of this recognition.
We act on this belief in many ways beyond the physical practice of yoga, by mobilizing our students to provide food and presents to needy families over the holidays, by collecting donations for the Snowsuit Fund, and most recently by joining Canadians in the shared mission of offering refuge to Syrians in need of a new home.
We will pave their way to Canadian citizenship with the love and warmth that Canadians can extend.
Desperate Syrians flee the destruction of their homes and cities, in fear for their lives; they are forced to seek haven in neighbouring states, often so poor they can do little to support the newcomers. These Syrians have a right to seek asylum -- and as the conflict has persisted, few people deny that Syrians are legitimate refugees -- and we, as Canadians, have the tools at our disposal to grant this asylum.
Canada is the only country in the world that allows private citizens to unite to sponsor refugees, by taking on a commitment to welcome them and support them as they take refuge in the safe and tolerant country of which we are lucky to be a part. Like so many Canadians, we and our students are working together to raise money, which we will use to house, feed, and clothe these newcomers, and to help them get back on their feet after a long and hard journey from Syria. We will pave their way to Canadian citizenship with the love and warmth that Canadians can extend.
One of our students wondered why we are prioritizing the needs of foreigners over those of needy Ottawans. We answered that there is so much unmet need in Canada, and around the world, and our job is to work steadily in doing our part to meet some of that need. This effort to help vulnerable Syrians is in addition to all of the efforts we put into our local community.
Canadians have been commended for their commitment to Syrians. Minister John McCallum is probably right in claiming to be the only Minister of Immigration in the world whose challenge is meeting the demands of Canadians who want to support refugees. When he announced the Liberal Government's pledge to admit 25000 refugees from Syria, the High Commissioner for Refugees, António Guterres said, "This is a huge gesture of solidarity with the Syrian people"; it is a solidarity that is expressed within and by private sponsorship groups like ours. Everyone we have asked to join us in our mission has agreed. Together we are living our yoga.
The practice of yoga in Ottawa has recently been criticized -- a yoga class at the University of Ottawa was cancelled, citing concerns over cultural appropriation. There is no better way to show that yoga's lessons -- of unity and solidarity -- have crossed borders and cultures, than by standing up in defense of everyone's right to live in safety.
Interested in joining us for our final fundraiser on April 30th? Click on yoga and tacos for more info.
Follow HuffPost Canada Blogs on Facebook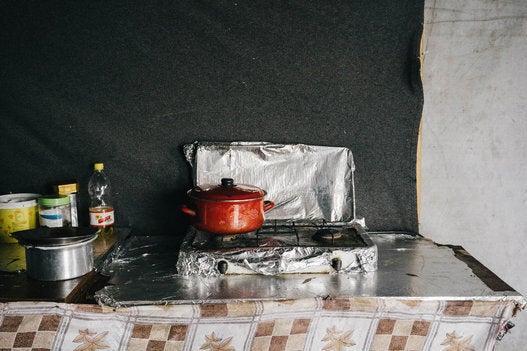 Syrian refugees struggling to eat