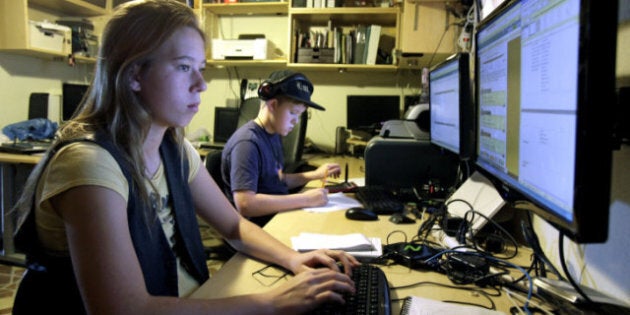 Education is the next part of the economy that's going to be disrupted in massive ways. Lots of young people have made their way through university only to wonder whether their education was completely disconnected from the way the world actually works.
Online education is making the same transformation that online dating made over the past few years: It's no longer relegated to the sideline, seen as a niche area for the desperate. Instead it's being recognized as an easier way to solve a big problem: finding the right skills.
For example, MIT's Open Courseware, called MITx, is an online university that lets people learn whatever they like at their own pace, for free. For those who take to the online format and want accreditation, MITx offers testing and certificates for a small fee.
At the same time, smart grads who see this type of model as the future are seeing dollar signs. If education is about to change and the cost structure is going to be completely reshaped, how can they get in on the action? The natural result of this thinking is the growing number of startups we're seeing that focus on new ways to help teachers teach and students learn.
A great of this is The Khan Academy. Former investment banker Salman Khan has been recording lessons on everything from how fractions work to explanations of how copyright reform law could impact the Internet. With the help of Bill Gates, he's released all this information. For free.
In the Khan Academy model, students watch lectures to learn about new concepts on their own time. They can then do question sets to hone their skills and learn what their weaknesses are. Then, when they go into class online, teachers know exactly who has done what work and how they're doing. Time with the teacher becomes a work session that addresses specific problems with concepts, rather than broadcasting the concepts to everyone in the room. Teaching is no longer the process of information being transferred from the notes of the teacher to the notes of the student.
Seeing the Khan Academy model, a startup named Tablo (funded by Peter Thiel, the man behind PayPal) has created an easy-to-use tool that lets teachers create and broadcast their own Khan Academy style lessons, right from their browser. It's a fantastic tool and should do wonders to empower teachers.
Tablo is just one company. TeachersPayTeachers is another service that lets educators sell their lesson plans and teaching materials to one another online. With such advances in online education, there's no reason why every student shouldn't be able to have access to the best.
Via modern technology, an entire generation of graduates is realizing they have the ability to reinvent the wheel of education.
In the classroom, this means that teachers will have tremendous freedom to choose the tools that they think will best complement their content, style and students. But in order to get this benefit and share it with young learners, there needs to be a culture that encourages teachers to try new things and share the results of what works and what doesn't.
Uncertain times lay ahead, and the stakes have never been higher. We owe it to our students to give them the tools and technology to experience the world as it is today, not as it was in the 1700s.