There is a painful social cost to political and bureaucratic inaction. Here's one baffling example of the impact of civic apathy:
I received a phone call yesterday that I believe HuffPo readers should know about. I also ask that you share it with your friends, family, imagineCalgary, the Calgary Food Committee, Calgary Poverty Reduction Initiative, Office of Sustainability, Plan It, MDP, FAAP, Fair Calgary, The Office of the Mayor, City Council & Aldermen, the City Manager's office, et al...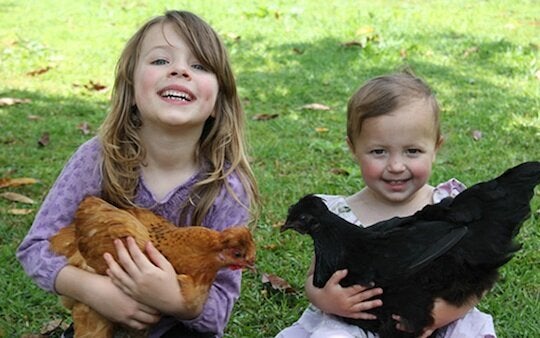 Early Monday morning I received a phone call from an urban hen owner and contributing member of CLUCK Canada (Canadian Liberated Urban Chicken Klub). She had just been served by Calgary bylaw for possession of livestock, her three hens (no roosters), and was ordered to remove her hens. This bylaw officer has visited her property many times and she finds the dynamic to be very intimidating. This lady is a law abiding citizen, volunteers with numerous local agencies, grows and raises a lot of her own food and gardens everyday. She is a very conscientious and eloquent lady with a big heart, but today she was in tears on the phone. She was scared and intimidated. She was fearful for her pets (her hens) which receive amazing care and attention from this lady. They all have names and she treats them just as any loving cat or dog (or pigeon owner, of which you can have 150 in Calgary) would their pets.
She is a little older, lives alone, and her great love is for her pet hens. They are her family now. Her only other family, her mother, lives in the U.K. and she is quite sick, so she will be visiting her and she has to leave her hens for a month. She is afraid of what might happen when she is gone. Will her pets be here when she returns? It is very upsetting to her and that was apparent from her sobs over the phone. My words were little comfort, but I tried to console her by sharing some of the history of food issues in Calgary.
She continued crying on the phone and asking why the city persecutes people who should actually be receiving support for being local food pioneers and early adopters of the Food Assessment & Action Plan (FAAP). I really had no logical answer for her. I told her I, and many others, have repeatedly asked the Office of Sustainability and the Calgary Food Committee to take a position on this matter.
I told her about the ongoing Canadian Right to Food Trial, where the City of Calgary actually takes a position in a Canadian Courtroom against it's own official public policy and the United Nation's Human Rights Declaration. I told her about imagineCalgary Food Targets. I told her about the Calgary Poverty Reduction Initiative's Food Dignity Report. I told her about the 18 (!) pages of official City of Calgary policy that supports local food, urban ag, food dignity & household food security. I told her about the Fair Calgary policy that begins with the words, "Whereas, Canada is committed to the Universal Declaration of Human Rights... and the Canadian Charter of Rights and Freedoms." I told her about the city's Triple Bottom Line decision making protocol. I told her about how our bylaws were to align with official policy. I told her about Alberta MGA 5(b), which dictates to municipalities that they must follow policy they set for themselves. This is the same MGA that allows the City of Calgary to prosecute citizens for the audacious act of raising their own food to feed their families. However, in what is possibly the root of the municipal hypocrisy, red tape, bureaucracy and disrespect for democracy, the MGA has absolutely no provision for politicians that do not adhere to MGA 5(b) and refuse to follow or implement their own policy. To juxtapose, you can essentially mislead a million people without consequence, but you cannot have one hen, or you may receive a sentence of jail time as I did.
I told her about the numerous meetings on food related issues over the last five years with the City of Calgary. I told her about endless hours attempting to create a superior understanding about food issues, and food policy, and the importance of household food security and the right to food. I told her about the respectful relationship we had with Calgary Bylaw while Bill Bruce was the Director of Animal & Bylaw Services. I told her about the academics Bill Bruce assembled to be part of an innovative and scientific study, the Urban Egg-Laying Hen Pilot Project, that was subsequently shot down by the City of Calgary CPS Committee, with Ric McIver as chair, and comments from Ald John Mar that industrial eggs from Co-op "worked for his family." I told her about our Mayor, who only 48 hours before the 2010 Municipal Election said he supported the Urban Egg-Laying Hen Pilot Project, yet has not acted on this whatsoever, even though he has been contacted repeatedly about resurrecting the pilot project.
I shared all of this, and more, with this distraught lady. She was right. She is a pioneer... yet according to Draconian, antiquated, hypocritical municipal policy, she is also an outlaw in her own community, which, irony of ironies, has a proud agricultural heritage and every year hosts the world's largest celebration of this agricultural heritage, the Calgary Stampede.
After all of this, she was not to be consoled. None of what I shared had any consequence on her present situation. Her pets were threatened and the inaction of politicians, bureaucrats and administration was a cold, bitter, harsh reality to this graceful, caring, articulate and compassionate woman. It really has become a cruel charade with cruel consequences.