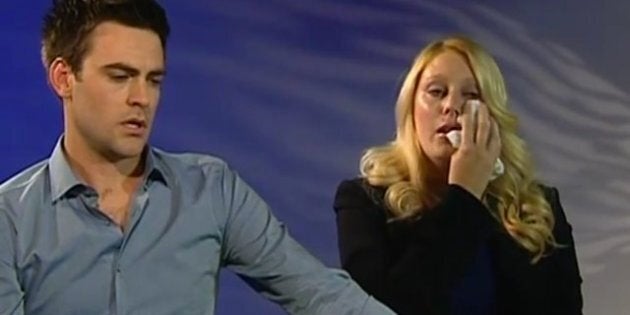 When MC and Mel, of Sydney's 2Day FM, placed a crank call to London's King Edward VII Hospital, there's no way on earth they could have foreseen, that it might play a part in a tragic event like this.
Pretending to be the Queen and Prince Charles, the two inquired about the condition of the Duchess of Cambridge, who was battling a severe case of morning sickness. Apparently fooled by the pair, nurse/receptionist, Jacintha Saldanha, put the call through to the nurse's station on Kate's ward.
What followed was a conversation, more silly than funny, with a still unnamed nurse, updating "The Royals" on Kate's condition... information that had already been made public.
Subsequently, a mocking world pointed and laughed, incredulous, that anyone was dumb enough to fall for the gag... the twitterverse was a-giggle, and comedians and talk show hosts feasted on the "stupidity."
Three days later, the laughing stopped.
Early Friday morning, Jacintha's body was found in her home near the hospital. It appeared the 47-year-old mother of two teens had taken her own life. Now, the world has a new target -- those two heartless DJs at 2Day FM!
The social media surfers are crying out for justice -- they must be punished, persecuted and prosecuted! Australia's communication authority has launched an investigation, and the nation's Prime Minister has expressed her regrets.
Meanwhile, a devastated MC and Mel have been be benched, their careers on hold.
But what are these two actually guilty of? Crank calls on radio have been around for at least 50 years, maybe, since Bell met Marconi!
And was it really this gag that led to Saldanha's apparent suicide? Did she tell someone or leave a note? Did she suffer emotional problems and this nudged her over? Could the timing of her death be just a coincidence?
I have no idea, but all I've heard to this point is a lot of speculation and assumptions.She killed herself, ashamed and embarrassed over being fooled.
Few of us escape life without being pranked at some point, but, fortunately, most of us have the ability to laugh at ourselves. It's not only an admirable quality, but a necessary one.
Maybe Jacintha could take a joke, but maybe, for her, this one was just too big to handle. Again, who really knows for sure? What I do know is, these two young DJs don't deserve the pummelling they're taking.
If you're torn up by this tragic event, just imagine how they feel, standing accused of pushing a woman to take her own life!
Hang in there, MC and Mel...
The Motts can be heard weekdays from 11 until noon at themotts.ca with podcasts available anytime. "Motts Weekend" is heard on 610 CKTB, CKNX in Wingham, CHOK in Sarnia and CJBQ in Belleville.