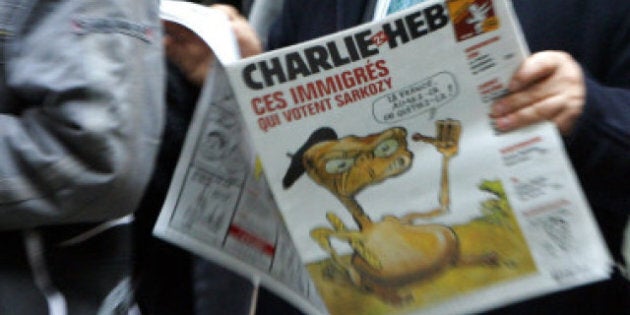 If it thought it could poke the bear, score some cheap publicity and escape a mauling, it was a sad miscalculation. The beast attacked... and it was costly.
The front page of this week's edition of the French satirical newspaper Charlie Hebdo, featured a cartoon of the Prophet Muhammad, accompanied by a word bubble that read, "100 lashes if you don't die of laughter." It sported the headline "Charia Hebdo", in reference to an article on Shariah law that the paper joked was guest edited by the prophet himself
The edition hit the streets Tuesday. Wednesday, two Molotov cocktails lit the paper up... Fortunately, no one was injured.
Like most of us, the good people at Charlie are well aware of the fact that any depiction of the Prophet Muhammad is considered blasphemy by many in the Muslim world -- not just militant wackos, but moderates as well. And recent history shows that those who violate this belief do run the risk of being 'bullseyed' by Muslim extremists.
Until it finds new quarters or rebuilds, Charlie has taken up residence with the French daily Liberation, which by the way, has reprinted the offending cartoon, along with the headline "After their office blaze, this team defends the 'freedom to poke fun.'"
In a free society, few will argue that Charlie, or anyone else for that matter, doesn't have the right to poke fun and freedom of expression should be defended. But having the RIGHT to do something doesn't always make it right. And it's certainly no shield against retaliation. Right, Charlie?
While this 'in your face,' 'ain't we brave' cartoon was meant to rile up the militant whack-jobs, it also, needlessly, offended a great many law abiding, peaceful Muslims.
But obviously, Charlie doesn't care. From its temporary home, it plans to pump out 175,000 copies of the offensive article, which I'm sure many will see, as a courageous, defiant move in defence of freedom of expression!
Sorry, Charlie. Ain't buyin' it. You wanted attention... you got it!
For the mentally stable, maligning Muhammad is no justification for violence. However, these extremist cats are anything but. Odds are good they'll strike again.
Maybe the guys at Charlie should pray to THEIR gods... so that they're still around to write about it.