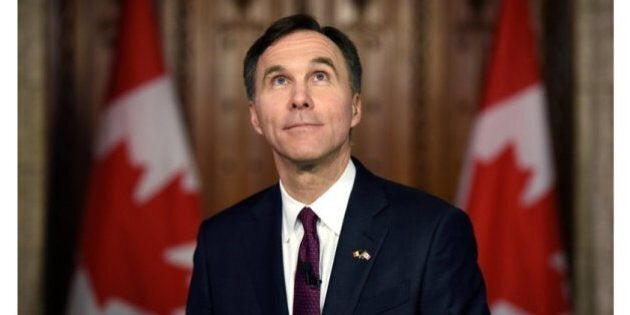 The federal Liberals revealed their first budget in office Tuesday at 4 p.m. Have they delivered on the action items pledged to Canadians on the campaign trail?
Finance Minister Bill Morneau delivered the budget, titled "Growing the Middle Class" in the House of Commons, with plenty of implications for infrastructure spending, family taxes, EI, and indigenous peoples .
"It's a great budget," stated Prime Minister Justin Trudeau as he and Morneau posed for photos prior to entering the House. "It's going to help a lot of people and grow the economy."
The budget sets forth an official roadmap for the government's medium-term financial priorities such as new tax policy, infrastructure spending and -- most controversially -- debt; how much, and for how long?
According to Tuesday's budget, the Liberals plan to run a $29.4-billion deficit for the fiscal year with no balanced budget planned until at least 2020-2021. The spending is in efforts to amp investment in infrastructure and boost the oil-weary economy.
The bulk of the spending will be allotted to four key areas:
Middle class families will receive 8 billion over four years in the form of the Canada child benefit tax credit, which will replace the Universal Child Care Benefit and Income Splitting. The Children's Fitness and Arts tax credits have also been cut.
Employment Insurance benefits will be extended in 12 high-risk zones most impacted by economic downturn throughout the nation, including Alberta and Saskatchewan.
Infrastructure investment will receive 11.9 billion in funding over the next two years as part of a two-phased spending approach. Phase one will focus on boosting green and transit initiatives. Phase two, which won't roll out until after the next election will focus on construction projects and the transition to a low-carbon economy.
Indigenous communities will receive 8.4 billion over the next five years to improve schools, water supply, social programs, as well as the inquiry into missing and murdered First Nations women.
Forecasters predicted a range of $28.6 billion to $40 billion with stimulus measures factored in. Regardless, it is considerably higher than the party's campaign promise of $10 billion spread over three years -- a plan built on an expected $2.5-billion surplus left by the previous Conservative government.
However, upon taking office in October, the Liberals realized that months of oil depreciation and economic underperformance meant there was no surplus in sight. Rather, the newly-minted Grits had no choice but to announce they'd blow their initial debt projections, stating the Conservatives had left Ottawa's "cupboard completely bare." Said Morneau at the time. "The simple truth is that the economy has not performed as well as projected in the last budget."
Prime Minister Justin Trudeau has stated the new spending measures will prioritize "unsexy" projects for municipalities such as "... recapitalization of infrastructure. Maintenance upgrades. The things you don't get to cut ribbons and announce shiny new buildings on."
How Will the Budget Impact Mortgage Rates?
The new spending measures are expected to add 0.2 per cent to Canada's GDP this year, and 0.4 per cent in 2017. The extent of this GDP support is being keenly watched by the Bank of Canada, which uses the manipulation of interest rates to keep the economy stable.
Generally, the Bank of Canada is poised to stick to its wait-and-see approach, as the transition from oil's downfall is still underway. Despite small signs of economic improvement, it's still very much in the central bank's best interest to leave the cost of borrowing low -- both for the indebted government, and for millions of Canadians highly leveraged in their mortgages and consumer credit. Translation for variable mortgage borrowers -- your monthly payments will very likely stay low for several years to come.
Morneau pointed to the availability of low rates in his budget speech, stating,"Studies consistently show that when there is slack in the economy and interest rates are low, for every dollar a government spends on infrastructure, substantially more than $1 of economic activity is generated."
Pending a strong economic turnaround, the BoC will likely leave rates where they are for the duration of the Liberals' deficit plan, as hiking rates could offset any GDP benefits from the increased spending.
Should the economy slow again, a central bank rate cut is a possibility -- but the BoC is in no rush to further encourage households to take on debt; Statistics Canada recently reported the average Canadian now owes $1.65 for every dollar they earn.
In truth, the BoC may not need to take any action at all, as the U.S. Federal Reserve's next steps may be all the influence our economy needs. Should the Fed hike their own central bank rates (which they may poised to do as early as April), it will naturally depress the loonie and strength the export industry. The Fed hiked rates for the first time since the recession in December 2015.
The Bank will release their assessment of the new spending measures in their upcoming April projection. In January, the BoC slashed their growth projection from 2 per cent to 1.4 per cent. It will be interesting to see if this forecast changes once stimulus takes effect.
After nearly a year and a half of a struggling oil industry, rising household debt, and even a brief "technical" recession in early 2015, Canada's economy is showing new signs of life. Retail sales, which took a dip during the holiday season, roared back at 2.1 per cent in the first quarter of 2016 -- the strongest growth seen since March 2010. Economists had predicted a modest surge of 0.6 per cent. Auto purchases drove the uptick with 4.8 per cent growth.
Meanwhile exports have shown promising improvement due to U.S. recovery, growing for the third consecutive month -- an important driver for the economy amid oil's absence.
Follow HuffPost Canada Blogs on Facebook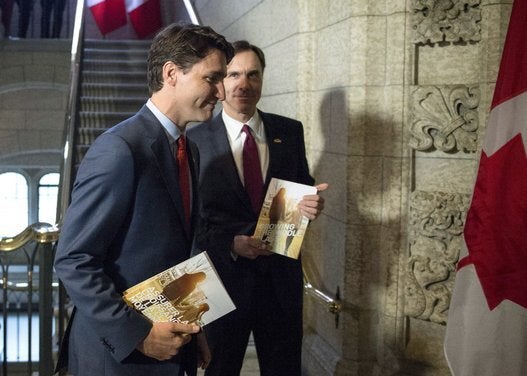 Federal Budget 2016 Highlights