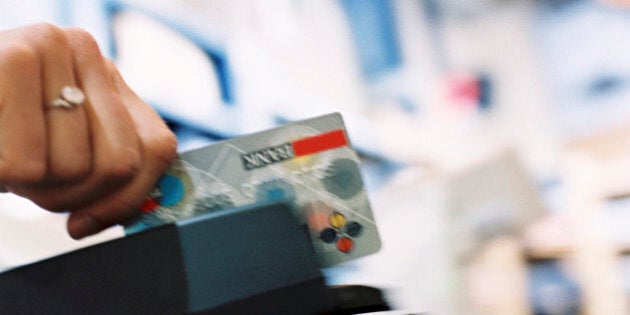 Did you know: The right credit card can help protect you from online fraud, shoddy deals, and even save you cash? Here are RateSupermarket.ca's top credit card picks for spending holidays.
Who cares about the lagging loonie? Certainly not deal-happy Canadians gearing up to hit this week's Black Friday and Cyber Monday door-buster sales. Reduced spending power hasn't slowed our nation's appetite for a great deal -- and with more home-grown retailers participating than ever before, the exchange rate is a second thought for most.
Originally American spending holidays Black Friday and Cyber Monday have steadily grown in popularity in Canada and are now usurping Boxing Day. Recent data released by ShopBot, a retailer comparison site, finds 75 per cent of shoppers favour Black Friday to the original Canuck spending spree. Ontarians are most eager to shop 'til they drop, at 46 per cent.
For the savvy shopper, spending holidays can be a great time to save a few bucks on toys for the kids on your gift list, the smartphone you've been eyeing, or the patio set you'll need come spring -- but getting caught up in these sales has a downside. Online and in-store fraud, travel costs and steep duties and taxes can take their toll on even the greatest of deals.
The good news? Your method of payment can go a long way in protecting you from shopping pitfalls.
Here are our top credit card picks for your 2015 Black Friday purchases.
What You Need: Purchase Protection and Extended Warranty
You've snagged a TV in that fantastic door buster deal... only to find out it's busted as well when you take it out of the box. The store has a Black Friday no-return policy, and you can't find a warranty within the packaging. You could be out of luck... unless you're carrying plastic with extended warranty and purchase protection features.
Extended Warranty: This feature adds up to two additional years on a manufacturer's warranty, giving you extra peace of mind on hastily-made purchases.
Purchase Protection: This handy feature insures your purchases from theft or damage up to 180 days from the day you buy it -- meaning you'll be covered for everything from a broken screen, to your goods being stolen from your car trunk or doorstep.
What You Need: To earn rewards on everything you're buying
Are you the type to always pay your credit card balance without fail and love earning rewards when you shop? Black Friday presents a great opportunity to amp up your earnings and cash back specifically can actually help you offset what you're spending on purchases. The trick is to use a credit card that:
Will earn rewards on any type of purchase
Has no cap on the amount of rewards you can earn
While there are many fantastic rewards credit card options available on the Canadian market, they're often limited to gas, grocery, or drugstore purchases. It's important to know exactly what type of transactions are eligible on your card and whether you'll truly be rewarded for that shopping spree.
What You Need: Built-in gas rewards and insurance
Plan to do Black Friday old school and head south of the border? You'll need to include travel and insurance expenses in your shopping budget.
First, ensure you'll be earning cash back or rewards on those miles logged -- a gas rewards credit card or cash back that earns on fuel can help offset those road trip costs. It's also important to ensure you have the proper travel medical, accident and collision insurance for your south-border jaunt. This kind of coverage can be found on most premium travel and cash back credit cards. Also be sure to check whether your card is partnered with any auto rental companies; you may receive a discount on your rental car, and could waive the collision insurance to boot.
What you need: To offset your Forex fees
Today's loonie measures up to 75 cents on the dollar, so expect your affordability to take a hit south of the border on even the most basement of bargains. But here's a little-known fact: on top of the exchange rate at the register, you'll also pay what's known as a foreign exchange fee to your lender. This fee is generally around 2.5 per cent -- meaning for every $1,000 you spend on your card internationally, you'll spend $25 purely on fees. While many American banks have waived this fee on their credit cards, Canadian lenders continue to nickle and dime their cardholders.
What you need: To do your duty
Planning a quick day trip? It'll cost you -- should your cross-border excursion last less than 24 hours, you'll pay duties on anything you purchase. The amount of duty and taxes owing depends on your province (where you cross from Canada into the border doesn't matter), and differs based on the category of your purchase and where it was manufactured. Check out the Canada Border Services Agency's Duty and Taxes Estimator calculator to see how much you'll need to cough up.
Are you planning to take part in Black Friday and Cyber Monday sales? Tell us in a comment, or visit us on Facebook and Twitter.