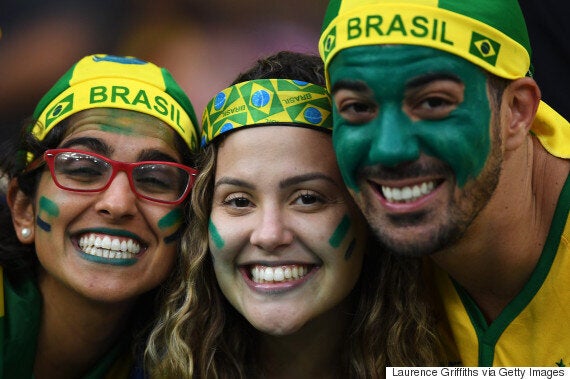 Brazil fans cheer on Day 15 of the Rio 2016 Olympic Games. (Photo: Laurence Griffiths/Getty Images)
Based on the media coverage about Rio de Janeiro leading up to my attending the Olympic games, I was about to enter a post-apocalyptic war zone covered with sewage and dead bodies. I should have been scared to death. But because part of my job is to advise clients on media, I knew that the coverage might not be entirely accurate.
But as my experience revealed, the air was as fresh as it is in most major cities (my home Toronto included), I didn't encounter a single mosquito and the waterways were pristine -- no foreign floating objects ever came in my sights.
Media set a tone and expectation for what the conditions were like, and people believed it.
Even if the worst-case scenarios were true, I would have went to Rio and attended the Olympics anyway. After all, how often do you get to watch your daughter compete for a medal on one of the world's biggest stages? This is true even if it means the possibility of my floating body hindering the sailing competition.
Having just returned from Rio in a regular airplane seat and not in a body bag, I am pleased to say that we had a fabulous time and are the proud parents of a rugby sevens medal holder.
Yes, Rio has problems of major proportions -- including a soaring murder rate and grinding poverty. But let's look at the positive side.
I have visited many cities over the years and cannot recall a place where the people are more friendly and helpful. Even those who spoke no English bent over backwards to be obliging with everything from menu selections in restaurants to directions to venues. This was true from street vendors to people just walking down the avenues.
One great example was the elderly woman selling coconuts who spoke no English, but stepped away from her cart to tap passersby on the shoulder to find someone who did. When she succeeded, her smile was huge. I wish we had a little podium and a medal for her.
On non-game days, we enjoyed the three major beaches: Copacabana, Ipanema and Leblon. All were crowded with tourists and locals alike. Beer was available for about $3. (Take that, Canada!) And yes, even the beach vendors were polite and took "nao obrigado" with grace. Where else do you know where they sell ready-to-drink cocktails on a tray including Caipirinha, Brazil's national thirst-quencher?
As when visiting any big city, it's important to be smart. Rio is no exception and, given its situation, a little extra vigilance was called for. Any advice I could provide would be obvious, such as avoiding favalas (slums), especially after dark. While mostly good people populate favalas, they have been the victims of gang drug wars. Given the level of poverty, you shouldn't flaunt money, jewellery or top-of-the-line cellphones. See! You knew that already.
Were there problems at the Olympics? Yes, there sure were. But almost all were the responsibility of the International Olympic Committee organizers and their single-minded focus on helping themselves.
Examples include lack of planning for food at events. At the rugby venue, like all venues, outside food was prohibited. This is not unusual for sporting events. What was unusual was the lack of food sellers and variety. Very long lines formed for a menu choice that was mostly limited to hot dogs with no condiments. Of course, the hot dogs ran out. Worse, they even ran out of beer. (Is there no God?)
The IOC VIP tents, on the other hand, leaked men in suits munching on all sorts of good stuff. Especially galling was their habit of taking out ice cream and other refreshers to eat in front of us paying customers sweltering in the sun. (Really IOC? Really?)
Regular Cariocas (residents of Rio) countered any of the IOC's ineptitude and arrogance with grace and charm. By the way, even the media, those prophets of doom, seemed to enjoy sitting on outdoor patios sipping Caipirinhas all the while flaunting their expensive cellphones.
Follow HuffPost Canada Blogs on Facebook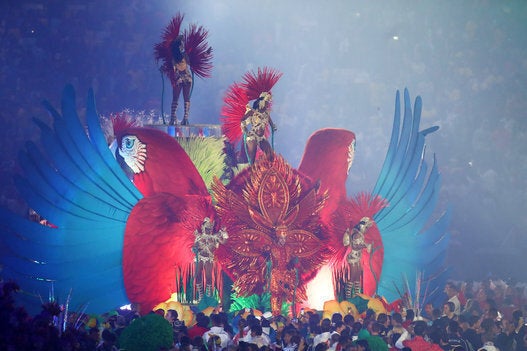 Mesmerizing Photos From Rio Olympics 2016