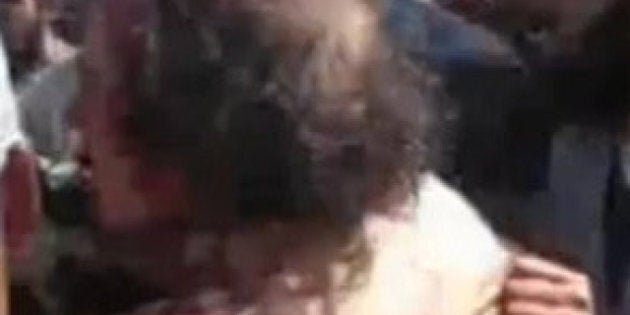 There's a fair amount of hypocrisy, nonsense and myth-making in the aftermath of the death of Libya's Moammar Gaddafi.
The UN and civil liberties types worry about how he died: Was he killed in the cross-fire of a gun battle as some say, or died of wounds, was he beaten, or was he simply executed?
What does it matter? He's gone, and that's the bottom line.
For what it's worth, all the evidence points to Gaddafi being lynched -- summarily shot and killed. Not by accident, but on purpose. Summary execution.
Editorially, the Toronto Star frets that his death "cheats Libyans of seeing Gaddafi face an International Criminal Court tribunal for his crimes." How's that for a dose of hypocrisy?
Arguably, the last thing anyone should have wanted was Gaddafi alive and put on trial, which would almost certainly have become a disruptive circus and fiasco.
In Iraq, Saddam Hussein faced a trial that was more fiasco than jurisprudence -- prior to his being ghoulishly hanged. Facetiously, it could be said that the American soldier who captured Saddam should have been court martialed for not shooting him.
Editorially the Globe and Mail opines that "Libyans' interests would have been better served if he (Gaddafi) had been tried rather than tortured and killed."
Oh? Why is that? What interests? Libyans mostly wanted to be rid of the guy. They are more aware than Globe and Mail editorial writers as to the nature of Gaddafi. The page is now turned; he is denied a platform from which to posture and agitate as he would have at a show trial.
To the Globe, "as long as the rule of law in the country is fiction, they (Libyans) still live in tyranny." Baloney. It's what they do now that counts, not what they did to Gaddafi.
What is true is that none of Libya's ruling National Transitional Council (NTC) has experience with democracy -- other than accepting aid from democratic countries. In the whole of North Africa and the Middle East, Israel is the only country that functions under democracy. None of the "Arab Spring" rebellious countries do. Even now, Egypt's rebellion includes the selective killing of Christians in certain places.
The National Post, often sensible, joins the parade by editorially telling readers that the RCAF and RCN "have particular reason to be proud" of their part in the war against Gaddafi -- perpetuating the myth that military involvement was to save civilian lives and not to undermine and depose the Gaddafi tyranny.
Canada's seven CF-18 fighter jets conducted 10 per cent of the NATO air strikes, invoking Prime Minister Stephen Harper to declare "how proud we all are of the prominent role played by the Armed Forces... to defend innocent Libyans against the regime's violence."
"Defending innocent civilians" was the excuse used to overthrow the regime that initially and without sponsors, the Libyan people rebelled against.
No question the RCAF and RCN were competent, but mostly the air war was a turkey shoot -- gunnery practice for our pilots against an enemy that after the first few had nothing left with which to fight back. Be "proud," if that's your wont, but there wasn't much danger to our guys unless they had engine failure over Tripoli.
Curiously, the one who comes off best is U.S. President Barack Obama who sensibly refused to lead the attack, and merely joined the decision of Britain, France and NATO to wage an air war, but not a land war.
With "peace," the real trouble for Libya begins anew.