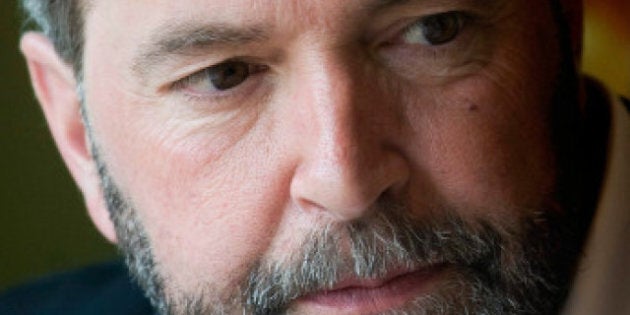 Not that I would vote for the NDP to form the government of Canada (or the Province of Ontario), but if you believe a strong Opposition is necessary in a democracy, Quebec's Thomas Mulcair seems the best choice to lead the NDP.
Right now he seems a longshot, and he's running against both the NDP's establishment and the NDP's history. But he may be just what the party and Canada's politics need in these times of bland, play-it-safe leaders.
The favourite to win NDP leadership is Brian Topp, President of the federal NDP, a union leader (ACTRA), something of a journalist, and well connected with big NDP names -- Ed Broadbent, Saskatchewan's Roy Romanow, Phil Edmonston, and advisor to the late Jack Layton and former Toronto mayor David Miller.
Topp is well respected, well-known in party ranks across the country, and has a reputation for speaking his mind and is no one's patsy. Still, he's establishment, and more of the same.
Mulcair is reputed to have a quick and unpredictable temper, which makes him exciting, but he also seems to look beyond the present. As MP for Outremont, he's said that if the NDP ever wants to form the government, it must expand beyond its present base, attract new supporters, and be prepared to "do things differently."
That sounds like an innovative guy who is anxious to break fresh ground.
He knows he has to expand his own base beyond its present Quebec, where most of the 59 new NDP MPs support his leadership. Mulcair put it this was to the Vancouver Sun: "In Quebec we now have lots of trees with few roots. In places where we have deep roots, like Saskatchewan, we no longer have many trees. So we have to find out what's been missing..."
Mulcair is unusual in that prior to joining the NDP and being elected in Outremont, he was Environment Minister in Quebec's Liberal government of Jean Charest. Prior to that, he was a civil servant in the Quebec government, ran his own law firm, and taught at Concordia University and other schools.
When he quit the Quebec Liberals, there was a suggestion that the Conservatives tried to recruit him, but Mulcair wasn't interested because he felt they weren't sufficiently ecologically friendly. Besides, he supports the Kyoto Protocol while the Conservatives tend to think it is a sham and even a scam.
With federal Opposition parties in some disarray at the moment, a leader like Mulcair has potential for making gains for his party. As interim leader of the federal Liberals, Bob Rae carries a lot of baggage, and hardly excites the electorate.
Some think the Liberals are beyond salvaging. Even when the federal Tories were reduced to two seats in 1993, the Reform party won 52 seats and became the true "conservatives."
In recent years there's been speculation about the NDP amalgamating or uniting with the Liberals. No longer. Now it's speculation about whether the Liberals should join the NDP.
It may be premature for that, but the last two Liberal leaders (Stephane Dion and Michael Ignatieff) were so disappointing that the party dare not risk another mistake.
So opportunity beckons for the NDP -- if they choose a leader who can exploit opportunity. Personally, I hope the Liberals discover their version of Margaret Thatcher, but if I were a socialist, I'd be looking hard at Tom Mulcair.