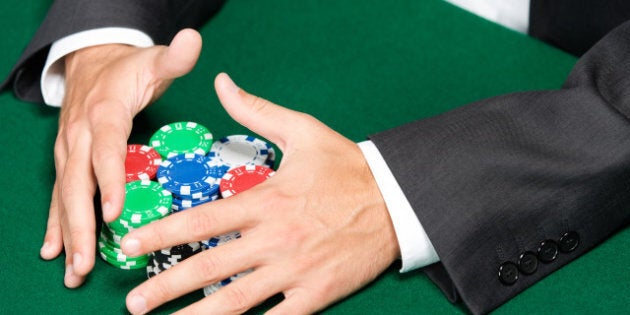 After watching four commercials for Ontario Lottery and Gaming (OLG) products in one hour on the news, I began to wonder how much this organization spends to entice people to gamble.
After all, legal gambling is a monopoly so there is no need to woo people away from competitors. One sees very little advertising for other monopolies like Via Rail and Ontario liquor and beer stores. It's not really needed because if you want to take the train, buy a bottle of booze or a case of beer, there are few alternatives.
OLG is a monstrous organization. It has 18,000 direct and indirect employees, two main offices, four resort casinos, six casinos, 14 slot destinations and 10,000 lottery retail locations. Revenue in the fiscal year (which ended Mar. 31, 2011) was over $6.6 billion or $650 for every person over 18 years of age in Ontario.
That equates to almost one 6/49 ticket per person per day.
A visit to the OLG website yielded the results on the following table. Figures are the sums of the five fiscal years ended March 2011. The 7,700 direct employees have not been able to put the 2012 results on the website one year after the end of the fiscal year.

* All in Millions of $. Revenue is after deducting $1.729 million in promotional allowances.
Note on the table that OLG has had revenues of over $31 billion, net income of $8.4 billion and spent almost $1.5 billion on marketing and promotion over the five years. That is in addition to over $1.7 billion in promotional allowances which is mainly complimentary items like free rooms, meals and parking.
The marketing expenses alone are about $143 per person 18 years old and over in the province. Then $1.456 billion or 4.6 per cent of revenue is spent to attract people to a monopoly.
This might make sense if it was reflected in the financial results. After all, marketing expenses are used to increase revenues, market share and net income.
In the case of OLG, this $1.46 billion has only increased revenue by $581 million from 2007 to 2011. Worse yet, net income -- which is the amount used to fulfill the mandate of funding hospitals, social programs etc. -- only rose by $71 million over the same five years. That is an average expenditure of $291 million per year to net $71 million, i.e., four dollars of market expense to gain one dollar of net income. That's a pretty poor return on one's advertising dollar by any measurement.
The other item that jumps out from these numbers is that the resort casinos (Windsor, Rama and Niagara Falls) have lost $281 million over the five years. They lost money in each of these years and therefore subtracted from the amounts that OLG could pass on to fund hospitals etc.
One wonders how many extra CT machines or dollars in cancer research could have been accomplished had the resorts broken even and if marketing expenses were sliced back.
My sense here is that OLG has lost its way. Originally, legal gambling in Ontario was formed to pass on the net income to the residents of the province in the form of better healthcare, recreation etc. Now the bulk of the revenue disappears into other OLG expenses like marketing.
Certainly a lot of this expenditures provide jobs in the province but that seems to be more about supporting and growing OLG as an organization rather than improving health and recreation facilities in Ontario.