On a visit to the Nduta and Mtendeli refugee camps in Tanzania last month, I was struck by powerful first impressions: the remoteness, the dust, and the immense need of the 84,007 Burundian refugees living in the camps. I was also struck by the opportunity for progress: in services provided to refugees, in support available from the donor community, and ultimately in the impact on vulnerable people's lives.
Today is World Humanitarian Day, and the theme for this year highlights our shared humanity -- something that the people working and living in these camps understand well.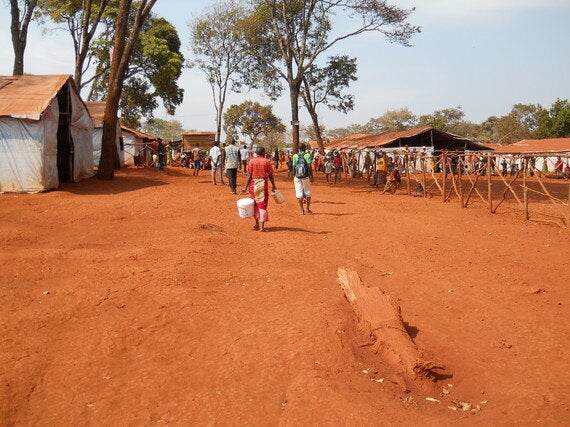 The bustling Mtendeli camp in Tanzania is currently home to over 30,000 Burundian refugees.
(Photo: Madeline Baker/Plan International Canada)
The current Burundian crisis began over a year ago, following President Pierre Nkurunziza's unlawful claim to a third term in office and an outbreak of protests that ensued. Human rights abuses and violations have been widely reported, including unlawful killings, torture and disappearances. In the past 16 months, well over 140,000 people have fled into neighbouring Tanzania, and tens of thousands more to Rwanda. Despite the magnitude of the issue, the Burundian refugee crisis has gone largely unnoticed, particularly in North American media.
The need in Tanzania's refugee camps is immense. The remoteness of the camps means that almost all refugees are reliant on humanitarian aid to meet their basic needs. By Tanzanian law, they are not allowed to leave the four-kilometre radius surrounding their respective camp, and there is only one small market within range of Mtendeli. There are no markets within four kilometres of Nduta. This desert of economic opportunity can make the future seem hopeless, particularly for young people coming of age in the camps. After all, it is difficult to aspire to a better future that is so far removed from your lived experience.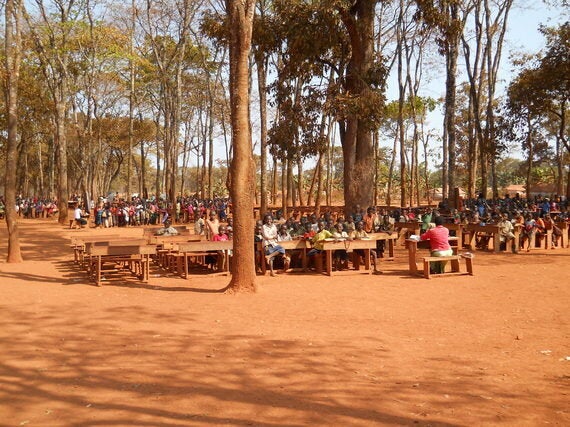 Students attend classes in one of Tanzania's refugee camps.
(Photo: Madeline Baker/Plan International Canada)
In the Nduta camp, less than 1,000 students out of an eligible 8,000 are attending secondary school. Many students choose to seek out informal skills training instead of attending school, in the hopes that they will be able to trade their skills or labour in the future. Other teens are the primary providers for their households and spend long hours in food distribution queues instead of attending class. The situation isn't ideal for those students who do attend school, either. A single textbook can be shared by up to 20 students, and many school buildings are in poor condition. Students have very limited access to lighting in the camps, leaving them with no ability to study after class.
The situation is undoubtedly worst for girls, who often leave school when they are forced into early marriage. Poor sanitation is another major reason that girls are forced to drop out. Girls need reliable access to private, secure bathrooms in order to manage their periods at school. In the Nduta camp, there are 11,000 students but only 32 bathrooms, which means only one bathroom for every 340 students. Of those students, boys outnumber girls by a ratio of five to one.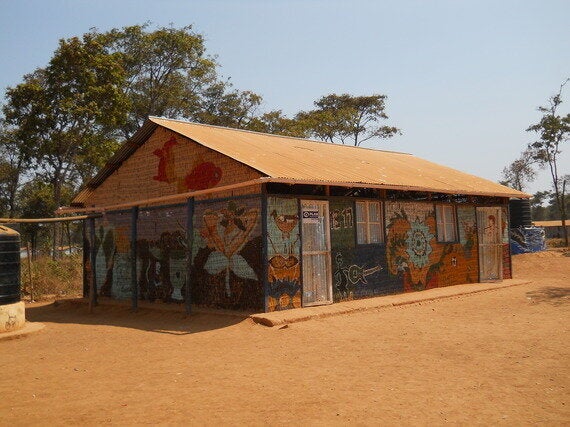 Child-friendly spaces provide stability for children in crisis and emergency situations. (Photo: Madeline Baker/Plan International Canada)
Though the need is palpable, there are also amazing success stories. One of Plan International's priorities in crisis situations is ensuring that children are kept safe. Child protection is especially vital in refugee camps like the ones I visited, where children make up 65 per cent of the population.
Child-friendly spaces are an effective way to support children in crisis or emergency situations. They provide kids with stability, consistency, companionship and education. The child-friendly spaces I saw in Nduta stood out like beacons against the backdrop of temporary canvas buildings and red, dusty ground. The child-friendly spaces are painted with bright, friendly colours and images. They are cherished spaces in an otherwise harsh and unforgiving landscape.
But what happens inside is even more amazing. Children are thrilled to attend each day. They sing, they dance, and they're able to put their worries aside. Having spoken to many people who were struggling with such diverse issues, it was heartening to see the hope and joy that these spaces were bringing to the communities they served.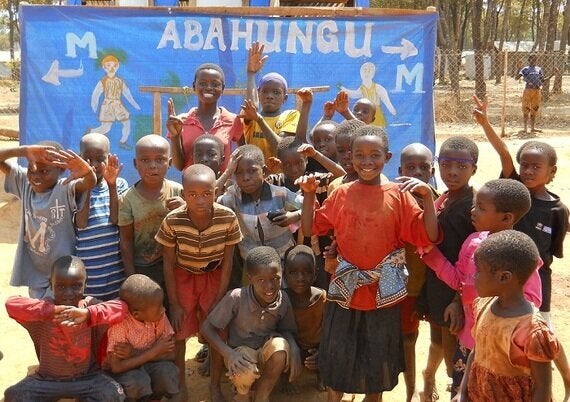 A group of children gather between activities in one of Tanzania's refugee camps.
(Photo: Madeline Baker/Plan International Canada)
Ensuring children have safe and equitable access to education is a major priority for Plan International. Schools return some normalcy to the lives of children who have been uprooted from their homes and provide a safe space for children in a refugee camp.
While I was in Tanzania, we were able to move forward on programming that will help to meet some of the most urgent needs in these camps. We are currently developing a holistic education program in Nduta camp to meet the urgent needs of secondary school students. This project will ensure that girls and women receive essential items like sanitary pads and will help them to manage their periods in an effort to increase girls' enrollment in school.
Textbooks will be distributed to more students, and child-friendly spaces will be retrofitted with solar-powered lights that will allow them to serve as after-hours study locations. Despite the complexity of the issues facing Tanzania's refugee population, there is much to feel hopeful about -- and a look at the thriving, bustling child-friendly spaces serves as a constant reminder.
The enormity of the humanitarian crises facing the world are sometimes difficult to comprehend, let alone productively address. But humanitarian workers are working hard in Tanzania and in other countries around the world to support people living in the most difficult situations imaginable. They are seeking a more equal world and are tirelessly recognizing, protecting and promoting a vision of our shared humanity.
This World Humanitarian Day, let's all strive for that common goal.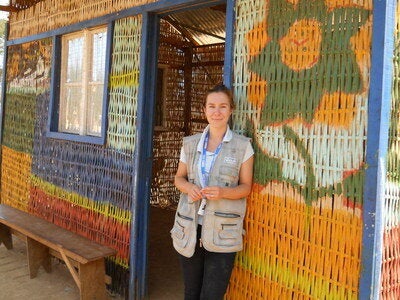 Follow HuffPost Canada Blogs on Facebook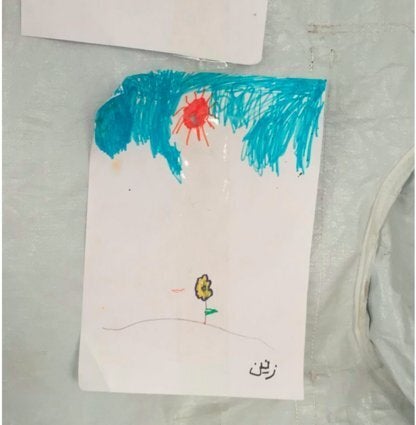 Refugee Crisis: Children Affected Draw Heartbreaking Pictures