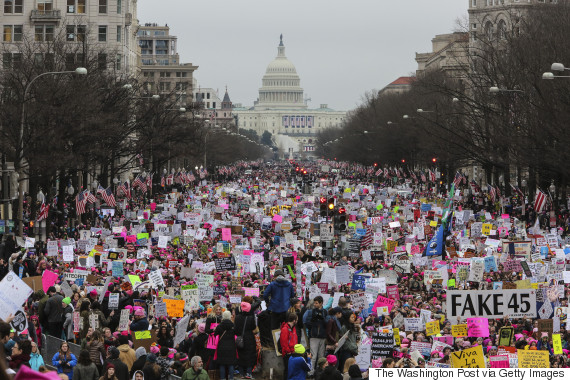 The Women's March on Washington on Jan. 21, 2017. (Photo: The Washington Post via Getty Images)
We drove for 12 hours along American highways through New York, Pennsylvania, Washington and Virginia, and at every gas station and rest stop met groups of women who were all headed to the same place: the Women's March on Washington. People flocked from across states and provinces to join the march by bus, train, car, metro and plane. Flights were filled with women headed to the march, and airlines illuminated the cabins in pink to mark the occasion.
No two journeys looked the same. Everyone had their own reason for being there.
Led by women, the peaceful march is believed to have been the largest demonstration in U.S. history, drawing between three and four million Americans to city streets across the country. Here in Canada, tens of thousands of citizens came out to support their American neighbours, and to advocate for the local issues that matter most to them and their communities. Canadians marched in 29 demonstrations in cities and towns across the country. The small Nova Scotia village of Sandy Cove drew international attention with their march of 15 people. My own mother and two-year old daughter went on a symbolic march of two people in our rural Ontario village.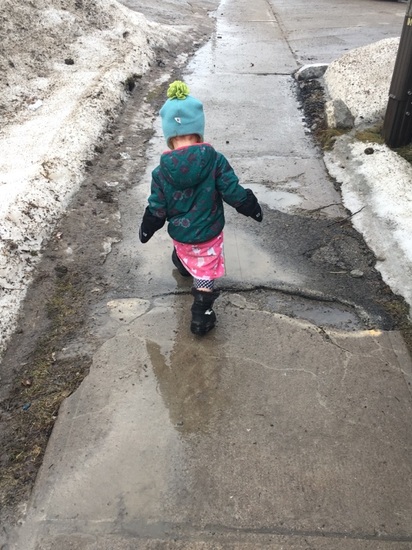 My two-year old daughter marching with her grandmother in our neighbourhood.
(Photo: Irene Whittaker-Cumming)
Hundreds of sister marches took place around the world in at least 60 countries, with women standing in solidarity on every continent -- including Antarctica. Women across India marched to demand safety for women in public spaces. Women in Georgia spoke out about domestic violence, securing equal pay for equal work and political representation. In Kenya, women demanded reproductive rights, and an end to sexual harassment, assault, female genital mutilation, and the trafficking of women and children.
No matter where they were, these marches were peaceful and inclusive. They were not about speaking out with one voice, but rather many distinct voices rising up together.
As we walked towards the National Mall, we went from a street with 10 people to a street with a hundred people, and you could feel the anticipation build. Then, suddenly, we were on a street with hundreds of thousands of people. I had full-body chills and started to tear up, for what would be the first of many times throughout the day.
From my perspective, amidst an endless crowd on Independence Avenue, this was one of the most inclusive moments of civil action in history, representing a wide array of perspectives and issues. While not perfect -- and worthy of critique and ongoing discourse -- the march highlighted that women's rights are human rights. It showed that "women's issues" are the issues facing everyone: violence, poverty, racism, workers' rights, civil rights, disability rights, environmental justice and others. The official Unity Principles developed by the experienced, diverse organizing committee laid a foundation of inclusivity, and emphasized that people's various identities, lived experiences and social barriers can interconnect in different ways, depending on who they are and where they live.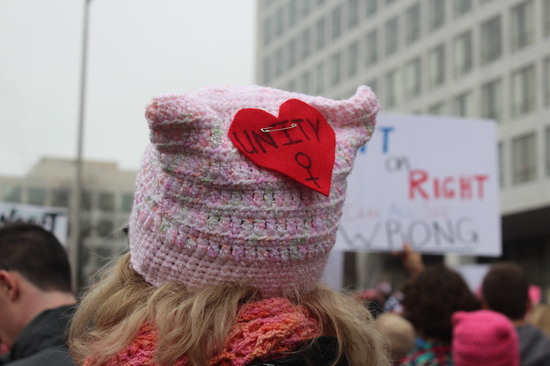 Marchers were unified by a shared commitment to fight for justice and equality.
(Photo: Irene Whittaker-Cumming)
Soon we couldn't walk any further. The crowd was thick with people united in their commitment to equality and justice. Speakers and performers spoke passionately to their lived experiences and the issues they knew best: Senator Tammy Duckworth spoke about accessibility, Sophie Cruz about immigrant rights, Michael Moore about political engagement, Gloria Steinem about sexual and reproductive rights, and Angela Davis about racism and the hetero-patriarchy.
After the speeches, we marched. We marched through the streets of the U.S. capital, shutting down the city with our massive protest, as across the continent and the world, millions of other women, men and children did the same.
Our presence was impossible to ignore, and showed what was possible as we begin a new sort of movement.
A movement with women at the helm. A movement with no leader, instead motivated by a unifying commitment to the fight for justice and equality. A movement where everyone is encouraged to take action on a diversity of issues that matter to them, their neighbours and the most marginalized among us.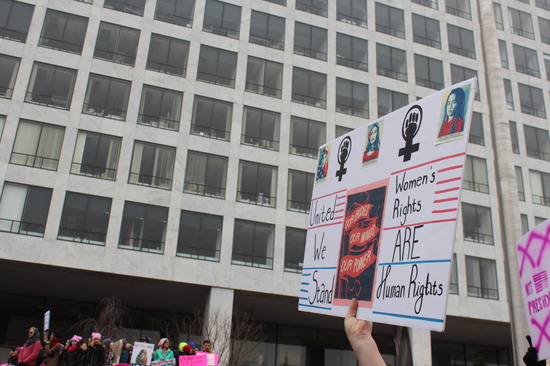 Countless signs declared "Women's Rights are Human Rights."
(Photo: Irene Whittaker-Cumming)
For me, that issue is girls' equality. I feel privileged to have taken part in this glorious, high-visibility moment that fuels the grueling, exciting and essential daily work of advancing girls' equality that I am a part of at Plan International Canada.
I feel privileged to have been reminded so beautifully that the many movements for progress are interconnected.
So, what now?
This moment of solidarity must motivate us to stand together with groups outside of our own when our collective rights are threatened, be that in our own communities or around the world.
We must show up for women and girls around the world in the same way we showed up for women on that day.
We must rally the courage to raise our voices every day to create a resounding call for equality that cannot be ignored.
And when times are tough, we must remember this day, and let ourselves be reinvigorated by the energy of millions of marchers worldwide.
Irene Whittaker-Cumming is a Senior Manager of Communications at Plan International Canada.
Follow HuffPost Canada Blogs on Facebook
Also on HuffPost: