Noy remembers the first time she saw a toilet. She was 19 years old and living in a village in Laos. "I felt confused, and shocked," she said. "I thought, where does it go?" That was three years ago, during a time when having to relieve herself meant facing wild dogs and the dark, because her village had no toilets or other types of sanitation facilities.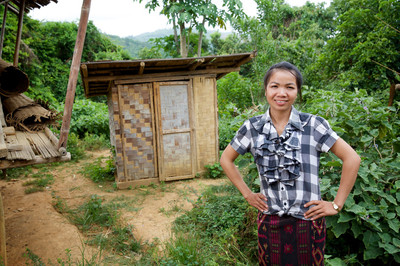 Noy poses with her newly-built toilet.

(Photo: Plan International)
Nearly 2.4 billion people don't have access to proper or hygienic toilets, almost one billion of whom have no choice but to defecate in the open, one of the starkest symbols of extreme poverty. Plan works with the poorest of the poor, and in many of those communities, toilet facilities are in terrible condition, or are missing altogether.
On World Toilet Day, November 19th, let's reflect on the everyday toilet and the enormous benefits it brings to Noy's world and ours. Toilets and good sanitation practices ensure that people's waste and drinking water don't mix. When they do mix, girls and boys get sick from parasites and other preventable diseases; more than one million children a year (nearly 3,000 a day) die from water and sanitation related illnesses. Toilets and good sanitation alleviate suffering and save lives -- millions of them.
With Plan's support, Noy's remote village built many toilets, educated people about hygiene (such as hand washing and keeping toilet facilities clean), and showed Noy and the whole community how toilets lead to safer and healthier communities, compared to defecating in streams, ditches and fields.
Girls-only latrines: keeping girls' education from going down the toilet
While water and sanitation related illnesses are one of the most obvious side-effects of a lack of toilets, they are far from the only consequence. Sadly, harassment and physical abuse are a reality for girls and women who have no choice but to defecate in the open or share facilities with boys and men. In particular, defecating outside can be embarrassing, uncomfortable and dangerous. A recent study in
India
found that 94 per cent of the women and girls interviewed in Bhopal faced violence or harassment when going outside to defecate -- and more than a third had been physically assaulted. Without access to separate facilities, girls are more likely to skip school -- especially when they have their periods -- which can result in them falling behind in their studies or dropping out altogether.
Separate latrines help to keep girls and women safe from verbal abuse and physical assault in schools and in their communities. In addition, knowing that they have a clean, safe and private place to use the toilet and manage their periods allows girls to stay in school and focus on their education.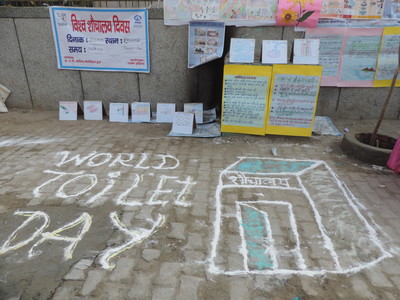 World Toilet Day raises global awareness of the importance of good sanitation.

(Photo: Plan International)
Committing to the commode: Community-Led Total Sanitation
On a recent trip to Tanzania, I gave a presentation to local organizations on Community-Led Total Sanitation (CLTS), the approach Plan uses in communities that want to stop open defecation. Plan is a world leader in CLTS, working with communities, schools and health centres in Tanzania, Ethiopia, Kenya, Nepal, Laos and many other countries. CLTS is a successful approach because communities themselves analyze their sanitation problems and implement solutions.
The CLTS process begins by organizing villagers to discuss the sanitation situation in their community and igniting people's desire to immediately stop the practice of open defecation. This drives community support for building toilets, and in turn helps to encourage use once the toilets are built. Through the CLTS process, individual households come to understand their shared responsibility for improving sanitation and hygiene conditions in their community, and are more likely to get involved in discouraging their neighbours from practicing open defecation. Children are often the greatest leaders of change in the CLTS process, sometimes becoming literal whistle-blowers when they spot someone who's chosen to relieve themselves outside rather than using a toilet (pictured).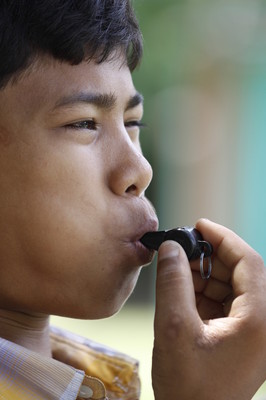 A boy in Nepal blows a whistle to stop open defecation.

(Photo: Plan International)
Toilets for all: the future of global sanitation
In September, the United Nations adopted the
Sustainable Development Goals
(SDGs), a set of targets that will guide global development over the next 15 years. One of the goals is to provide adequate sanitation for everyone in the world, ending open defecation and paying special attention to the needs of women and girls as they relate to sanitation. This SDG focuses on providing sanitation for everyone everywhere by 2030. It's a universal goal and an ambitious one by any measure, but it's attainable.
We know this because one of the biggest global success stories in the past 25 years is that 2.6 billion people have gained access to clean drinking water, in large part due to the targets set as part of the Millennium Development Goals (the series of United Nations goals before the SDGs). That means more than 90 per cent of the world now has access to clean water. We can do the same for sanitation, health and girls' rights. World Toilet Day is important because it highlights an everyday technology that most people in Canada take for granted, yet one third of the world still lacks: a vital technology that saves lives and alleviates suffering. Fearing wild dogs in the dark -- and all of the other side effects of not having a toilet -- should soon be a thing of the past.
George Yap is the Senior Water, Sanitation and Hygiene Advisor at Plan Canada.