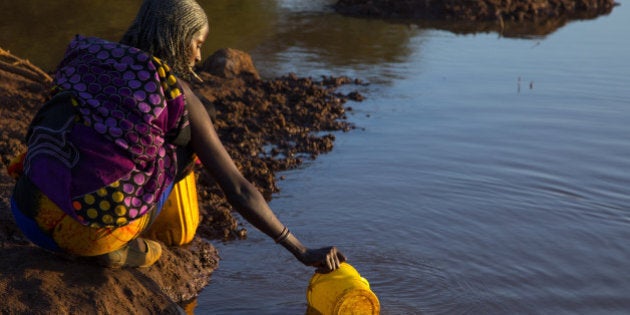 Here in Canada, most of us don't really think about water. Easy access to clean drinking water is part of our daily expectations. But in many parts of Kenya, where I recently visited to see some of Plan International Canada's programs, it's impossible not to think about water -- or rather, the severe lack of it.
Even at the primary school I visited in southern Kenya, which isn't suffering the severe drought conditions present in other parts of the country, it's easy to see how fragile water supplies can be.
The school's nearest supply of potable water is a dam that empties during the dry season. The school tries to compensate for this by using a roof catchment system to harvest rain water that is then stored in plastic water tanks. When rain water isn't enough, the school also has solar purification units that can boil unsanitary water from local lakes and ponds until it is safe for consumption.
In a series of nearby villages, Plan International has helped to build a 10km long water pipeline that provides vital water access. Nearly 10,000 community members have access to clean and safe drinking water because of it.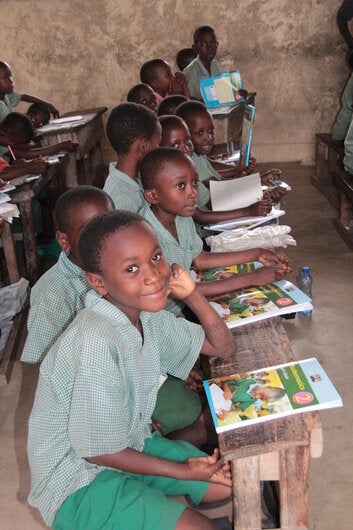 these students to attend school. (Photo: Jeff Cornett/Plan International Canada)
These are great examples of how forward planning and infrastructure investments can help to mitigate the effects of water shortages to lessen the blow when disaster strikes.
But even the best foresight won't be of any use if the rains fail to come, and that's what has happened in large parts of Kenya and throughout East Africa.
In some communities, there are ad hoc solutions in place that help to alleviate the need of those not able to use the piped water. Several times throughout my visit I saw a local Mombasa cement company distributing free water with their tanker trucks to large and grateful crowds waiting by the side of dusty roads.
In other areas, Plan International is providing humanitarian assistance programs to address the water shortage, distributing Jerry Cans and water purification tablets to families, and developing programming that will provide water in schools and water storage facilities.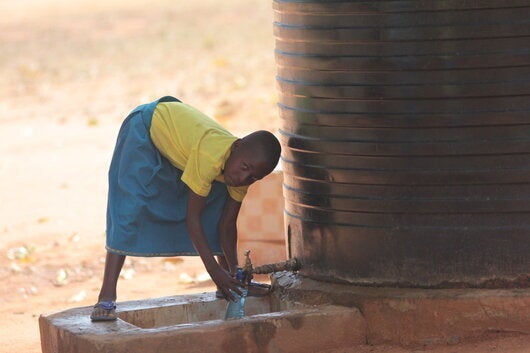 Last month, Kenya declared a national drought emergency, with nearly half of the country already affected after the third consecutive year of inadequate rainfalls. As many as 2.7 million Kenyans are already suffering, with more than 325,000 children acutely malnourished. The United Nations estimates that, with low rainfall forecast for the main rainy season of March to May, more than four million Kenyans could eventually be affected.
The consequences of this are staggering. Last week, the UN and its humanitarian partners appealed for $166 million USD to aid Kenyan farmers to provide food, healthcare, water and sanitation services to vulnerable Kenyans over the next 10 months.
But inadequate rainfall has many negative effects beyond just food shortages.
Children miss out on school because they're too weak to attend or because they're spending a lot more time fetching water. Many children walk an average of 5 to 10 kilometres to water points each day - 10 times further than in non-drought conditions.
Families often face the double impact of not being able to earn their livelihood due to their failed crops and then having to spend their savings on food and water. Malnourished people are more likely to become sick, and when they do, they don't have enough money to visit clinics or purchase medicines. People have to forego paying school fees - in some drought-affected areas, more than 40 percent of households with schoolchildren have withdrawn them from school in the past six months because they couldn't afford the fees or to pay for learning materials.
The magnitude of the crisis in East Africa grows daily.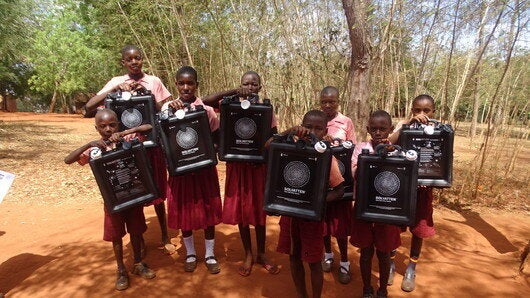 their school with safe water. (Photo: Plan International)
In Ethiopia, for example, two million farmers need emergency food assistance as a result of the drought. Plan International has an integrated emergency response there that includes emergency nutrition, food security, seed support and WASH (water, sanitation and hygiene) programs. We've also been engaged in water trucking, rehabilitating water schemes and installed roof water harvesting structures. But the country needs much more help to avert a humanitarian disaster.
Meanwhile, things are even worse in South Sudan.
On February 20, the country declared famine in one of its states -- the first time in six years that a famine has been declared anywhere in the world. Nearly five million people - more than 40 per cent of the country's population -- urgently need food, agriculture and nutrition assistance. And unlike in Kilifi, there are no cement trucks ready or able to deliver water. The situation is exacerbated by the ongoing conflict in South Sudan, which has created the largest number of refugees on the African continent.
This World Water Day, we must recognize the vital role clean water plays in our everyday lives, and recommit ourselves to improving water security in East Africa and around the world.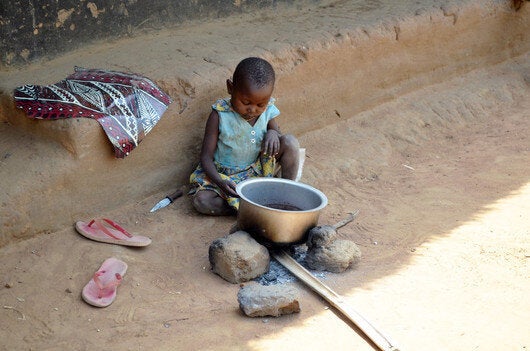 the only food she and her family will eat for the day. (Photo: Plan International)
Jeff Cornett is the Chief Marketing and Philanthropy Officer for Plan International Canada
Follow HuffPost Canada Blogs on Facebook