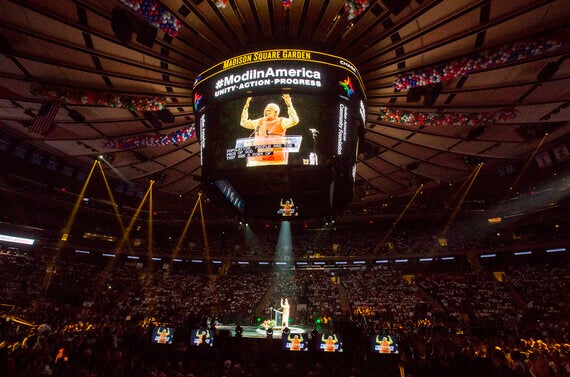 By some accounts, Indian Prime Minister Narendra Modi's first trip to the United States has been an unusually successful media coup. Parts of it have been compared to a musical tour, a visit by the Pope and a rally by a local politician. Despite the protesting crowds and the lawsuit filed against him, there's little doubt that Modi's arrival in America on Friday was the start of a successful campaign to change North American and international perceptions of his personal brand in a way that no other Indian politician has been able to accomplish.
Perhaps it's a by-product of our ubiquitous online lives, a consequence of which any event which appears unusually popular receives a disproportionate amount of attention. Or perhaps what drove the excitement was the refreshing novelty of watching an Indian politician engage his chosen audiences with targeted messaging, turning his high-level state visit into mini-campaign to promote himself in foreign lands.
Take for instance, the high-water mark of this five-day blitzkrieg tour of the United States: a sold-out speech to an audience of over 18,000 Indian-Americans in New York City's storied Madison Square Garden arena on Sunday. At first glance it was an obvious stop in America's cultural capital, a city in a region that is home to more than half a million Indian-Americans, the largest concentration of the Indian diaspora in the United States. Booked to capacity days in advance, some tickets to the event had been selling for as much as $50,000 each.
But there might have been another reason why Madison Square Garden was selected as the venue for this speech.
To find the answer, you need to recognize who Modi is targeting. The Indian-American and overseas Indian diaspora are the obvious audiences. Peppering his speech with praise for their accomplishments, he was essentially selling them on India's economic potential, calling on them to "join hands to serve our mother India" and work with him to unlock its potential. This is a compelling invitation to a worldwide community that has often bristled at being treated with indifference or hostility by previous Indian governments.
But there's a second audience being targeted here as well, an audience which arguably has more clout than the first: the larger American public. This is where the event's choice of venue becomes significant.
The busiest arena in the United States by ticket sales volume, a sports venue, a business group and an urban landmark, Madison Square Garden is also one of New York City's most prominent cultural treasures. Built in 1968, this is the venue where Johnny Cash recorded a live album, where Elvis and Led Zeppelin sold out multiple shows in the 1970s, where Michael Jackson's 1988 concert ranked as the greatest show ever performed at the venue, and where Bill Clinton was crowned the 1992 Democratic presidential nominee. It's also where leading icons of the 1960s counter-culture movement -- and proponents of Indian culture -- such as Ravi Shankar and George Harrison, all performed at one point or another in their careers, at a time when ideas of Hindu and Indian cultures entered the American public consciousness more directly than ever before in the form of yoga, philosophy and religious movements. In other words, Madison Square Garden is an anchor for America's cultural ship, and a link in a longer cultural chain which strings across the United States and out towards India, linking Broadway to Berkeley to Bodh Gaya.
Simply put, this venue helped Modi rehabilitate his image, by framing his personal brand and his message in trappings American audiences are familiar with, and by tapping into the popular narrative of India as a land of spiritual wisdom and romance that they are still receptive to.
In other words, Madison Square Garden is where you go if you want to capture America's attention, especially if you're an Indian politician looking to engage an American audience. The arena's cultural significance would not have been lost to the Indian American Community Foundation, the group that organized Sunday's event. Placing Modi at such a venue was a stroke of brilliance, giving him the requisite attention to do full justice to his oratory (complete with references to Dr. Martin Luther King Jr. and Star Wars), and move beyond his controversial past to reinvent himself to American audiences directly on their home soil.
Modi recognizes that American public opinion plays a key role in shaping its government's public policy. This event, and by extension the five-day tour itself, was specifically designed to reset and reshape the American (and Canadian) public's impressions of India and its top politician, and, by engaging the Indian-American diaspora so energetically, underline India's influence as a rising power.