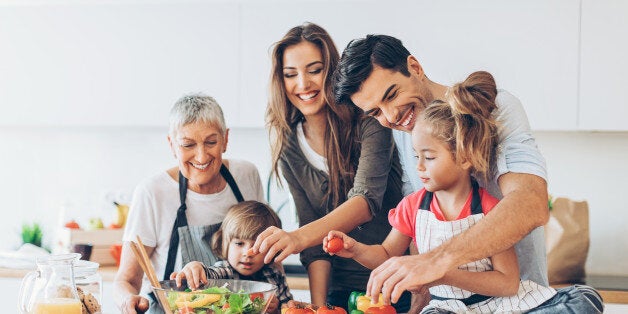 Whether it's young children growing up and needing your time for activities and school or aging parents needing extra attention, the generation caught in the middle of this is being spread thin. The sandwich generation has become the norm for Canadians, bringing packed schedules and extreme stress.
"We are a generation that works long and hard to make sure everything is perfect for the family," says Marie Potter, Marketing Director of Professional Organizers in Canada (POC). "We need to organize our children's and parent's lives, health, finances and future, but more importantly we need to learn shortcuts and tips to keep our own lives running smoothly."
As mundane tasks become too much, better organization can go a long way. Take these tips from Professional Organizers in Canada to ensure that your home, family and yourself continue to run as smooth as possible.
Between children growing up and parents aging, there is a lot of time for unexpected expenses to pop up. Being prepared for when they do is crucial to navigating the sandwich generation. Make time to go through your own financial records, as well as your parents, to make sure that you can prepare for the future. Don't be afraid to seek help from a financial adviser. They can help by regularly updating you on any financial information that you may need, leaving you time to focus on your family.
Although it sometimes may feel like you're alone, know that there are plenty of people going through this as well. Create a plan with people in your neighbourhood and plan carpool days. Research associations or support groups, such as Alzheimer Society of Canada, that can help you cope and learn about afflictions that may be affecting your family. Use family members to help you with housework, errands and taking care of younger children. The easiest way to take the stress off of you is to have people around that you trust.
Often, being organized is simply letting things go. Realize that not everything can be done perfectly all the time, and try to find out what is most important to you. Perhaps instead of cooking every night, you dedicate time to create frozen food that simply needs to be thawed for dinners. Maybe it's something as subtle as cleaning the floors less often. Look around for things that could be done less often. You will come to appreciate the extra moments.
Planning ahead is the easiest way to assure that everything gets done on time and quickly. Get a family calendar for a central location and schedule all appointments on it so you can visually balance your life. Colour coding is a great way to see what is an appointment, an activity or anything else that needs to get done. Leverage technology wherever possible--use Planner Pro to sync your calendars or Road Warrior and Route4Me
to plan the quickest and easiest routes for errands. Combine tasks and family time wherever possible to ensure that things are done in a way that is easiest for you.
Schedule me time at the end of each week or month. Let your family know that this is a time for yourself to reflect and relax, and encourage them to do the same. Keeping yourself healthy and happy is pivotal for keeping the family happy and healthy.
Need help implementing any of these tips? Find a Professional Organizer near you by visiting organizersincanada.com.
Follow HuffPost Canada Blogs on Facebook