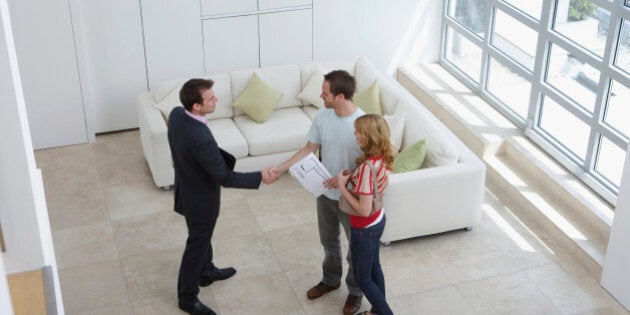 Housing prices across Canada continue to climb with no sign of slowing down, forcing many families to turn to alternative living conditions: condo living. It might seem tight to have a family of four living in a small condo, but Professional Organizers in Canada (POC) say that it possible.
"The key to small space living, especially with children, is to keep it simple," says POC member Angie LeClair. "Living a minimalistic lifestyle is becoming more popular and is especially necessary for small living spaces. Try not to accumulate things, and don't forget to organize!"
Before you even move into your new home, it is important to know what you are getting into. Try to find or create a floor plan of the space, and take accurate measurements of the area. This will help you know what you can fit into your place and what you need to rid yourself of. If it doesn't fit or will take up too much room in your new place, there is no need to keep it. It will also give you an idea of how to organize your space before you've even moved in.
People tend to fill up the space with things that they don't necessarily need. Whether you're downsizing or just moving spaces, this is a perfect time to re-evaluate what you own. Moving all of your old stuff into the new space can be overwhelming as you try to organize; try to remove as much excess as you can before the move.
Condo living requires some creativity. Try to find furniture that will fulfill more than one job, such as beds with drawers. Since there may be multipurpose spaces in your home, consider dividers to create a sense of personal space. Learning how to be a minimalist will help, as well. Evaluate how many of each item you realistically need and donate or toss the rest.
Getting your kids involved in organizing their own space will help make them feel more comfortable with the move, especially if they will have to share rooms. Try to involve them in planning and purchasing to give them their own personal space.
Take Advantage of the Community
Use your small space as an opportunity to get outside and experience the outdoors. Take advantage of community services such as libraries and free parks to avoid owning as much. It will also be a great time to learn to share. Instead of buying each child their own toy, buy things that they can do together, such as family games or experiences. If you know other families in the area, consider borrowing or sharing items that you may not always need. This is a great way to socialize while still providing play time.
Follow HuffPost Canada Blogs on Facebook