This question originally appeared on Quora.
First, we would be looking at a celebrity couple with a net worth of over a quarter-billion dollars. Not even kidding. They're each worth about $125 mill.
Next, the media would create a portmanteau of their names. My vote: Cyrus + Bieber = CYBER. How awesome would it be if they were known as The CYBER Couple! And yes, when your name is that awesome, it must be spelled in all caps.
Bieber smokes weed (don't act surprised). Miley does, too (she admitted it on Jimmy Kimmel Live). Knowing this, I have a feeling those two would smoke A LOT of pot. Other drugs, like the molly and cocaine she sings about in "We Can't Stop," might also come into play.
Since they're both savouring all attention and controversy at the moment, I suspect that a sex tape will emerge. Unlike many other celebrities, it won't be an accident. They will intentionally put it out there just to get people talking.
They both live in expensive homes in the Los Angeles area. Bieber's Calabasas home is worth $10.8 million. Miley's Studio City house is worth $3.9 million. Their homes are 20 miles apart. With their newfound combined wealth, my guess is that they would sell their old homes and buy a new place that is unfathomably expensive, yet close to their current residences. I imagine they would move 10 miles south to Malibu, where they would buy -- with cash -- the estate located at 29000 Newton Canyon Road. The estate is valued at $53 million. 8 Bed. 9 Bath. 12,000 sq. ft.
Aerial view of their potential CYBER home.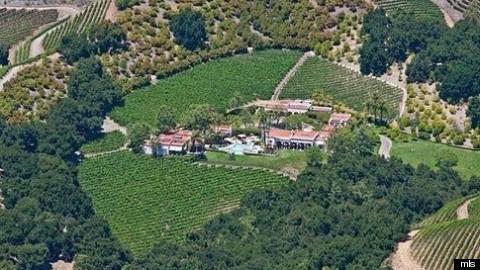 So in the end, we would have a ridiculously wealthy and stoned CYBER couple living in an enormous house and putting out the occasional CYBER sex tape.
Sounds like the American dream to me.
More answers in the slideshow below:
What would happen if Justin Bieber married Miley Cyrus?