User Submitted
Presumptuousness is a human trait that often makes a nasty fool of its architect. In social contexts, this ignorant agent can undermine relationships. In artistic contexts, it stalls our access to the wide and multi-faceted perspectives that make this world so enriching. Luckily, recent constituents in Toronto's contemporary art scene have forced us to regenerate stereotyped notions of sexuality and gender in relation to artistic production.
The days of making simplistic associations between homosexuality and artistry are fading -- or at least the second annual 10 x 10 Photography Exhibit suggests as much.
Spearheaded by artist and social media guru James Fowler, the exhibit was borne of a persistent desire to promote and honour members of the LGBT community who use photographic processes as a regard on identity, creative discourse, and socio-political stigma. Taking the traditional genre of portraiture as a platform, 10 photographers each contribute 10 images capturing the faces (and bodies!) of LGBT artists prominent within the copse of Toronto's artistic landscape.
This year's iteration adds 10 new artists and 100 new subjects to the exhibition's family while maintaining a commitment to reinforcing individual and communal uniqueness. Identities are as living as the bodies that host them and undergo constant transformation such that as humans, we are a composite of layers. One tenth of the work on show at the Gladstone Hotel, presented by artist John Monteith, focuses on this very fact: Identities have histories that are built up over time like the strata in the Earth's crust.
Monteith's suite of ephemeral images offers a novel approach to the "objective portrait" through his manipulation of the photographic medium, encouraging viewers to consider the notions of time and memory within the context of identity. The material premise of these portraits hinges on the superimposition of 100 distinct photographs taken of a subject standing still over the course of 30 minutes. Each image is reduced to near-transparency such that when the suite is recombined, a thick body is built out of a collection of thin essences and the sitter re-emerges into cool and intimate darkness. Monteith's layering mechanism thus creates a physical representation of the lapse of time or -- put another way -- a visual realisation of the way fragments of past selves persist in the present.
The 10 LGBT artists re-imagined by Monteith are exposed only to their nude shoulders, stripped bare of the props and clothing historically used within portraiture's canon to affect a sense of status, class, and wealth. This lack of adornment facilitates what art historian Michael Podro claims is the kernel of the genre: the relation of viewer and viewed. When Monteith's works are framed under glass, an optical sensation integral to the project becomes apparent: the light cast upon the dark photographs forces the viewer's awareness of his/her presence reflected in the velveteen blackness of the image. It is through the unmediated subjectivity elicited by these portraits that observers gain an understanding of their own rapport with the demographic represented by 10 x 10, a thought process that the exhibition proves important within today's sometimes feckless society.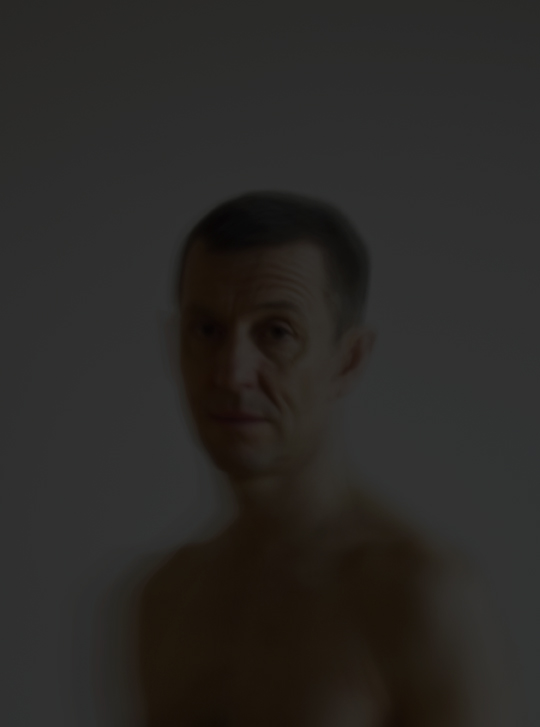 Among Monteith's portraits, dancer/choreographer Christopher House stands in three-quarter view and looks out in earnest at his observer. The right side of his face along with his shoulders and chest are shrouded by shadow, giving the represented flesh an opacity that diminishes in concentric ripples outward from his form. These echoes -- a product of the artist's neo-formalist intervention -- evoke motion despite the static nature of the photograph and are distillations of House's unique personality: a dancer and creator to whom movement is intrinsic, even when his aim is to be immobile.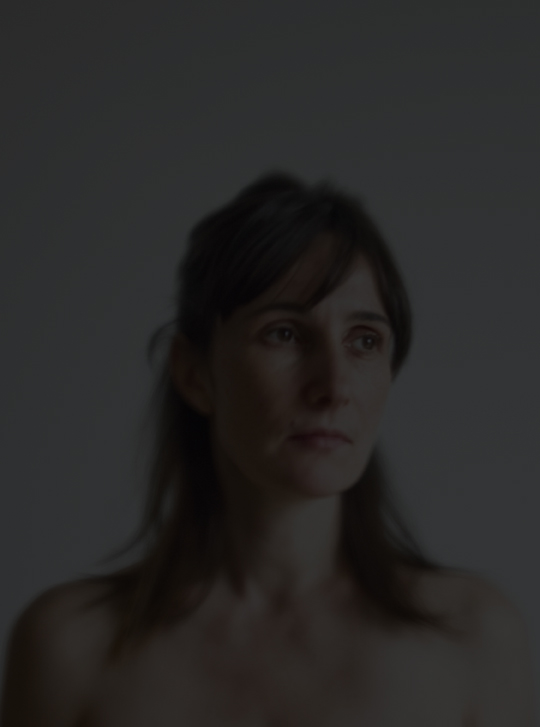 A more tender and feminine demeanour is declared by the quiet poise of Tamira Sawatzky, a novel engagement for Monteith whose dialogue with gay subjects has up until this point been exclusively male-based. Her composite is nearly uniform, indicating a stillness that resists the photographic environment the artist has submitted her to. Casting a sidelong glance that approaches wistfulness, Sawatzky's controlled presence asserts photography's testimonial to the sitter's existence in both past and present moments. She gently announces: I am here and I existed. There is a hushed pride in her deportment which asks the viewer to accept her as she stands.
The most mysterious portrait of the series pictures the blurried likeness of artist/filmmaker Sameer Farooq, whose self-proclaimed expertise in "advanced faking" and "paranoid hoarding" compliment the wily personality suggested by the image. The subject's slightly raised left shoulder and narrowed eyes seem to adduce his suspicion of the viewer's existence, a delightfully startling consideration for Monteith's audience. Am I the viewer or the viewed? A representation or the real? As observers return Farooq's squint in a natural attempt to clarify the image, they enter into a curious yet playful stare-down with him.
The appearance of shuddering flesh in Monteith's work breaks down the inscrutability of the portrait, shattering the veneer of artistic representation in a way that exposes the duplicity of public persona and private life. Here, as with other media, Monteith has successfully taken a stable genre of art and exploded it, using formal qualities specific to photography such as the "transparency" of the medium to explore his relationship to his sitters, not only as subjects but as members of the LGBT community to which he belongs.
If portraiture evolved in the Renaissance as a document of social status, wealth, and authority, Monteith's contemporary conception reveals a community in which those attributes have no currency. Ultimately, what the 10 x 10 exhibition announces, just in time for Pride, is that the LGBT presence in Toronto's network of culture creators is not to be presumed -- to do so would be to take for granted what is a gift. Rather, these 10 photographers and their subjects should be appreciated, respected, and honoured.
John Monteith is a New York based artist who is represented in Toronto By O'Born Contemporary.
The 10 x 10 Photography Exhibition, running June 20-July 15, will have an opening reception June 28, 7-11 pm at the Gladstone Hotel (1214 Queen Street West), Toronto, ON, Canada.