Blackberry, formerly Research in Motion, is a Canadian-based company that was once the darling of innovation and technology. Starting from a then 23-year old found Mike Lazaridis and co-CEO Jim Balsillie, the duo saw its wacky idea to market and built an international empire.
After RIM's founders, Lazaridis and Balsillie, resigned as the CEOs of the company in January 2012, RIM was renamed, the company was rebranded with the likes of international artist Alicia Keys and a new direction was instilled by new management. It is hard to pinpoint when it started going downhill, but the company broke a series of basic business rules, over and above their common sense gap.
"Be yourself; everyone else is already taken." ― Oscar Wilde

Blissfully unaware of the reasons why 80 million Blackberry users remained loyal to the brand, RIM ditched the winning formula in favour of trendy Apple-wannabe products. The latest models, Blackberry 10 series (BB10), seem to be failed attempts to out-Apple the popular iPhone. Therein lays the fatal flaw. The crackberry addicts weren't looking for a keyboard-less entertainment gadget. They were looking for an improved, robust business communications tool.

The customer is always right.

The new BB10 came out without a trackball or a keyboard. In other words, without the "crack" in crackberry. If 80 million users worldwide are wrong, then you don't want to be right. Give the customer what (s)he likes.

A bird in the hand is worth two in the bush.

Inexplicably, the company opted to make its loyal customers wait a few months for the keyboard version of their beloved business tool as it bent over backwards to court iCult members. Feeling punished, impatient customers were given time to shop around and discover other brands. Blackberry lost existing customers and they won few new ones.

Don't Hand Weapons to Your EnemiesEven more puzzling, Blackberry successfully sold a habit-forming product for a decade, yet they paved the way for their addicted customers to form new habits -- habits resembling those of their competitors. The introduction of the keyboard-less Blackberry allowed for existing users to wane themselves off the popular typing feature, thus making the transition to iCult products even less painful.
BlackBerry still has a market share of about 38 per cent among businesses with more than 10,000 employees, as well as more than a 33 per cent share in government and financial institutions, according to Steve Brasen, managing research director at Enterprise Management Associates Inc., which analyzes the information technology industry.
The BB10 marketing centered around video editing and other cutesy features having little to do with business. Many loyal users recoiled with a resounding "Who gives a crap!?" Adding bulky built-in features slowed down the everyday tasks of crackberry users: searching through the contract list, writing emails, doing work online.
The BB10's native social networking apps for Twitter and Facebook are a giant step backwards from the apps on previous models in terms of functionality. Older models were resistant to breakage; the screen-sensitive BB10 demands gentle and protective hands. But it comes with rarely-used fluff like Story Marker, a compass and other superfluous apps. The battery life blows. Oh, and you can pluck a chicken in the time it takes the BB10 to power up.
Luckily, Blackberry is not the first technology company to have an identity crisis. It happened to Apple in the mid-1990s. In fact, Apple was the butt of jokes on late-night TV monologues when they reported a record loss.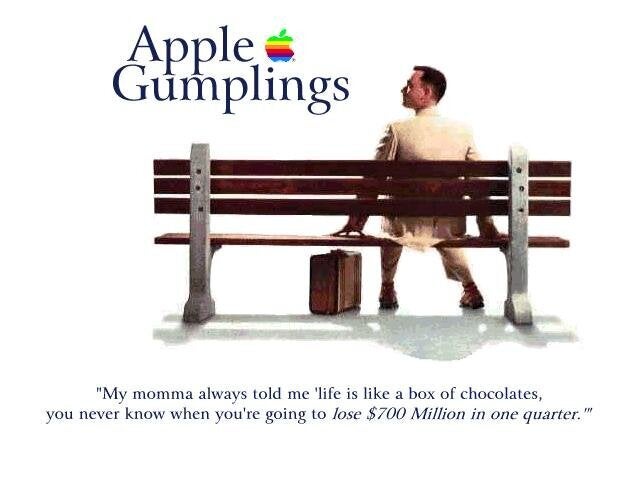 Indeed, the "Fruit company" Forrest Gump invested in was once rotten to the core. But Apple Inc. restructured, regrouped, renewed with the wants of its target users, and bounced back. When Steve Jobs returned to the helm in 1996, he instilled a new corporate philosophy. It took some time, but the formula was a winning one. In many ways, Apple CEO Steve Jobs returned to the simple, smart design values that were part of its original success. Apple charted its own course instead of looking at rival Microsoft for guidance and inspiration. Today, the Apple brand is more popular now than it's ever been.
"Always be a first rate version of yourself and not a second rate version of someone else."

― Judy Garland
Perhaps Blackberry can take a page out of the Steve Jobs Judy Garland book and go back to basics. That is, back to business users. One of the main focuses of the early BlackBerrys was to allow for mobile email. The BB10's email editing, text section and cut-and-paste functionality is so awkward, it makes crackberry users run for their laptops.
The backbone of the blackberry market share has always been business people. Its security features are the best in the business. Blackberry has the seal of approval from the USA's Defense Department. PIN messaging is magic and still unrivalled. The strong tradition of Canadian ingenuity which Research In Motion once harvested can be sowed anew. Blackberry may be down, but with 72 million remaining subscribers in 175 countries and the right direction at the top, the brand will rise again.