Over the past few weeks, Canadians and sports fans the world around have learned about the Russian city of Sochi via reports from athletes and reporters alike. Eyebrows were raised when Canadian bobsledder Heather Moyse employed ingenuity to take an Epsom-salted bath in garbage bin.
The P.E.I. native was all smiles in her photo. However, no one was smiling when Russian law enforcement employed whips beat the members of the musical group Pussy Riot. President Vladimir Putin will be licking his wounds as well -- Team Russia, favoured to win the gold, was ousted decisively by none other than Finland.
Another Sochi surprise: Latvia. Emotions across "the country that invented hockey" ran high as the tiny Republic of Latvia kept Team Canada to a tie until late in the third and final period. It is quite a journey for the nation of 2 million inhabitants. The Latvians competed for the first time in Olympic men's hockey playoff against Canada in 2006. Barely a decade later, their national team came very close to an epic Olympic upset as Team Canada's reigning Norris Trophy winner sat on the sidelines. Many hockey fans were wondering why P.K. Subban was sent to the back of the bussidelined in Sochi.
The most upsetting news of the day? An apparent faux-pas from a Team Canada fan.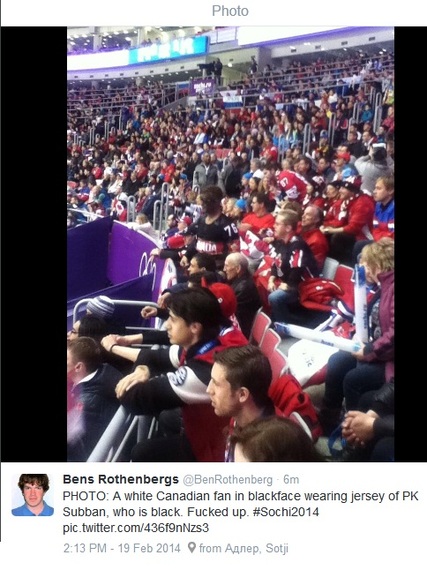 This unidentified spectator donned blackface and PK Subban's jersey number to cheer on the canucks. He is privileged enough to attend the Olympic quarter final game, but he could not afford any class.
The hockey world is still struggling with diversity. The NHL has made strides. We expect less diverse countries to exhibit cultural insensitivity, but the "country that invented multiculturalism" and its citizens should hold a higher standard. When will Canadian hockey fans evolve to the 21st century and learn that black Canadians by and large do not welcome blackface as a form of tribute?
Best Photos From Sochi 2014