It's becoming a recurring joke: tone-deaf historically illiterate articles from "Canada's national weekly current affairs magazine": Maclean's.
The publication is responsible for such doozers as:
"Too Asian?" (2010). Reporter Stephanie Findlay and senior writer Nicholas Köhler wrote an article about the over-representation of Asian students at Canadian universities, in which they employed negative stereotypes that drew the ire of Senator Vivienne Poy, among others.
The "Negro Patois" article (2015): British Baronness Barbara Amiel's article entitled "Class, Not Race, is America's Real Problem" used the word "negro" to describe African-Americans, whom she described collectively as a "heap," with United States President Barack Obama at its peak.
"When blackface isn't blackface" (2015) Quebecois writer Martin Patriquin explained to Maclean's readers that the blackface used to portray African-Canadian hockey maverick P.K. Subban in a Montreal play was not actual blackface. Patriquin followed-up a year later with another whitesplaining piece defending the use of blackface.
The latest tone-deaf article, "How Céline Dion became cool," further taints the hundred-year-old publication's stature. Written by Carl Wilson (author of "Céline Dion's Let's Talk About Love: A Journey to the End of Taste"), the article chronicles some music critics' moronic opinions on the Canadian Diva.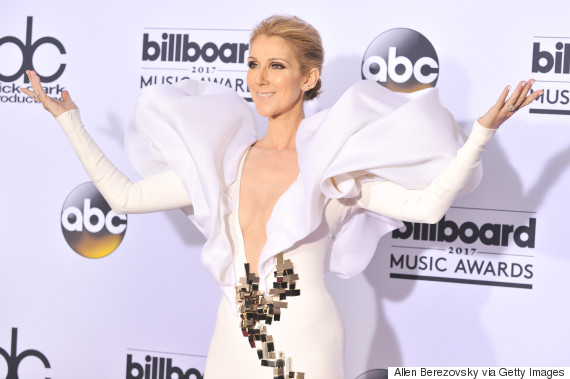 Singer Céline Dion poses in the press room during 2017 Billboard Music Awards at T-Mobile Arena on May 21, 2017 in Las Vegas, Nevada. (Photo: Allen Berezovsky/Getty Images for Fashion Media)
For the record, Céline has been cool for 30 years. Here are the receipts:
Céline had her first hit at age 12. Yes twelve. She was so fantastic that, in a pre-Internet age, her talent crossed the Pacific Ocean into Japan, where she won a prize for a tear-jerking "love song to mom" at the 1982 Yamaha World Popular Song Festival.
In 1984, Pope John Paul II made an official visit to Canada. Guess who was the youth representative chosen to interpret a (now) classic ballad 'Une Colombe' with a Superbowl-esque floor-dancers at the Stade olympique de Montréal before 65,000 faithful and an audience of millions? Yes, it was Céline.
After touring Québec extensively, and headlining TV specials, teenage Céline stepped into English Canada at the 1987 Juno Awards. The live audience was taken aback by Céline's vocal performance of "Have a Heart."
Céline wowed international audiences at the 1988 Eurovision Song Contest with her golden voice. Songs from the 1980s such as "Ma Chambre" and "D'Amour ou d'amitié" are still on regular rotation on A/C radio.
After 10 years of professional experience, Céline remained a grounded, genuine, drug-free person -- a feat many child stars never attain.
Céline braved the bright lights of the USA: she ventured into an all-English world despite her shaky English-speaking skills. She managed to turn an "unpronounceable" name into a brand that is as famous as her contemporaries with single-word appellations: Madonna. Bono. Cher. Prince.
In fact, Céline was so cool that Prince wrote a song especially for her sophomore English album. Yes, Prince thought she was that great!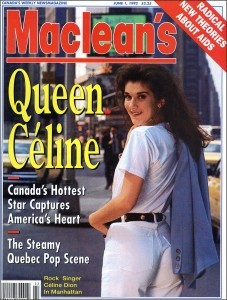 It is around that time that, ironically, Maclean's magazine crowned "Queen Céline," a moniker that is truer today than ever. Perhaps the editors forgot their own role in making Céline cool.
Céline is so cool, she has spoken truth to power at several instances. First, five years almost to the day after The Referendum, the Québec establishment tried to slap francophone-in-her-bones Céline with a "best Anglophone artist" of 1990 award after she pierced the American market, Céline took the podium of the live broadcast to refuse the ADISQ title. She declared her singing in a different language didn't make her Anglophone artist. Céline also spoke out in 2005 during the aftermath of Hurricane Katrina, when U.S. authorities were seemingly slow in providing aid to the overwhelmingly African-American victims.
Céline Dion has never shied away from her French-Canadian roots, and even sold Molière's language to foreigners: 1995's "D'Eux", or "The French Album" in the U.S., remains the best-selling French language album of all time.
She followed up with a Grammy-winning epic album in 1996: Falling into You garnered career-best reviews for the songstress.
She was handpicked to grace the world stage again at the Atlanta Olympics, performing "The Power of the Dream" at its opening ceremony.
The Titanic may have sunk but Céline's theme song for the 1997 film floated to the top of international charts with "My Heart Will Go On." What you may not know is that the song was recorded as a demo. Céline didn't even put her best foot forward while recording it. The demo made it to the Record of the Year and the Oscars. Who else could pull that kind of feat?
Céline Dion is so cool, she had legends like the BeeGees, Barbra Streisand and Canadian rocker Bryan Adams collaborating with her in song.
Like Streisand, Céline didn't bow to pressure to fit into American aesthetic ideals: she still has her French accent, her pronounced nose and her small bosom. Céline has remained authentically, unapologetically... Céline.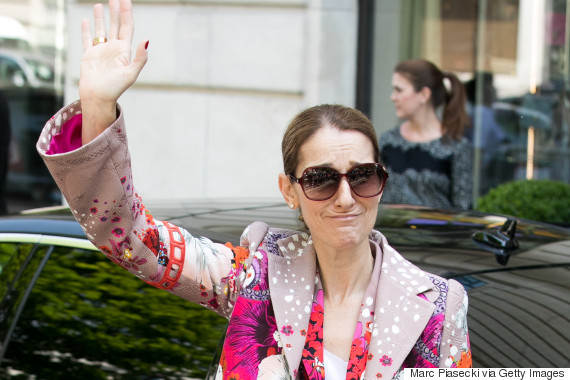 Singer Celine Dion is seen on June 14, 2017 in Paris, France. (Photo: Marc Piasecki/GC Images)
In 2002, Céline broke new ground again when she launched the modern trend of A-list artists doing Vegas residencies. The show has also made Dion the "most profitable music act in Las Vegas" since Elvis Presley. Even Michael Jackson was a audience member.
Céline is known for her pop ballads, but she shone in jazz (including scatting like Ella Fitzgerald), opera, folk, rock, country, not to mention her Spanish-language titles and her comedic talent.
Céline has shared her personal struggles with her fans and foes: her self-image issues, her fertility challenges, her quest to balance work and motherhood. Céline was the epitome of grace during her husband's illness and at his state funeral.
And though all this, Céline has never jumped the shark.
Although some might believe Céline's greatness was recently cemented when she captured Drake and Ne-Yo's attention. They both came late to the party.
Make no mistake: Céline didn't just become "cool." She's been awesome for three decades.
Full disclosure: the author has been a fan of Céline since 1984, owns every LP from 1981-2000, can recite all of Céline's hit songs by heart and has seen Céline Dion live a dozen times in 25 years, including an in-person encounter in 1998 which still makes the author giddy.
Follow HuffPost Canada Blogs on Facebook
Also on HuffPost: