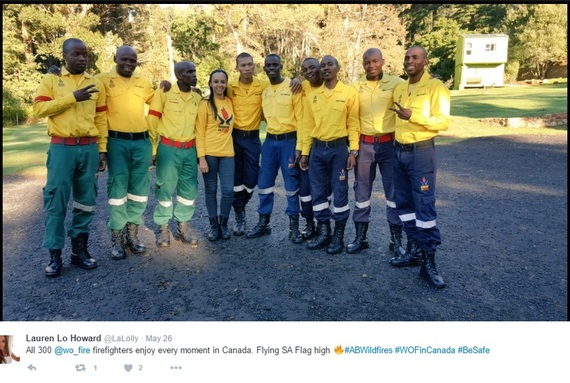 By the time Fort McMurray was evacuated this spring, Canada had suffered its worst wildfire in generations. Images of the small Canadian city engulfed in flames went viral, as frightened city residents fled for their lives. Despite boasting first rate infrastructure, first world resources and a multi-provincial firefighting brigade, the wildfire still burns out of control.
It is not surprising that Canadians responded with record donations to charity organizations purporting to help domestic refugees displaced persons. However, foreign aid is not something Canadians are accustomed to (aside from the bilateral natural disaster emergency collaborations with its U.S. neighbour and ally).
Russia immediately offered to help battle the inferno with its massive water bombers and fire fighting specialists. Prime Minister Justin Trudeau refused. On the other hand, South Africa's aid offer is seemingly welcomed. Some 300 Africans have reached Canada, received "refresher training" and are poised be deployed in the coming days.
All 300 @wo_fire firefighters enjoy every moment in Canada. Flying SA Flag high 🔥 #ABWildfires #WOFinCanada #BeSafe pic.twitter.com/wMdhf3pU8I

— Lauren Lo Howard (@LaLolly) May 26, 2016
This deployment of wildland fire fighters is the biggest foreign deployment ever for South Africa (save armed forces' deployments). The South African P.R. machine casts the aid as "repaying a debt to the Canadian people for their support for the anti-apartheid struggle". It's an interesting re-interpretation considering Canada's weak anti-apartheid record and deteriorating diplomatic relationships with South Africa.
Quid Pro Quo: When Canada Sent Troops, Tyranny to South Africa
South Africa has a special place in the history of Canada's armed forces. The Boer War (1899-1902) marked Canada's first official dispatch of troops to an overseas conflict.
Canadian troops helped the British take control of the territory. During the war, 120,000 people were herded into racially segregated detention camps, where an estimated 27,000 Boers (white farmers of Dutch ancestry) and 20,000 Black South Africans perished.
Veteran Affairs' website says Canada's experiences in the South African War would only be the beginning of an impressive tradition of international military service.
Canada Inspires South Africa...
Canada would help South Africa again in the 1940s. The South African government examined Canada's Indian reserve system. Canada's Indian Act, and its system of "infantilizing status Indians" served as inspiration for Apartheid.
"[T]he Canadian Indian Act formed much of the basis for the oppressive apartheid policies in South Africa," according to First Nations elder Shannon Thunderbird. Thunderbird said the Indian Act served as the blueprint on how to oppress a people within a democratic system.
Canada's Business Links to Apartheid-Ruled South Africa
While Apartheid parties consolidated their power in South Africa and became a republic, Canada joined India and a few African nations to force South Africa's exit from the British Commonwealth. Revealing its moral courage, Canada was the only white-majority Commonwealth country to oppose South Africa's membership bid in 1961.
Despite being kicked out of the Commonwealth, Brits and Americans continued to collaborate with South Africa, turning a blind eye to human rights violations and even branding Nelson Mandela "a terrorist". Canada, too, maintained trade ties with the racially stratified nation. Trade with South Africa doubled from the 1970s to the 1980s.
Canada's 1980s era "voluntary trade embargo" against South Africa and other toothless sanctions barely made a dent in the anti-apartheid movement. In 1988 alone, Canadian imports from South Africa jumped by 68%.
On countless occasions, African National Congress (ANC) representatives commented on the weakness of Canadian governmental policy on apartheid. [...] Cherry-picking a few generous remarks made by Mandela about PM Mulroney hardly negates the general awareness [...] Canada's government was no real friend of the anti-apartheid struggle. [source: Media Coop, 2013]
The impotent sanctions were quintessentially Canadian in their attempt at seeming morally upright without substantive actions to match.
Then the Tides Turned...
After Mandela ascended from infamous political prisoner to famous President, the Canadian establishment frequently overstated their role in Apartheid's abolition. Even Canadian politicians took credit, they rarely implement any meaningful measures to curb domestic racism.
When South Africa drew its post-Apartheid constitution, they looked to Canada. The South African constitutional text was modeled largely on the Canadian Charter of Rights and Freedoms, with liberal borrowings from Germany and the USA. [source]
A New Chapter in South Africa-Canada Relations?
Since 2000, diplomatic relations between Canada and South Africa have deteriorated, according to the Globe And Mail's Africa correspondent. Geoffrey York enumerates the grievances.
In 2009, Canada granted refugee status to Brandon Huntley, a white South African who claimed to be persecuted by black criminals.
In 2011, South Africa's president blasted PM Harper for opting out of the Kyoto protocol, an international climate treaty.
Until at least 2012, Canada maintained a visa ban on ANC leaders, requiring them to apply for special exemptions if they want to visit.
Canadian diplomats were conspicuously absent from the centennial celebration of Mandela's political party.
The Conservative Party's apartheid-friendly roots could party explain the cool relations.
The Prime Minister Harper did not make any trips to the G20-member nation until Mandela's funeral forced his hand.
Now a large contingent of brave South Africans has pledged to quell the wildfires of Alberta, braving the elements and defying African stereotypes in one fell swoop. As the wildfire dies down, perhaps the two nations can rekindle the flame of friendship as the open a new chapter in bilateral relations.
Now #AC7007's at cruising altitude w/300 @wo_fire#firefighters. Planned re-fuel and re-crew in #BGI@CIFFC#ymmfirepic.twitter.com/g5qeVAEde7

— Air Canada (@AirCanada) May 29, 2016
Follow HuffPost Canada Blogs on Facebook