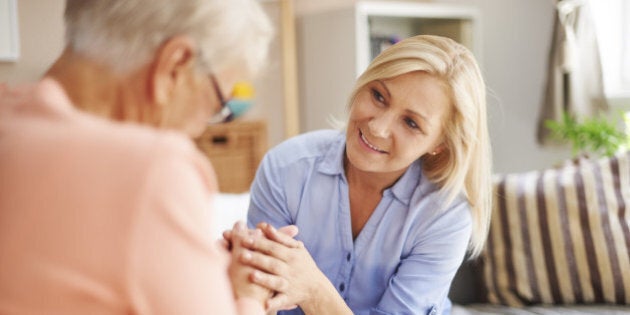 Heart disease is one of the most serious health issues facing Canadians today. As a pharmacist, I know the journey to diagnosis isn't an easy one. Often, months of appointments with specialists are punctuated by visits to the emergency room due to flare-ups. And while understanding a medical condition brings relief, the accompanying medication regimen can be overwhelming.
To treat common ailments from heart disease and arthritis to diabetes and lung disease, there are a growing number of seniors that must take multiple medications to stay healthy. A survey conducted by Leger Marketing found that 31 per cent of Canadians 65 and older -- some 1.2 million -- are taking five or more pills per day. That's a lot of pills per year -- and that has a lot of Canadians (30 per cent or eight million of us, according to the survey) worried about their loved ones' ability to stay on track with taking their meds.
In light of National Pharmacist Day on Jan. 12, it's important to address the issue of medical adherence as it impacts the lives of millions of Canadians on a daily basis. It's a very real concern that pharmacists work to tackle every day. According to the World Health Organization, in developed countries such as Canada, only 50 per cent of patients who suffer from chronic diseases adhere to treatment recommendations, such as prescribed medications.
As we kick off a new year, resolving to broach this topic with loved ones -- or considering how to improve your own regimen -- can make all the difference on both the physical health of those taking the prescriptions and the stress levels of concerned family. Below are some ways to stay on track.
Managing multiple prescriptions can be overwhelming. To avoid this feeling, develop a system to get organized that works best. If writing out your daily schedule and posting it on the fridge, setting an alarm or using a pill organizer will help you or your loved one to feel in control, follow those methods. For example, at Alliance Pharmacy, we've developed a personal medication management system, called the MedPack, that sorts prescribed pills by date and time in pre-sealed pouches. It's an effective method as it eliminates the intimidating feeling of sorting out what to take and when.
Don't be afraid to ask the pharmacist questions to ensure you and your loved one completely understand the required schedule -- and the reasons behind taking each and every pill. The clearer everyone's understanding, the better the odds that the regimen will be followed.
Don't ignore the emotional implications
Having to take multiple prescriptions can be a daunting process for everyone at first, so support is key. If feelings of depression or anger result from the new routine, be there to talk it out with them. As with any new chapter of life, there will be an adjustment period.
To ensure optimal health in 2017 and beyond, know that committing to helping your loved ones stay on track with prescribed medications requires an investment of time -- but it's one that is sure to pay dividends in the long-run.
Follow HuffPost Canada Blogs on Facebook