As Mother's Day approaches, I'm reminded of a day not long ago when I watched Anne-Marie Slaughter lean off the edge of a stage. She was demonstrating what would happen if she "leaned in" too far.
It was meant to drive home the point she makes in her new book, Unfinished Business, about women, men, work and family. It's the culmination of the three years of research and contemplation that followed her Atlantic article entitled "Why women still can't have it all," that broke the Internet, and of her life as a woman, a mother, and a successful and ambitious professional. In it, she shares that the intricate web that creates a home and family has more value than she ever placed on it, until she leaned in too far.
Two years in, Slaughter left her dream job as director of policy planning for the U.S. State Department, to be closer to her adolescent boys. She also returned to Princeton as a tenured professor. Really, nothing to scoff at. By her description, though, the response to her resignation was that she just wasn't up for it. That she decided to take the slow lane, the "mommy track."
I'd been following Professor Slaughter for years for her scholarship in foreign policy and international law. She was already a celebrity in my geeky world, and her courage to lay out the costs and balance in her personal life catapulted her to my highest esteem. I was definitely the groupie at this event.
You'd think that someone like Sheryl Sandberg or Anne-Marie Slaughter have really made it, so they are free to say whatever they like with abandon. But I think the opposite is true. Anyone who has ever made anything of themselves professionally will tell you it took years of work and dedication to earn their reputation.
These women had plenty to lose as they spoke out as women in what remain male-dominated fields. They spoke out about being women in the one place where, knowingly or not, they'd both been trying to keep gender invisible. Only it isn't.
Motherhood is often treated as something we can do on the side, while we keep charging ahead with our preconceived plans about what other parts of our lives will look like.
There are times when we can pretend that it doesn't matter if you're male or female. Morning sickness at work when you're not telling anyone you're pregnant yet is not one of those times. The loud whirl of a breast pump (or crying baby) in the background of a conference call you take from home when your baby is five weeks old but you're needed for the team (or your own business), even though your basically delusional from lack of sleep, is not one of those times. Transitioning back to work while juggling your life-altering new identity as a mother is not one of those times.
Motherhood is often treated as something we can do on the side, while we keep charging ahead with our preconceived plans about what other parts of our lives will look like. The thing is, none of us actually know what we're getting into before we're in it.
What Slaughter drives home so elegantly is that we are out of our minds to think that caregiving and child rearing are invisible, background and secondary. They are what keep us going -- they need more attention, and the people (usually women) who fulfill those roles should be valued and supported.
There is no question that work is changing when it comes to women, mothers and families.
JP Morgan just expanded a re-entry program designed for returning to the corporate world after at least a two-year "break," with photos of woman all over the landing page.
The freshly launched Apres is a LinkedIn just for moms who've taken time away and are reentering the workforce, but not into the entry level jobs that have been the mom career tax we've grown accustomed to -- rather, into roles for experienced professionals with organizations that value the many strengths that work experience (and motherhood) yield.
Corporate clients overwhelmingly embraced an online resource I launched in January to support women in their transition to motherhood, eager for a way to support their new mom employees on maternity leave and in the transition back to work.
Fairygodboss.com, a site that provides intel on employers' female-focused policies, had more than 100,000 visitors this month, with traffic growing steadily by the week.
Daily I hear from in-house women's and professional development committees from organizations across North America, trying to find or create best practices.
These pioneers are trying to forge a way that we can be successful, professional and still female. Or more specifically, still mothers in a meaningful way. Not females dressed up as and acting like men, but women living full expressions of their femininity, motherhood, creativity and professional skills. Women who feel confident in the value of what they bring to this world so that they can lean in, and frankly, lean out when what is core to them is to do the invisible, necessary and joyful work (I know, it's so ironic) -- of being a mother.
As Slaughter explains, we all benefit from cohesive family lives. We all benefit from not running around like lunatics trying to do it all and have it all, all at once. Moms birth the world. They need some support.
Follow HuffPost Canada Blogs on Facebook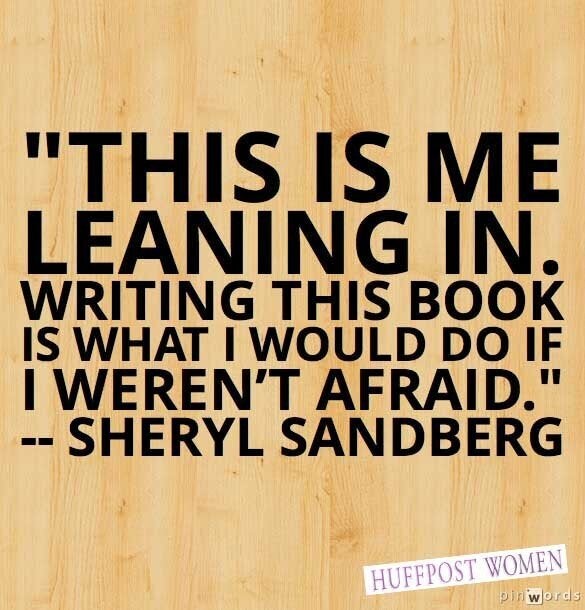 11 Quotes From Sheryl Sandberg's "Lean In"