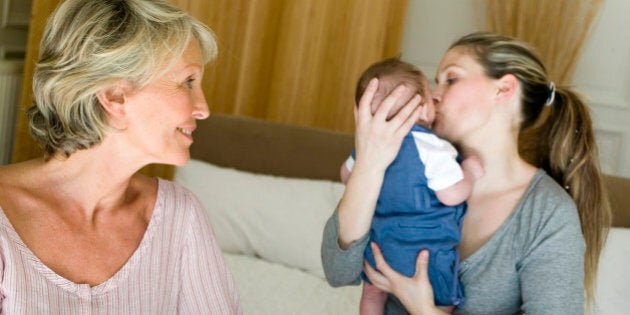 Co-authored by Elisse Peltz. Elisse is a psychotherapist and yoga teacher with a mind-body focus. She has been working in the healing profession since 1999, and holds a Masters in social work from Smith College. She is also a mother and serves as expert faculty on the New Mom Dream Team.
Remember that everyone is learning
When you become a parent you enter into a whole new kind of relationship with yourself, your baby, your partner and your parents. It's a new family system. This major life shift can stir up a lot of feelings, memories, thoughts and beliefs for all members of the family. The grandparents may have had kids before, but they've never been grandparents of your baby before. Everyone is adjusting to a new way of being in the world.
My mom used to tell me it was like a door appears to a magic garden that you only have access to after you have a child. You cannot predict what being a parent will be like; it's a real lesson in living in the moment. Instead of thinking of your parents as mind readers it is helpful to ask grandparents to be respectful and supportive of what is new for you and your partner as you become aware of your needs and wants. Whether you say it out loud or not, acknowledging for yourself that this is new for them can make the help they offer sweeter, and the disappointments or unsolicited advice sting less.
You'll be more vulnerable than you probably wanted to be, and the best partner to that is self-compassion
Vulnerability and neediness can get activated during this sea of change. Right after I had my daughter, I couldn't bend down. This means I couldn't put my own underwear on or take it off, and on top of that, I was still bleeding. I'm also pretty sure I wasn't wearing a shirt for the first few weeks, as my body adjusted to the realities of breastfeeding (and people dropped in all the time, including the grandpas). Random tears were a regular thing for the first few weeks, as the enormity of the experience and the hormones all settled. I felt pretty vulnerable, to say the least.
We've all had at least some of these moments of vulnerability as new mothers, and during this time of great change it is essential to cultivate self-compassion. It is always essential, but there's no better time than when you have a new baby to up-level your self-compassion (we like this mantra a lot for that). Being gentle and speaking kindly to yourself will help support you as you learn to become a parent. Practicing being a "good enough mom" helps you accept your mistakes and reinforces the belief that it is ok not to be perfect. Also asking for support during this time can bring relief.
It's not a time to take care of everyone, you already have a baby
This is a time to focus on you and your baby. The early days are especially exhausting if you are being woken up at night multiple times and learning how to take care of a new life. This is not a time to try to make everyone else happy.
The temptation to do so is shockingly strong. Maybe it's an offer of help, but not the help you really need. Maybe it's a visiting time that wreaks havoc on your precious, precious sleep window. Maybe it's defrosting ALL of your frozen breastmilk in case the baby gets hungry. Maybe it's really wanting you to be at a family event that happens smack dab in the middle of nap time or bedtime.
Try to catch yourself if you get caught trying to take care of your parents' or in-laws' needs and wants over yours or your baby's (and yours!). You have your hands full during this time. It is ok to say no!
You get a new lens on your own childhood as you become a parent
In psychotherapy we learn that the vulnerabilities of childhood re-emerge when you become a parent. It's common to experience a new level of need that you have not experienced since childhood. Triggers can get activated during this time focusing on when your own parents showed up for you, and when they did not, when you were little. The feelings that arose way back then can come flooding back.
It's helpful to get curious and ask yourself the following questions: How was I parented? What worked? What did not work? What do I want to bring to this new family system? What is best left behind?
You will find your own voice as a parent, and having awareness about what "baggage" you bring to this new chapter in your life will go a long way to creating the nuclear family dynamic that you (and your partner, if you have one) desire.
Conflict is normal, and it's not just because you're tired
The transition to parenthood is a new adventure unlike anything you have experienced before. Talking to yourself, your partner and any grandparents in the picture is helpful to recognize and understand that everyone is learning in this world.
As new parents you are trying to navigate a whole new part of your identity, and one that will likely take over for years, if not for the rest of your life. Grandparents are also having their own identity crisis! Surprise and disappointment can come up during this time. It is normal to have disagreements and feel disconnected from members of your family sometimes. Coming back to connection and understanding takes time, space and dialogue. Set your expectations accordingly, be patient, and come back to loving dialogue as soon as you can.
Follow HuffPost Canada Blogs on Facebook