On World Prematurity Day November 17, the author remembers the shock of almost losing her nephew -- and the joy of seeing him thrive. How can Canadians bring similar hope to families around the world?
My thumb covered his entire hand. There he was, my brand new nephew -- yet it was heartbreaking to see him for the first time. Tubes and wires surrounded Aidan's tiny body as he lay in his incubator. Weighing only 1.96 pounds, he was fighting for his life.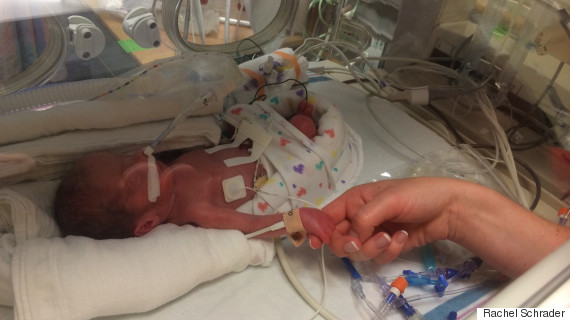 (Photo: Rachel Schrader)
The text message from my father-in-law that day was simple, yet alarming. He said my sister-in-law was in the hospital and the baby needed to come now.
Tears sprung to my eyes and my mind started spinning. Surely my father-in-law got his message wrong. Did I even read it right? This couldn't be happening. The baby wasn't due for another 11 weeks. The details were scarce, but I knew it was a race against time. I felt helpless.
After many back-and-forth phone calls that afternoon and through a lot of tears, I discovered my sister-in-law had been diagnosed with a life-threatening pregnancy complication. Delivery was the only option. If the doctors hadn't performed an emergency Cesarean section when they did, both my sister-in-law and my nephew may not have survived.
Imagine the alternatives
My sister-in-law had proper prenatal care during her short pregnancy, and this meant she recognized the signs when things weren't right. But what if she hadn't received adequate health information during her pregnancy and didn't know when to seek help? I don't even want to think about it.
In my sister-in-law's case, Aidan's premature birth wasn't something that could have been foreseen, or prevented. But in many cases where women around the world go into labour prematurely, prevention could have been possible with the right knowledge of the risk factors. Working at World Vision Canada, I am reminded that this is especially critical in developing countries where:
Prenatal care is often insufficient
Women don't feel empowered enough to take their health into their own hands
Women face barriers which prevent them from accessing the services that do exist
"There are a number of interventions that have shown promising results in preventing preterm birth in developing countries," says Dr. Amanuel Gidebo, expert in maternal, newborn and child health with World Vision Canada.
"These include good nutrition, spacing of pregnancies by at least two years, avoiding getting pregnant before 18 years of age, prevention or early treatment of infections, such as malaria, and reducing workloads for the mom-to-be."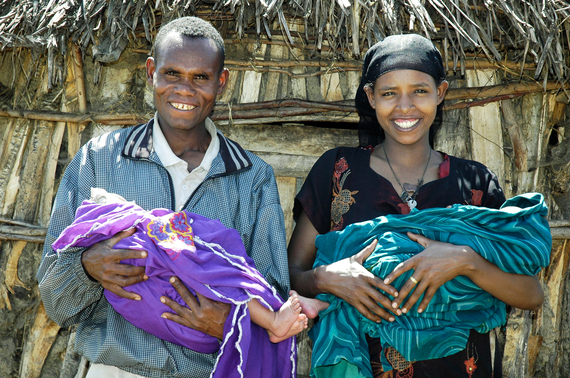 These proud parents in Ethiopia show off their new bundles of joy. Supportive partners help promote healthy pregnancies, healthy mothers and healthy babies that are born much closer to full term. (Photo: World Vision)
A global health challenge
Preterm birth complications are now the leading cause of death for children under five, accounting for 18 per cent of all deaths. An estimated 15 million babies are born preterm every year. Many families in the world's poorest places are forced to go without even the most basic health care. For premature babies, this has dire consequences. Half of those born two months early will die.
Thankfully, Canadians are stepping forward to help meet the needs. One example is Born on Time, an exciting initiative powered by people who believe that every mother deserves a healthy, full term pregnancy and that every newborn has the right to thrive. It unites World Vision Canada, Plan International Canada, Save the Children Canada, Johnson & Johnson and the Canadian government. Born on Time focuses on three countries: Bangladesh, Mali and Ethiopia.
"Of the total of the 15 million babies born preterm globally, about 9.5 million are born in sub-Saharan Africa and South Asia, where the Born on Time countries are located," says Dr. Gidebo.
Born on Time not only addresses factors that can lead to babies being born prematurely, including lifestyle, infection, nutrition and contraception, it also aims to empower women and adolescent girls.
Men, boys and community leaders come alongside women and girls, and together, they tackle gender-based discrimination and barriers that impact maternal and newborn health. Health-care workers and families are also supported with training, equipment, supplies and knowledge needed to care for preterm babies.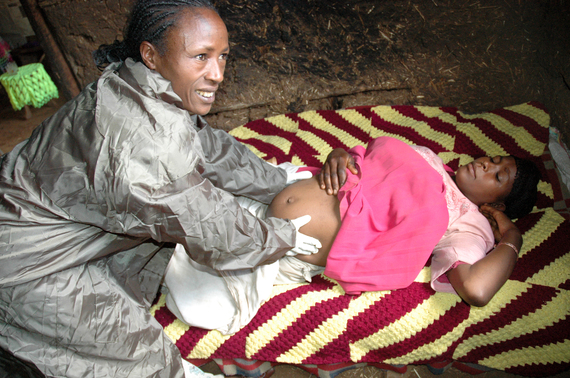 A community health worker in Ethiopia checks up on this mom-to-be. With timed and targeted counselling for expectant families, these community health workers help prevent preterm birth. (Photo: World Vision)
Picture the possibilities
The thought of my sister-in-law not getting the help she desperately needed is gut-wrenching, but the thought of having more babies like Aidan survive, and thrive, is inspiring.
"Helping a mother carry her pregnancy to full term would mean that the baby has a much greater chance of survival -- without the need for expensive specialized care", says Dr. Gidebo.
"It would also mean that the baby has a greater chance of having a healthy childhood and productive adolescence. Helping a baby come into the world at full-term is a key step in preventing nearly half of the mortalities among newborn babies."
This World Prematurity Day, I am thankful Aidan's story has a happy ending. While he has certainly faced challenges in his life, he's alive and full of potential. I am hopeful that through initiatives like Born on Time, more babies can arrive full-term, and live healthy, full lives.
I am hoping for more happy endings.
To learn more about Born on Time, please visit www.BornOnTime.org
Follow HuffPost Canada Blogs on Facebook
Also on HuffPost:
Before And After Photos Of Premature Babies