Shutterstock
After nearly 15 years of having my eyebrows done (both professionally and DIY jobs), I've come to two conclusions; well-groomed brows are a must-have, and this is one area best left to the professionals. I've tried it all: at home wax strips, plucking, and trimming, but nothing beats a really great salon job. If your eyebrows are well shaped it defines all the features on your face and cuts down on the makeup you need.
If you are new to having your eyebrows shaped professionally I recommend threading. It's a centuries-old technique that originated in the Middle East and South Asia, and uses cotton thread to remove hair. A threader twists a thread into a loop and rolls it against the skin at lightning speed. The loop acts like a tiny lasso, pulling your hair out by the roots. I know it sounds painful -- but really it's just a little uncomfortable, and totally worth it.
Just before the holidays I visited Vancouver's premier brow stylists at the Bombay Brow Bar for a much needed threading. To really accentuate what a good brow treatment can do for your face, and to take full advantage of the stylists know how, I grew my brows out to full growth beforehand.
What I love about Bombay Brow Bar (beyond the beautiful décor and ambience), is their commitment to brows. They focus on one thing and one thing only. When you get in the chair one of their expert brow stylists walks you through the process, and suggests the best shape for your brows. According to owner and brow enthusiast Ravy Mehroke, "To determine the right brow shape, it's really important to analyze the symmetry of the face. To do that, we look closely at facial features, face shape and personal preferences to really determine the best shape for the brows."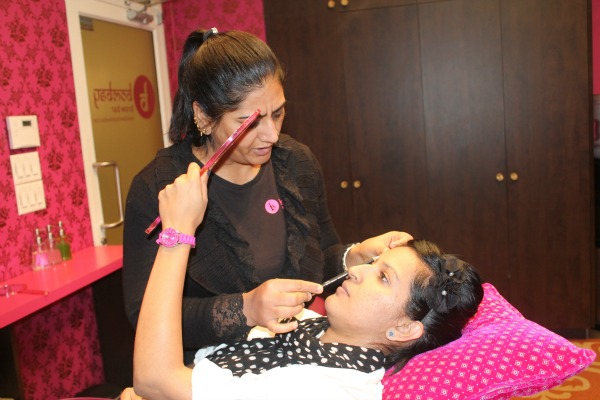 Before the actual threading begins, your stylist will even draw a mock outline of your brow shape to make sure it's perfect. I love that they ask you about your preference on the thickness of the brow, and also the height of the arch. Ravy suggests "a softer brow if you have soft facial features. For stronger facial features, a strong brow will draw attention to your eyes." Things I've never considered with an at-home waxing strip.
Once you start threading your brows, you'll be looking at getting a touch up every 3-4 weeks depending on the growth. You can do some minor maintenance by pulling stray hairs, but avoid pulling anything that affects the overall shape of the brow. Leave that to the professionals. There is no real after-care to threading either, but if it's your first time having it done, you may want to avoid putting eye makeup on the area for a few hours, or ice it to reduce redness.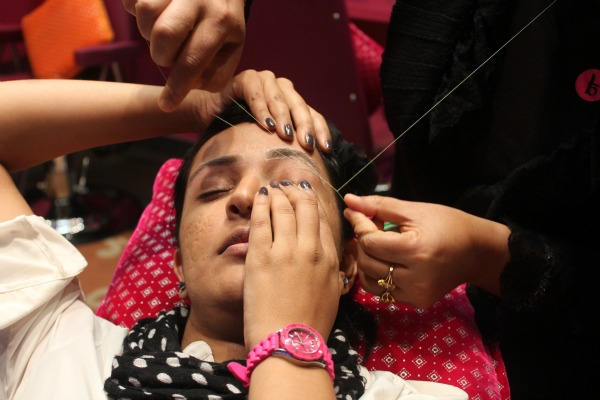 Although I'm completely smitten by the arch angels at Bombay Brow Bar, you may not have a location near you, or might decide to go somewhere else. Be sure that you are going to someone that works in a licensed facility and at the very least read a few online reviews.