PA
Ever since the news of Kate Middleton's pregnancy broke, the world has been buzzing with theories about her due date, and even the possibility of there being two royal babies. Two babies or one, the only thing I'm thinking about is how that poor girl is feeling, and what she will wear when she finally débuts that baby bump!
One of the reason's that the Duchess of Cambridge's sartorial style has become so popular with the masses is how effortlessly she mixes designer labels with high street fashion. She has a taste for Alexander McQueen and Burberry, but still loves her Zara frocks and LK Bennet heels. The perfect marriage of royal disposition, with a commoner's shopping skills.
Once Kate is back on her feet and ready to resume royal duties, I'm sure we'll see some custom designer gowns on her bump. Alexander McQueen (which is the label that designed Kate's wedding dress), is a natural choice -- and they have experience creating custom maternity wear for French actress Marion Cotillard. Another great option would be up and coming British designer Mary Katrantzou who has done custom work for Victoria Beckham during her last pregnancy. Although Mary's choice of prints tends to be more graphic than Kate's taste, I'm sure she could tone it down for the Duchess.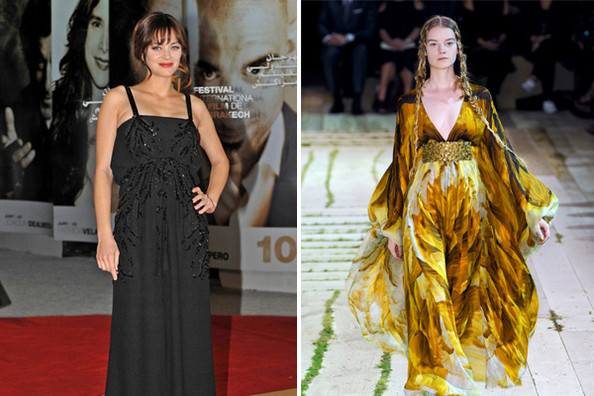 Photo from Elbise Modelleri
On the American front, I would love to see Kate in a custom creation by Versace. They really knocked it out of the park with Reese's blue maternity gown in Cannes and would definitely create a stunner. (OK, their trademark centre slit wouldn't fly for the possible future queen -- but other than that it's a winning option.) Another winner for Kate -- Dianne Von Furstenburg. The Duchess is already a fan of DVF and their wrap dresses are the best maternity dress ever made, and they aren't even a maternity line.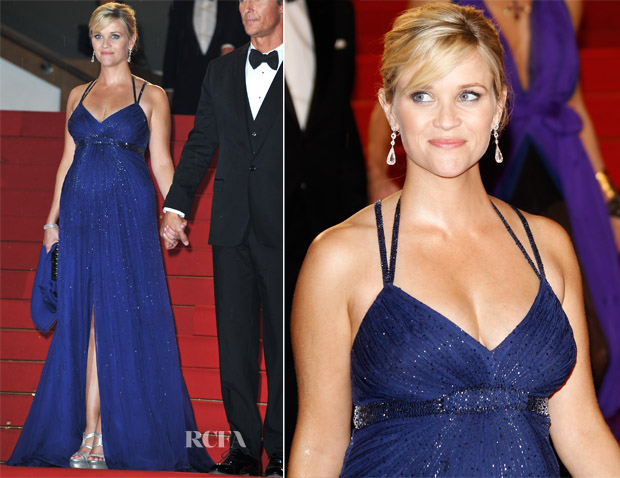 Photo Credit: Red Carpet Fashion Awards
When it comes to basic everyday looks, I expect to see a lot of high street fashion on Kate's growing belly. Cult favourite Isabella Oliver comes to mind, especially since they are a U.K.-based brand. Other options might be; Liz Lange, or Top Shop Maternity (that last one might be wishful thinking).
Of course, with Kate having such a tiny frame it's quite possible that she'll wear a lot of non-maternity pieces during her pregnancy. Whatever fashion direction she takes, I can hardly wait to see the style evolution during her bump watch. And then of course....it'll be time to think about royal baby clothes.