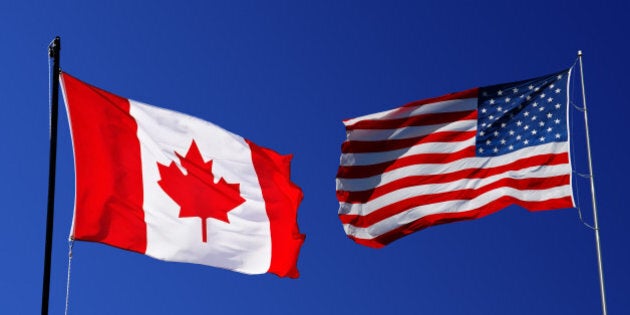 Justin Trudeau's government made significant progress last week in bolstering Canada's vital relationship with the United States.
Managing that relationship successfully is every prime minister's largest foreign policy obligation. It had frayed in recent years and needed fresh attention. Hard work through our first four months in office helped to lay the foundation for Mr. Trudeau's truly remarkable visit to Washington -- the first in nearly 20 years.
Canada and the United States share the longest and most lucrative unmilitarized border in the world.
Justin Trudeau came to office last November determined to reset the Canada-U.S. relationship.
It spans nearly 9,000 kilometres. There are 120 official crossings. Some 400,000 people move back-and-forth across that border every day. So does two-way trade valued at $2.4-billion every day. At one and the same time, we want the border to be safe and secure while trade across it remains a major source of economic growth and prosperity. If security concerns linger, the border thickens and the legitimate movement both of people and goods becomes more difficult.
As far back as 2011, the previous federal government entered into a security and trade initiative with the Obama administration known as "Beyond the Border." But over time, other things got in the way, momentum stalled, and it didn't get done.
Justin Trudeau came to office last November determined to reset the Canada-U.S. relationship. As his official visit and the State Dinner last week demonstrated, Canada has made significant progress in barely four months -- on international relations, economic issues, trade, the global battle against climate change, and a better-functioning border.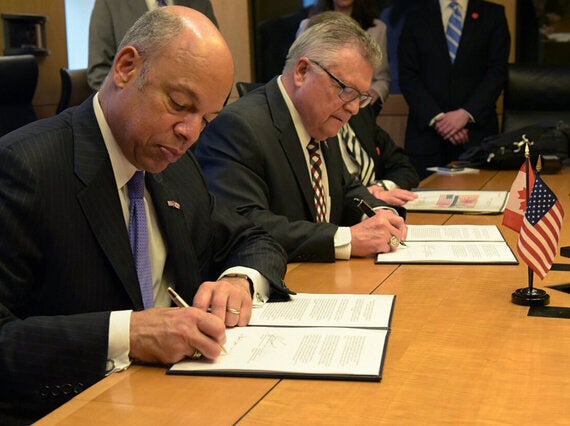 It's just so much more efficient and convenient for travellers to be able to clear U.S. customs and immigration BEFORE they cross the border. Lost time on arrival is eliminated. And airlines get direct access to a vast array of domestic airports in the U.S. that don't have local customs facilities.
Various forms of preclearance have existed in Canada for more than half a century. Currently eight large airports offer the service -- Vancouver, Calgary, Edmonton, Winnipeg, Toronto Pearson, Ottawa, Montreal and Halifax -- plus there are some informal sites serving rail and cruise-ship businesses on the west coast.
A new comprehensive framework for preclearance will not only provide more jurisdictional clarity, it will also pave the way for a major expansion -- first, in long sought-after facilities and routes like Billy Bishop Airport in Toronto and Jean Lesage Airport in Quebec City, the Rocky Mountaineer Railway in BC, and the train from Montreal to New York. Existing marine and rail operations on the West Coast will be regularized. The best ways to pre-clear cargo shipments will be pursued. And the door has been opened to future preclearance venues in locations like Regina/Saskatoon.
Closing A Border Loophole
Unlike most other countries, Canada does not now collect any information on people leaving our country. We get full details about arrivals, but not departures. So, at any given moment, we are not sure who exactly remains in this country or for how long. This is a clear security gap and we need to catch up to the rest of the world.
So, we've launched a new Canada-U.S. "exit" data arrangement. The data involved does not extend beyond the basic, non-intrusive facts that appear on Page-2 of everybody's passport which are currently required to enter into the United States or Canada (plus the location and date of departure). No new requirements will be imposed on the travelling public.
For those who cross the border by land, the country into which they enter will simply send that passport information and departure details back to the country they just left -- by definition, one country's "entry" is the other country's "exit" and vice versa. For those travelling by air, no new exchange of data will be necessary because each country will collect what is currently available directly and independently from airline passenger manifests.
Having basic departure information will help us respond more accurately to Amber Alerts about missing children, human trafficking, terrorist travel, immigration proceedings and visa applications.
Enhancing Air Safety/Protecting Privacy
So-called "No-Fly" lists have long been a standard feature of both domestic and global air travel. Based on their own intelligence and security analyses, countries identify specific individuals who pose serious risks to transportation security or are likely to travel abroad for the purpose of engaging in terrorism, and they are consequently denied access to airplanes.
This has serious implications, so we have involved the federal Justice Department to ensure the approach to listing individuals respects the Charter of Canadian Rights and Freedoms. As well, the Office of the Privacy Commissioner was and remains engaged for advice about privacy issues.
To ensure coherence, avoid mistakes and better protect individual rights and privacy, Canada will insist on several safeguards applicable to the sharing of our No-Fly list with the Americans. The purpose must be strictly confined to preventing transportation security threats or travel for terrorist purposes. There will be a procedure for de-listing the names of those who should not be on the lists. And we'll have a joint process to better deal with situations in which innocent travelers are wrongly red-flagged as "false positives."
Taken together, this is a significant set of initiatives in a strong, sensible border package that avoids "thickening," enhances the smooth flow of people and goods, and improves safety, while safeguarding rights and privacy.
Follow HuffPost Canada Blogs on Facebook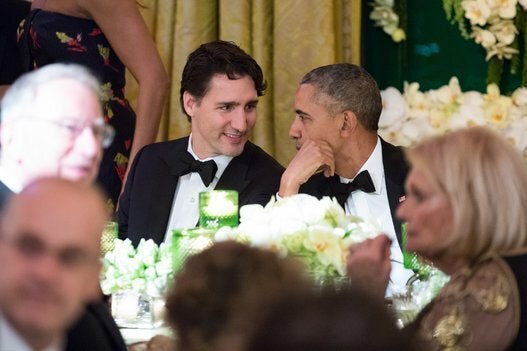 Trudeau's Historic Washington Visit