On New Year's Eve, Stephen Harper published a list of what he called his "accomplishments" in 2013. Strangely absent was any mention of integrity, transparency or accountability, or any plan to confront the ethics scandal that triggered police allegations of bribery, fraud and breach of trust among his most senior personnel.
But that little "omission" aside, what about the things for which Mr. Harper claimed credit?
On the positive side, all Canadians support federal commitments to help those in Lac Megantic, southern Alberta and elsewhere who suffered industrial or climatic disasters last year. Canadian assistance to typhoon victims in the Philippines and to innocent civilians affected by the conflict in Syria is also welcome.
More critically, Mr. Harper's claims about his economic and fiscal record lapse into the realm of fiction.
He boasts about low taxes, but in fact he has increased the overall federal tax burden in each of his last four budgets. Small business owners, credit unions, consumers and middle-class families have all been hit. As just one prime example, higher EI payroll taxes every year since 2011 have already raked in an extra $3.6-billion from both employers and employees, and now the Conservatives are freezing EI rates at clearly excessive levels to collect even more revenue on-going.
Mr. Harper says he now has a grand plan to reduce the federal deficit, but when he first took office in 2006, Canada had been deficit-free for nearly a decade. He is the one who squandered that advantage. He overspent by three times the rate of inflation and put this country back into the red before the recession arrived in 2008. And that made dealing with the downturn much more costly. At the bottom line, the Harper regime has created more than $150-billion in new federal debt.
On the employment front, the labour force "participation rate" has fallen by a full percentage point since just before the recession, meaning 350,000 Canadians have dropped out of the job market. But still, the number searching for work today is more than 200,000 higher than pre-recession levels. Young Canadians especially are suffering double-digit joblessness.
Mr. Harper boasts about a new "Job Grant", but in fact, no such program exists, it's largely beyond federal jurisdiction, there's not a penny of new federal funding allocated to it, and the provinces have turned thumbs down.
Mr. Harper has the worst economic growth record of any Prime Minister since R.B. Bennett, but the only specific growth initiative mentioned in his year-end list is the proposed trade agreement with Europe. While such an agreement is welcome, enthusiasm about its impact needs to be tempered by three key realities -- it will take some two more years to finalize its details (including compensation to Canadian sectors affected by its downsides), actual implementation thereafter could take the better part of another decade, and the new market access gained for some sectors in Canada is largely for product lines that we don't now produce. So it's no panacea.
Mr. Harper claims credit for public infrastructure projects, but he fails to mention his cuts to the federal "Build Canada" budget - $1.5-billion cut in each of this year and next, and another $1-billion cut in the year after that. Infrastructure momentum has stalled.
He claims to be a friend of the Canadian Forces, but why then has his government bungled virtually every major military procurement project? Why are 90-year-old veterans having to hold public demonstrations against notoriously bad services? And why has former Defence Chief Rick Hillier called for a Public Inquiry into this government's lack of support for those struggling with PTSD?
In a condescending reference to Aboriginal people, Mr. Harper fails to mention his on-going refusal to engage in serious, respectful consultations on a whole host of issues (including pipelines), and there's no explanation why First Nations access to post-secondary education is still capped and why the federal per-student investment in K-12 schools on-reserves is still only a fraction of what provinces invest per-student in off-reserve schools.
The reality checks could go on and on. But the point is clear. Mr. Harper cannot "spin" his way out of the deep hole he has dug for himself. Trust has been shattered. A majority of Canadians now believe his performance is poor and they don't like where he's heading. That's the Harper legacy from 2013.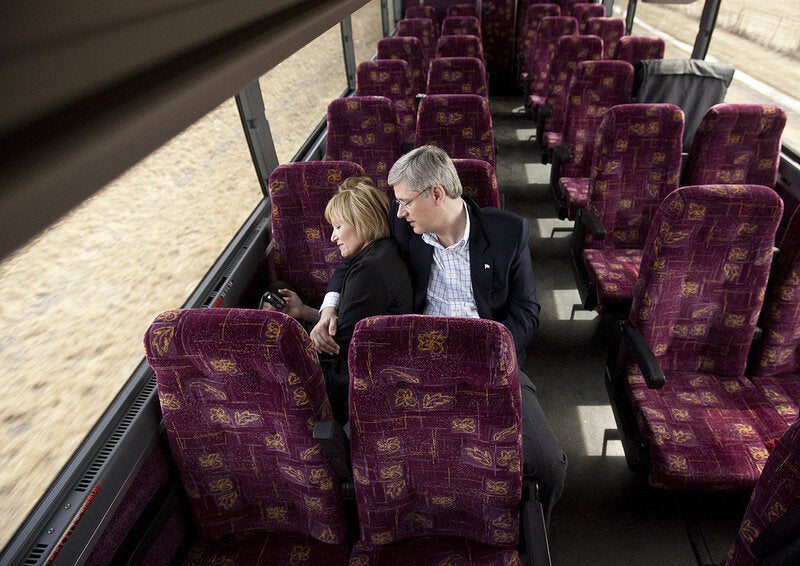 Memorable Stephen Harper Pictures