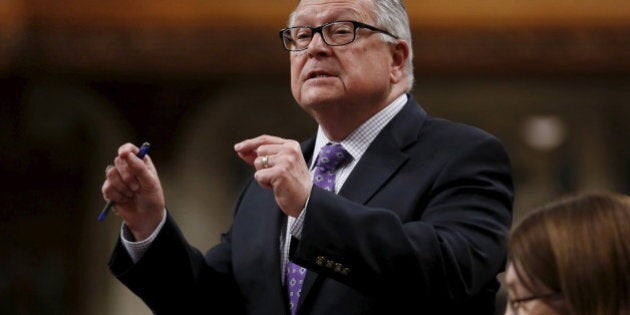 A National Security and Intelligence Committee of Parliamentarians
A new legal framework for preclearance of travellers to the USA
A system to collect basic information when people leave Canada
As the House of Commons finished its spring sitting last week, the Government of Canada introduced new legislation to make progress, as promised, on critical national security priorities. Publishing the details now will give ample time for these three measures to be studied before they come up for debate and votes in the fall.
The Committee of Parliamentarians
With this legislation, Bill C-22, the federal government is fulfilling the single most important commitment it made to Canadians to improve this country's security and intelligence architecture.
As promised, we are creating a nine-member National Security and Intelligence Committee of Parliamentarians -- two Senators and seven MPs (with only four from the governing political party) -- who will have extraordinary access to classified information and a broad mandate to scrutinize any and all departments and agencies of the Government of Canada with security or intelligence functions.
Their objective will be to help ensure that all those departments and agencies are effective in keeping Canadians safe and secure, and that Canadian values, rights and freedoms and the open, generous, inclusive character of our country are safeguarded.
Virtually every other western nation has such a parliamentary vehicle to provide senior-level supervision and accountability. Canada is the anomaly. The Auditor-General highlighted this gap more than a decade ago and a previous Liberal government introduced legislation to fix the problem. But upon coming to power in 2006, the Harper government dropped it.
We have studied how other countries operate, and we've learned from their experience. So far, independent experts have given our proposal favourable marks. Over the weeks ahead, the government is looking forward to hearing what MPs and Senators, academics, security professionals and all Canadians have to say. We want a security system that is the best it can be.
Preclearance with the United States
One key element of our national security is a smoothly functioning border with the U.S. It needs to be safe, while facilitating border crossings by more than 400,000 people every day, and some $2.4 billion in daily trade.
The Americans are now offering preclearance opportunities to travellers from many other countries too.
A sound and expanding "preclearance" system is a major asset. It allows travellers to clear U.S. Customs and Immigration procedures before crossing the border. Unique in the world, Canada has enjoyed preclearance privileges in air travel into the U.S. since the 1950s.
Preclearance is now offered for cross-border flights from Vancouver, Calgary, Edmonton, Winnipeg, Toronto Pearson, Ottawa, Montreal and Halifax. It saves a lot of time upon arrival, and opens a vast array of direct travel options to U.S. airports that don't have customs facilities.
The Americans are now offering preclearance opportunities to travellers from many other countries too. As they do so, they are standardizing their administrative and legal frameworks. So Canada has concluded a new arrangement. It lays the groundwork for an expansion of preclearance operations in both directions and in all modes of transportation (air, rail, marine and land).
That's what is embodied in Bill C-23, now before Parliament. But what's even more important is a Canada-US business agreement in principle to take advantage of expansion opportunities -- starting with Billy Bishop City Airport in Toronto, Jean Lesage Airport in Quebec City, the train from Montreal to New York, and the Rocky Mountaineer Railroad in B.C. Informal train and cruise ship sites on the west coast will be regularized. And the door has been opened for other new Canadian venues and possibly the preclearance of cargo.
Making note of who leaves our country
Canadian border officers carefully examine everyone who enters Canada, but unlike most other countries, we have had no system in place to record who is exiting. This leaves a big security loophole. Our new Bill C-21 will remedy that problem in a simple, unobtrusive way.
After the law is enacted, Canada will begin collecting basic "exit" information on everyone leaving the country. It's nothing more than the brief biographic data shown on Page Two of your passport (name, date and place of birth, sex, nationality), together with the date, time and place of your departure.
For those who leave by land, when you show your passport to customs officials on the U.S. side, they will automatically transfer that information back to Canada. For those leaving by air, Canada will collect that same basic information off the passenger manifests of departing aircraft. There's no new burden on travellers.
Having exit data will make our border more secure. We will be able to respond better to Amber Alerts about missing children, and to other criminal activities like human trafficking, smuggling and illegal travel for the purposes of terrorism. We'll be more efficient in dealing with immigration and visa issues. And we will help to protect the integrity of Canadian social programs.
Privacy is always be a prime priority. So in devising this new exit data arrangement, the government has sought the good advice of the Office of the Privacy Commissioner.
These are three important public safety and national security initiatives. Your questions and comments are always most welcome.
Follow HuffPost Canada Blogs on Facebook