By: Hina P. Ansari/Founder of Ramp1885.com
A true example of when fashion meets function: Exploring the fashion automotive design space with Anthony Prozzi, Senior Interior Designer for FORD Motor Co. who chats with us about his transition from ready-to-wear to cars, the idea of meaningful design and being the Valentino of car couture.
I was intrigued to find that your design career began with Donna Karan. And then you went over into the automotive world. Was that a difficult transition?
I think it's a very organic process because even before Donna Karan, I was a physics major at New York University. My parents were immigrants from Italy and education was a priority, so I did very well throughout school.
In my second year in university, I needed money. I always loved fashion but it wasn't something that [my parents] could understand as a career. I was very fortunate to meet some people and I took a position at a high-end specialty shop in Brooklyn, New York. They carried the best of the best. So it just exponentially grew from there and eventually I became the men's wear buyer and I managed the women's wear department.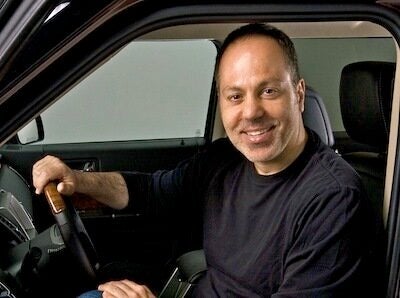 So you had a successful career in this particular retail environment. What was your turning point during this particular career journey?
Behind every great design there's truly a great woman because after met Gloria Jacobs [who owned the boutique] there was this woman -- Agnes, that I would see around. As it turns out, she was one of the editors at W when it was still in a newspaper mode. She was also a freelance stylist where she would style all these R 'n' B artists, LaVert, Luther Vandross, Curtis Mayfield. I remember these clients, they were mushroom men who adored fashion. I mean they were huge, with a waist line of like 48 inches. I would lend her clothes for her photoshoots, and these guys will buy the clothing. Then one day she said, "I'm having a dinner party. I will introduce you to someone." So I was seated next to Dona Karan. And that was a year so, after she left Anne Klein. And we giggled like we knew each other forever. We both grew up in Queens, New York. She looked at me and said "Would you be interested in joining me?" I [told her] that I don't have any formal training. I don't know how to cut patterns. She [replied] "You know what men want and you have strong passion for it." We bonded instantly.
The late 80's, early 90's in New York was a very difficult time. Many of my friends were buried and I was like "Okay I'm the last guy standing" So I needed a break. I met Carl Olsen who was the Dean of Transportation Design at a local art school who said "Mate, what are you doing here? You should be doing cars." So I thought it's either going to be Betty Ford [Clinic] or Detroit, Michigan (laughs). So I picked Detroit. I completed my schooling and a competitive car company made me an offer before I graduated and I couldn't say no. Ford noticed my work and I then moved over to Ford.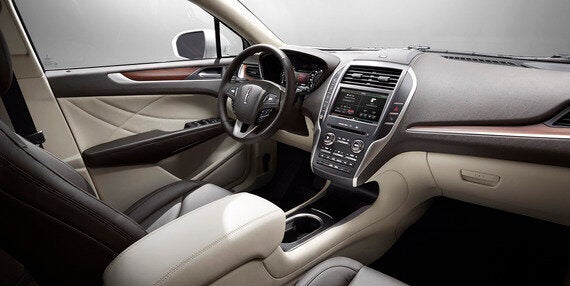 Interior of 2015 Lincoln MKC as designed by Anthony Prozzi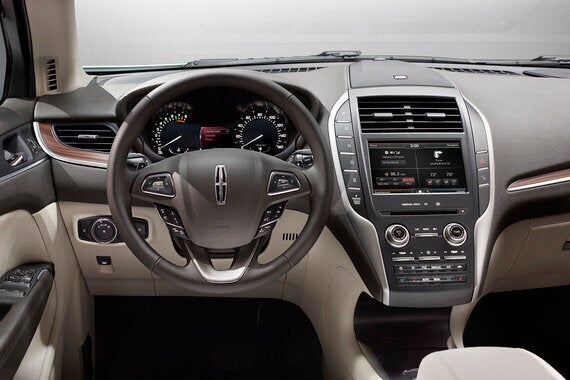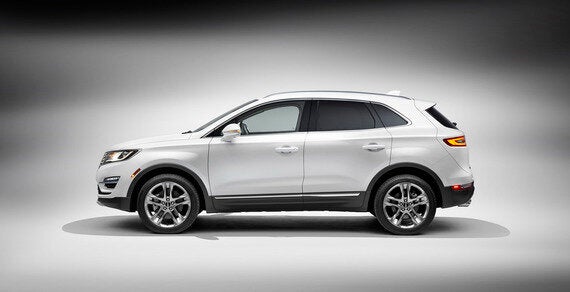 Exterior of the 2015 Lincoln MKC
Through the years have you seen the change in designs in terms of what the consumer wants as opposed to you telling the consumer what they need?
I think the consumer will always tell you what they want. Our job as a designer is being able to take all these abstract ideas -- like what 'will put smile on my face?', 'What's going put me at ease?', and we translate that into three-dimensional form. If it's a piece of garment or sheet metal we embue all those shapes and forms with all those emotions and we're able to communicate.
You explain that communication is a common thread across all design platforms, whether you are a fashion designer, interior designer, designing for homes or designing for cars. Can you elaborate on that?
A good author is able to tell you a great story in words, designers use objects to tell a story and that's how we make that connection because in the end, unless you have an emotional connection, it's meaningless. You have to listen to people. You have to know what is it that they really want. What will pull at their heart's strings before they even know they want it and we offer it. That is what makes fashion people so very very special. Because [they] -- unlike anyone else -- have that intuition. That's intrinsic and it's a part of their DNA. They know what's next, what's right, and what holistically what makes a statement. All of the companies have finally recognized that and have pushed the boundaries in design in general. So even if it's a table, a sofa, a shoe or car, we all are talking the same language.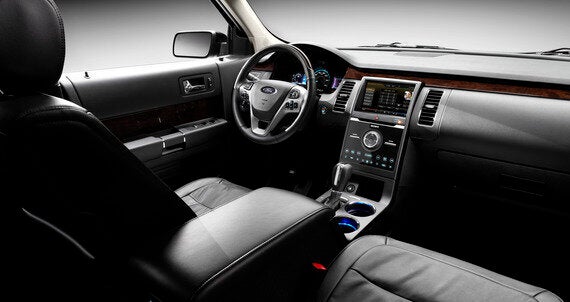 Interior of the 2014 Ford Flex, as designed by Anthony Prozzi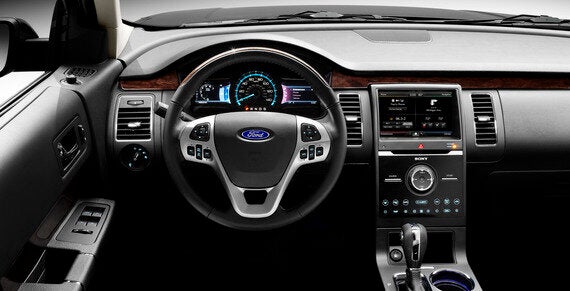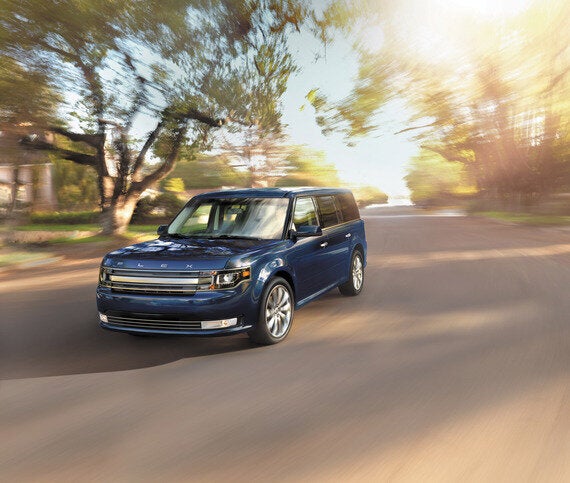 Exterior of the 2014 Ford Flex
So how do you approach your design philosophy?
Yes, we're like the fashion equivalent to Valentino. We make like stunning things. When you look at Valentino, Hermes, Givenchy, they are timeless. You know you could go 10, 20, 30 years back into Valentino's archives and pick something out and it's stunning. And that's for me what car design speaks too, when you look into all successful cars that are out there like the Mustang, the Volkswagen Beatle, and what they stood for. It could be from 1960 or 2013, they are timeless beautiful things. And that talks to what design is all about.
Has the overall design philosophy change with the changing awareness of environment and "green" concept?
What separates us now from what we've done in the past is the idea that we must design with a conscience. And that goes across the board. This is something that Donna Karan, taught me that will stay with me forever: How do you source textiles, how is that textile dyed, who is actually cutting and sewing this -- in that plant, in that factory? What practices are they implying? You can use your conscience and put something out there in the world that has meaning and does good. I'm a heavy yoga practitioner, one of the things that it teaches you is that you cannot do harm. Whether it's your footprint or whatever you have touched, you should leave that area better. As someone transitioning from fashion to automotive world it's a guiding principle for everything I do. Take our work on the Focus Electric [for example]. This vehicle really redefined what is an environmentally friendly vehicle. What most people don't realize is the use of petrol-based plastics. Our conscience said 'we cant do this'. So our scientists came up with plastic made from Castrol oil. It's a free growing weed. It's a non-food based source. So there is this perfect example of doing something that is non-harmful and non-threatening and turning into something beautiful that has a great message and looks stylish.
It's a visual world. So there has to be an appeal as well.
In the end with fashion -- cars, furnishings -- if it doesn't look good I don't care what you say, it's absolutely meaningless. Style makes a difference.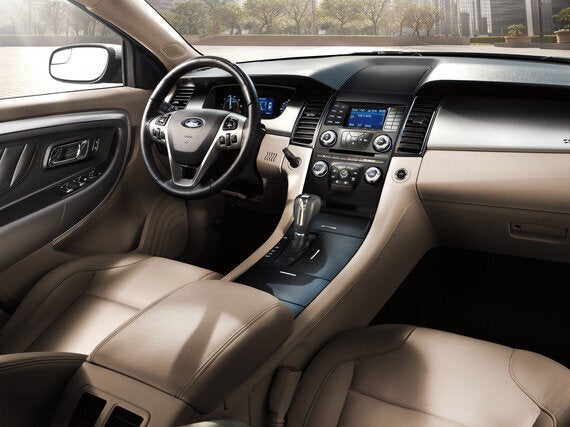 Interior of 2013 Ford Taurus SEL as designed by Anthony Prozzi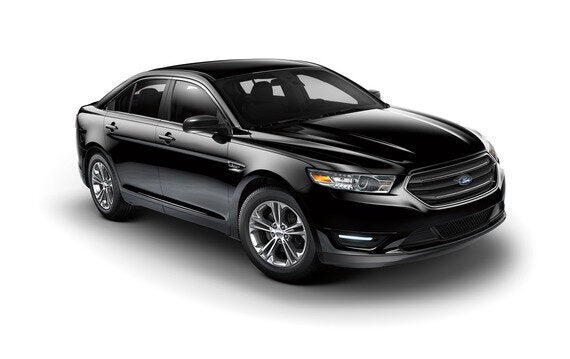 Exterior of 2013 Ford Taurus SEL
Unlike clothing, where they work from 6 months to sometimes 2 years ahead, in your case you are working 5, 10, 15 years ahead correct?
Yes. For us, it's really important at understanding what are the emotions that are touching people. For example, instead of just sketching a mid-sized sedan, what if we sketch a solution to a problem emotionally? Everyone knows that the world is getting more and more chaotic. We never had enough time. So how can the interior of the vehicle serve as an antidote to that chaos?
I'd like to think that the luxury market is based on this idea of reward. You work really hard so you can earn a lot of money and you can buy that gorgeous Louis Vuitton bag and then you get back to work really hard so you can give yourself another reward. Is that the sort of cycle that you want to be in? Or would you rather break that cycle and be part of something that give you joy by making this purchase and doing something better for the world by understanding that this product is created by using sustainable materials. And it's very stylish and look really cute driving around town on it. Doesn't that mean just so much more? That's how we think. And that's how fashion people -- in my opinion -- have always thought when creating something. That's just the name of the game. If you don't subscribe to that, you will not survive.
Photography courtesy of Ford Motor Co.