Glowimages via Getty Images
Every now and again a parent needs a time out. What I would give some days to have someone tell me to go sit in a quiet corner and think, quietly, to myself. Puh-lease!! And some days I want to hop on a plane, husband in tow, and just get away from the hectic demands of modern family and work life and just sit on a beach, basking in the sun and remembering for a moment what it's like to be an adult, among adults, footloose and fancy-free without the constant demands of parenting. And then I'm jolted awake by the shriek of children in armed battle over the last chocolate chip muffin.
Through the years my quick fix has been to plan, pack and play. My "thing" (my blogs and articles known affectionately as WEplusTHREE...or more) has been focused on finding and planning fun family getaways with extended family and friends to see, explore, experience, bond....and somehow, relax. Now there's a concept. But the time had come for the WE in our equations to take some time away from the THREE, a TIME OUT if you will, and plan for a couples getaway. What we lovingly dubbed our We MINUS Three Getaway.
Don't get me wrong, when the kids were younger the idea of a couples getaway was not only unconscionable to me but unrealistic -- three kids is a lot to coordinate, or expect anyone to handle. Now that the kids are a bit older (tweens and a near-teen) we decided the timing was right for us to take some time to reconnect -- we needed it and they needed it. NOT that we don't love or want to be around our kids but adults need the chance to be adults and get to experience and enjoy a getaway without scheduling kids activities, prioritizing nap time, limiting sun time, life jackets, kids clubs, early dinners...and the list goes on.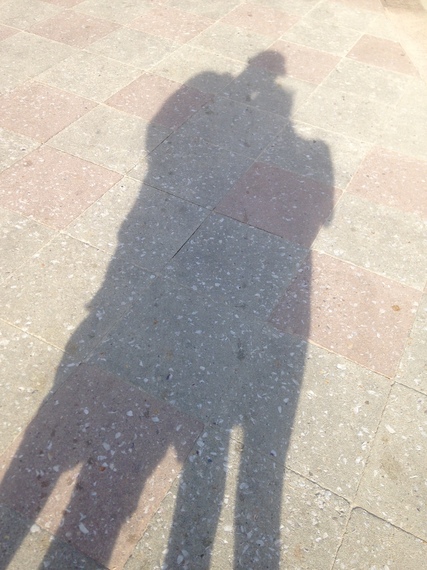 Taking a TIME OUT
I'll be honest, we left to a chorus of "that's not fair' and "but what will you do without us??" Ummmm, let me see.... a lot! Once we decided we were going to do this, we knew we wanted to do it right. After some research and much recommendation we decided on Atlantis Resort on Paradise Island in the Bahamas at The Cove. The Cove is an adult only resort catering to couples and singles who want to vacation in class. Their private beach club CAIN boasts infinity pools with lounging beds, private two-room cabanas offering separate showers and butler services and do you hear that.....No? Peaceful, kid-free relaxation.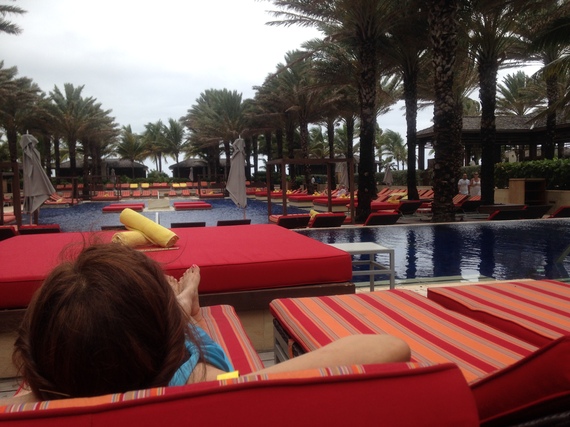 Now, with all the resorts out there, why did we choose Atlantis?
The Cove is a 600-room private adults-only resort located within Atlantis, Paradise Island. Overlooking a peninsula with views of spectacular beaches, it is open and airy, a mix of fine wood, slate and stone nestled into the natural brocade of its subtropical environment. Rivulets flowed along and through the walkways, filled with aquatic life. If you meditate, this would be a dream location for you, there is a peaceful niche to sit and reflect at every turn.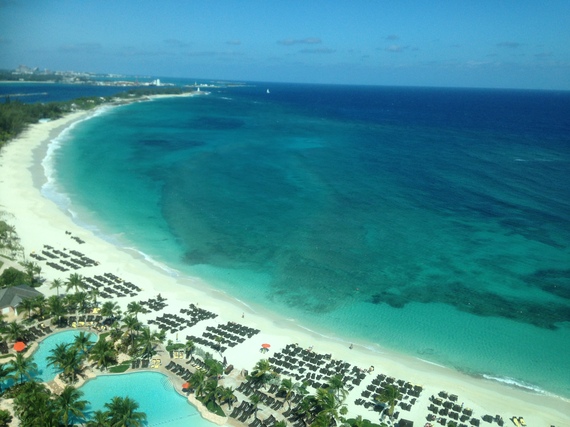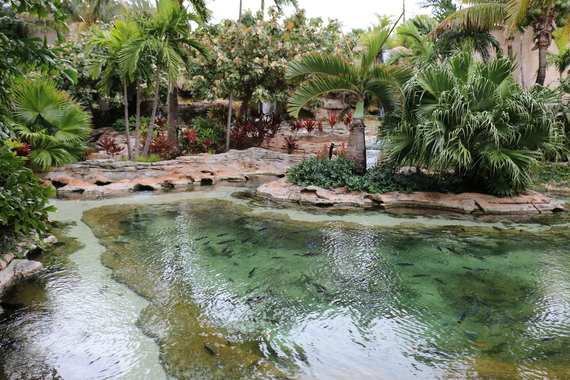 The open walk-ways are situated in such a way that warm breezes guide you through the lush tropical waterscapes that line your path to and from the main resort. On our short walk up to reception that first day, our bodies relaxed and our breathing slowed, subconsciously responding to the calm serenity that this resort's architects designed it to infuse. Even during the stormy weather on our second day, we were sheltered from the rain but felt the warm moist air breezing by. As a Canadian I loved how the warm moist air felt on our arms and face, a pleasant reprieve from the cold, especially with our oft-covered arms and shoulders. The entire look and feel was sophisticated spa, not exactly the type of place we'd head with the kids, but perfect for setting the scene for a relaxing and restorative weekend away.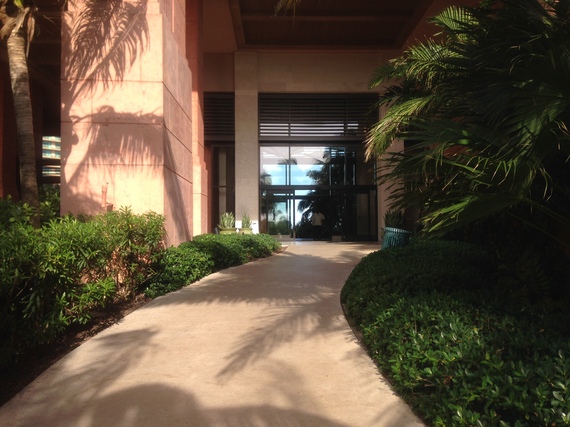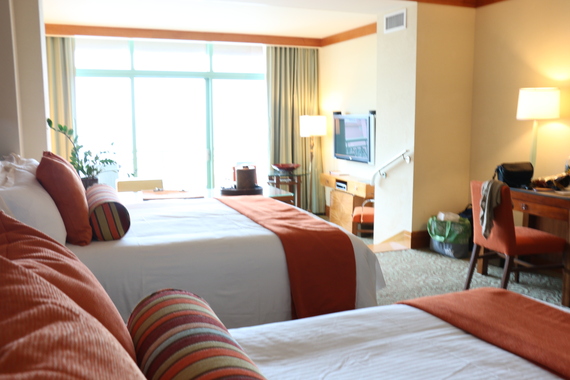 We settled into our over-sized guest room with an ensuite to rival any other (and about as big as my master bedroom at home). The room was airy, and remarkably fresh for a tropical island. There was no hint of must or mildew, which was quite noticeable when you stepped foot into the airport. The decor is elegant Caribbean and very welcoming. We didn't feel out of place or too posh. With balconies on all sides of the hotel offering majestic views of the ocean, coffee on the balcony first thing in the morning in our plush robes became a must do. Ok, maybe we were a little posh. But nothing beats a fresh island breeze with limitless views and time on our side.
How did we make it work?
1. Location, Location, Location. Paradise Island is within a three-hour flight from our home in Toronto -- not too far and easily a direct flight with no layovers, and lots of flight options.
2. Destination. Bahamas is as safe and secure as home with no food or sanitary concerns. You can drink the water from the taps and have full access to American/Canadian grade medical assistance.
3. Short Getaway. Atlantis is famous for their two or three night vacations which make a getaway manageable for you, your kids and their (saintly) caregivers.
4. Caregivers. Great family and friends offered to take the kids as a single unit which made it easier for us to consider this rendevous knowing they were all together. Taking on three kids for a week is an imposition for anyone, but 72 hours just seems doable....so the saints tell me.
5. Timing. Sometimes planning is everything. We went over a long weekend, leaving Friday and returning on a holiday Monday. We left after the kids were at school so our friends only had the kids after school and never had to worry about drop-offs, lunches, activities, etc.
6. Cost. Here is where we paid for peace of mind, convenience and luxury. Atlantis is not an inexpensive vacation but there are lots of promotions and deals out there. Once you experience the luxurious amenities and life experiences you quickly realize the value.
7. Tips and Tricks. We planned our meals -- sort of. Not wanting to stress over the cost of meals, our first two breakfasts in our room -- oatmeal in a cup with some added nuts and dried fruits. Our last morning we indulged in the buffet breakfast at Mosaic Restaurant located in the lobby of The Cove. Lunches were out at the pool side restaurants which were reasonable for a resort and came with American-sized portions. We brought granola bars, fruit, cookies and pretzels for snacks and carried water bottles which helped save on costs and hangovers. We splurged on our dinners, dining at world-class restaurants like Nobu and Mesa Grill.
Atlantis is a remarkable resort. Part 5 star beach-front resort, part water park (Aquaventure is the largest and most amazing water park in the Caribbean much less anywhere), part casino, part aquarium, part conservation grounds and all tropic playground. Our three-night four-day stay was not going to allow us to do everything, but it was going to give us a taste for the endless possibilities. The most important thing we were able to do was take time to play, freely, to date, freely, and to be, freely. But more on our adventures in Part 2: Scheduling a Play Date in Paradise.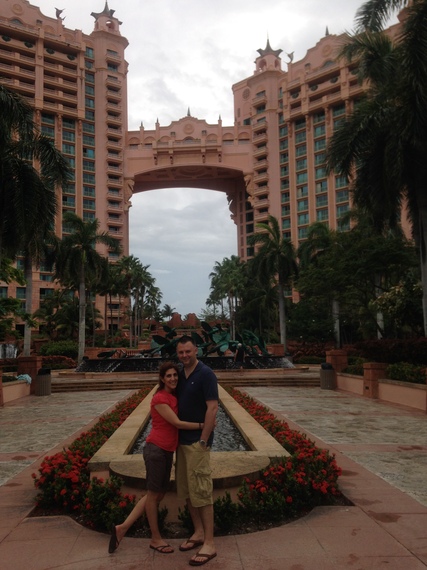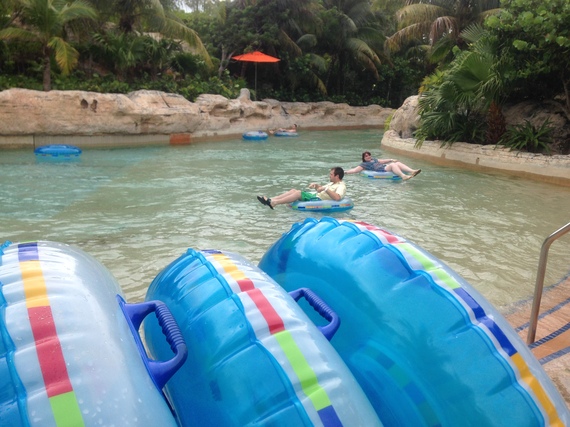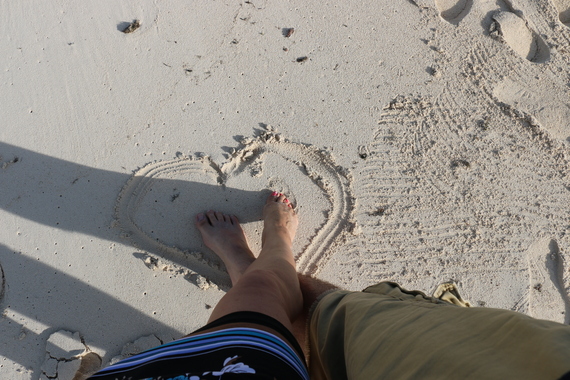 In Part 2 we'll share our amazing adventures and a bucket-list worthy plunge that will go down for the ages. You can check out Atlantis's getaway deals and promotions at: www.atlantisbahamas.com