Environment Images/UIG via Getty Images
Humane Society International's #BeCrueltyFree campaign is giving the beauty industry a makeover worldwide, leading negotiations with governments and companies to put an end to cosmetics animal testing -- forever.
We were a driving force in making the European Union the world's largest cruelty-free cosmetics zone. We led the charge in convincing the government of India to outlaw animal testing for cosmetics, and to propose a ban that would close India's borders to imports of newly animal-tested beauty products. And just last month, two years of hard-hitting HSI campaigning in Brazil led to the passage of a bill outlawing animal testing for cosmetic products and most ingredients.
We've also been busting our tails to achieve similar progress in Canada. HSI's #BeCrueltyFree bunnies have recently returned from their first cross-Canada tour, hopping from coast to coast to rally support for a ban on the use of their fellow rabbits and other animals in painful cosmetics testing in Canadian laboratories. Billy, Bonnie and Betty made stops in Montreal, Toronto and Vancouver to ride public transit, pose for photos and urge consumers to #BeCrueltyFree and get behind a federal ban on animal testing for cosmetics.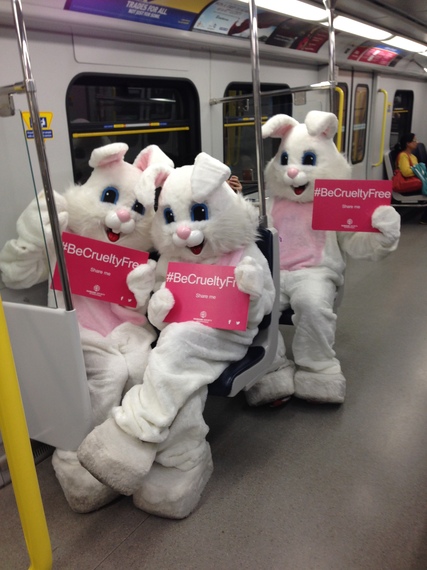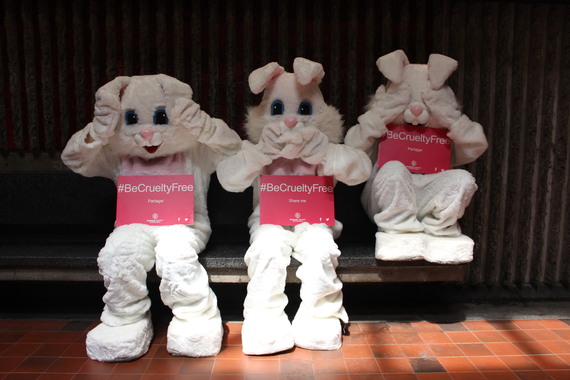 While many people don't realize this still goes on, animal testing for cosmetics is very much part of Canadian society. It is the ugly secret of the beauty industry. Terrified animals have substances forced down their throat, dripped into their eyes, or smeared onto their skin, and are left to suffer without pain relief.
HSI and Animal Alliance of Canada have been meeting with federal politicians from all parties, building support for a nation-wide animal testing ban for cosmetics and their ingredients. The United States, where the campaign is led by The Humane Society of the United States, is already out in front with the recently introduced Humane Cosmetics Act. We welcome this progressive move by our neighbours to the south, but if Canada does not move quickly to implement similar measures, our country could become the dumping ground for cruel animal tests by U.S. companies.
To no one's surprise, Canadians are overwhelmingly opposed to blinding, poisoning and killing animals for the sake of vanity products like lipstick and shaving cream, with eight out of every 10 Canadians supportive of a nation-wide ban on animal testing for cosmetics. With a federal election on the horizon, will our political leaders listen and take action?
Join us in making Canada the next country to #BeCrueltyFree, and stay up to date with our progress through our Facebook and Twitter.
Humane Society International, one of the largest international animal protection organizations in the world, launched the Be Cruelty-Free global campaign to end animal testing for cosmetics in 2012. The campaign has since grown exponentially, currently operating in 12 countries and counting.
ALSO ON HUFFPOST:
Photo gallery

Animal Welfare In 2012, Via The Canadian Federation of Humane Societies

See Gallery