For Ontario students, the last month has been especially busy and transitional. After a summer in turmoil, Premier Doug Ford's provincial government has kept their campaign promise to repeal the sex-ed curriculum. Students in elementary schools across the province will be taught the sex-ed curriculum created in 1998, before students in Grades 1 to 8 were even a twinkle in their parents' eye.
This two-decades-old curriculum doesn't include any mention of consent, gender identity, same-sex marriage or online safety. These topics are critical to comprehensive sexuality education, the social and cultural realities that kids and youth face, and the evolving norms of society (same-sex marriage was legalized in 2003!).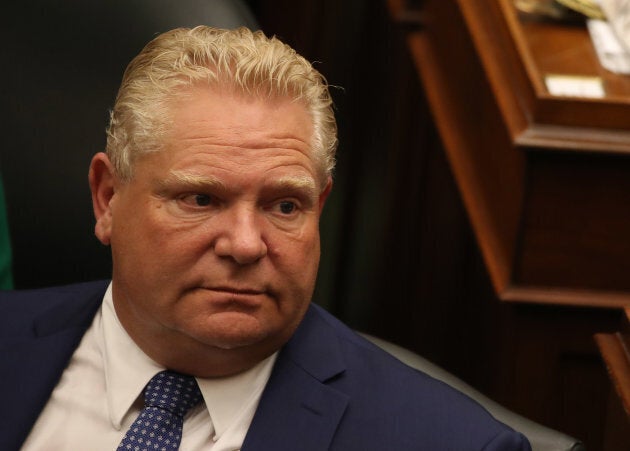 In the last few months, the premier has threatened to discipline educators who refuse to use the 20-year-old curriculum, and the government has launched a "snitch line" for parents to anonymously lodge complaints against their children's teachers. Three human rights complaints have been filed, one from the Canadian Civil Liberties Association, one from the Elementary Teachers' Federation of Ontario, and most recently one from the Ontario Human Rights Commission. Other cases have been launched at the Ontario Human Rights Tribunal on behalf of families and LGBTQ+ students.
Now the public consultations are getting underway. The most recent government update shows that the public will be able to share their thoughts via an open submission, an upcoming survey and telephone town halls held across the province.
But wait a moment... where are the youth voices?
The existing consultation options aren't going to cut it.
Here's the thing: These consultations aren't meant to garner youth engagement. In fact, the official government consultation page hyperlink reads "for-the-parents," and the dedicated consultation email address is "fortheparents@ontario.ca." The site itself may say that parents, students, educators and interested individuals or organizations are all invited to participate, but this feels superficial at best.
There has been little to no meaningful communication from the Ford government to say that youth engagement is necessary, never mind encouraged, only that they can participate in the same forum as everyone else. Yet, anyone who has ever genuinely supported youth engagement will know that youth-friendly methods, as well as adequate time and resources, must be provided to ensure that youth are prepared and confident in sharing their perspectives. The existing consultation options aren't going to cut it.
Our government needs to consider how to ensure meaningful youth participation in all methods of community feedback. USAID defines youth engagement as that which, "recognizes and seeks to change the power structures that prevent young people from being considered experts in regard to their own needs and priorities." Youth are agents of change themselves and must be included in these conversations. It is the rest of society that needs to trust and respect young people as equal partners in making the decisions that affect them so critically.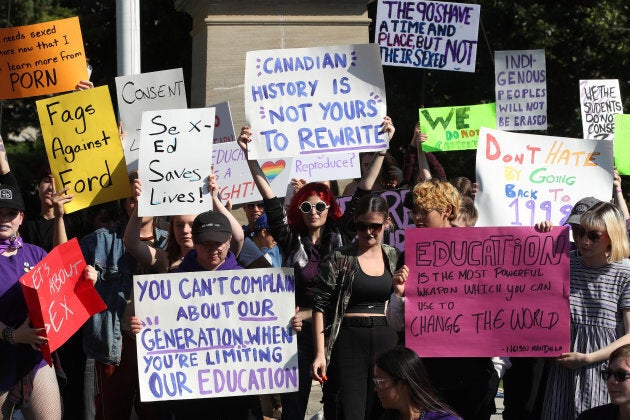 A few weeks ago, youth across the province became vocal in a way that is rarely seen. Tens of thousands of high-school students walked out of class to protest the changes to the curriculum, as well as to advocate for better Indigenous education. These students are passionate, articulate and well-informed about what they're learning. They understand that an outdated sexual education curriculum has serious and long-lasting implications; they get it when they say that #sexedsaveslives. It's remarkable that it's taken so long for others to notice.
Throughout this entire debate, the roles of parents and community are pitted against the formalized roles of the primary and secondary school system in teaching children and adolescents the foundations of sexual health. Parents have been vocal about how they feel their children should be taught. Politicians have rallied constituents in an argument that has been as much about the previous government's vision of progress as it has been about school lesson plans. But youth themselves have been largely left out of the equation, and they're now communicating quite clearly to the rest of us that this won't work.
Youth have not been made to feel as though this government will take their opinions seriously.
Students in middle and high school can manage the complexity of their lives in many vital ways. What Ontarians needs to realize is that they can also handle the responsibility of being engaged in conversations about the knowledge and resources they need to be able to successfully navigate the challenges and life choices that accompany adolescence. Seven hundred students were consulted during the development of the previous curriculum, but there has been no mention of similar engagement this time around.
Holding telephone town halls and soliciting online feedback, as is the stated consultation plan, is unlikely to be a youth-friendly engagement strategy. The Ministry of Education has a youth advisory council. Have they weighed in? Will telephone polls go to cell phones or just landlines? Will town halls be held during school hours? With less than two months before the consultations end, will there be enough time to gather important, representative feedback? Certainly, youth have not been made to feel as though this government will take their opinions seriously.
We talk about consulting parents, health experts and educators, but we rarely talk about consulting students. The United Nations World Youth Report hits the nail on the head: "Public policy often gives precedence to the rights and interests of parents over those of children and young people, even when the consequences of doing so are detrimental to their welfare."
Have we not learned? Youth must be consulted and engaged in decisions that affect them, and the sex-ed curriculum is no different. As the sex-ed curriculum is reconsidered this fall, students must be meaningfully consulted for their priorities and interests, in order to better design a curriculum that is modern and appropriate for needs of youth in 2018.
Have you been affected personally by this or another issue? Share your story on HuffPost Canada blogs. We feature the best of Canadian opinion and perspectives. Find out how to contribute here.