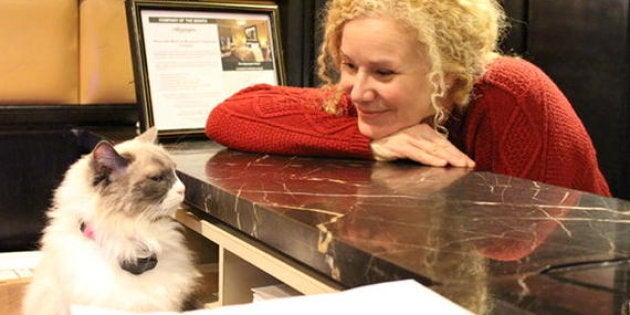 my Facebook page to follow me." data-caption="The view from the Brooklyn Heights Promenade after sunset is amazing, I couldn't resist making a long exposure panorama of Lower Manhattan, the Brooklyn Bridge and the Manhattan Bridge. You can also see the Statue of Liberty in the left side, and the colorful top of the Empire State Building.Like my Facebook page to follow me." data-credit="Nicolas Hoizey/500px">
Some 60 million tourists visited New York City last year. So when it comes to ladies' getaways know, hospitality-wise, you're in good hands. Recently, Girls' Flight Out landed in the Big Apple to soak up its exciting literary scene. Home to publishing giants, top-notch agents, best-selling authors as well as aspiring scribes, ladies gather your gal pals-- this is Book Club gone wild. And yes, the city is infused with thousands of restaurants, bistros and bars, so there will be plenty of wine available.
Here are 6 must-dos to include in your litinerary:
1. Check in to the Algonquin Hotel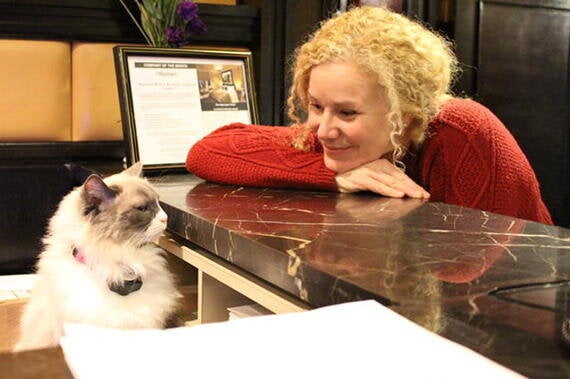 Rebecca checks in with Matilda, the hotel cat who can often be found at the front desk.
Affectionately known as "The Gonk", this national historical landmark is steps away from Times Square and boasts an endless list of famous wordsmiths who have stayed there including Gertrude Stein, J.D. Salinger and Tennessee Williams. This is where Dorothy Parker and her band of critics, editors and Pulitzer-winners hung out at the now-famous Round Table throughout the 1920s. It's also where The New Yorker got off the ground. Rooms and suites are appointed with a comfy work desk just begging you to jot down a line or two. The lobby is jaw dropping so even if you're not a guest, stop in for a bite at the restaurant or a drink at the legendary Blue Bar.
2. Check out the New York Public Library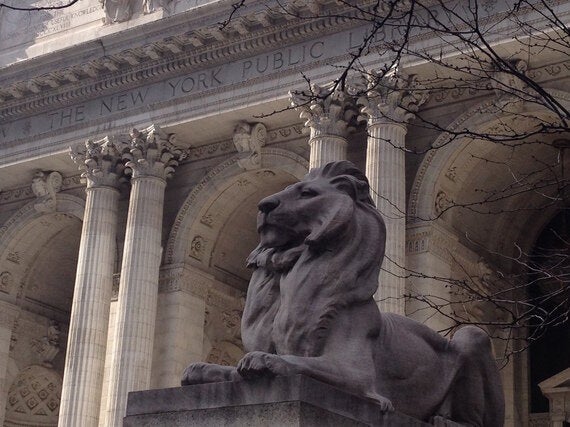 Located on Fifth Avenue at 42nd Street, the Stephen A. Schwarzman Building is known as the main branch of a massive library system that includes 92 locations. Since it opened its doors back in 1911, this has been the go-to destination of scholars, researchers, writers and millions of patrons. Check out nypl.org for a list of tours, exhibits, and special events, many of which are free. Tickets to LIVE from NYPL, a series of debates and discussions with notable writers, artists, and leaders can be purchased online. Past guests include the likes of Toni Morrison and Margaret Atwood.
3. Visit the Morgan Library and Museum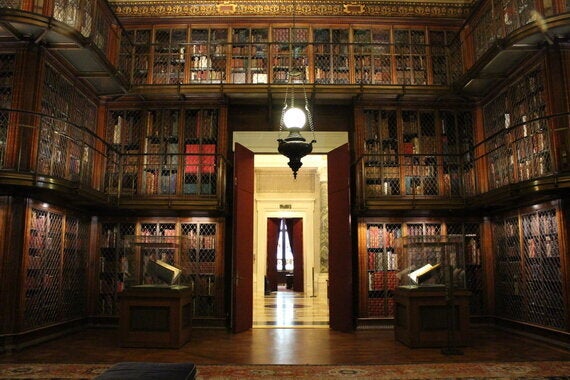 What began as a private library by financier Pierpont Morgan, is now a complex of buildings located at 225 Madison Avenue at 36th Street. There, you can soak up temporary exhibits, take a guided tour, attend lectures, concerts and workshops. Holdings include an astonishing collection of letters, original manuscripts and printed books and feature three Gutenberg Bibles, and works by Byron, Dickens, Poe, and Twain.
4. Take a guided literary tour
Walking tours are alive-and-well in NYC with sites such as www.literarypubcrawl offering tours with stops at popular wateringholes along the way. The Greenwich Village crawl takes place every Saturday with participants gathering at White Horse Tavern, a bohemian hotspot back in the 50's and 60s that saw writers such as Dylan Thomas and Jack Kerouac saddle up to the bar. For Sex and the City enthusiasts, www.onlocationtours offers a guided tour lets you hop off the bus to hang out at the fictional foursome's favourite locals.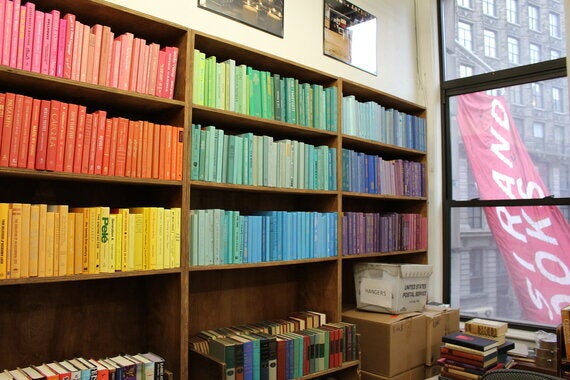 Books by the foot room at The Strand
Billed as the sole survivor of what was once dubbed "Book Row, a 6 city block area of Manhattan flush with 48 bookstores, this iconic indie book store has been titillating bibliophiles since 1927. With its 18-mile collection of new, used, collectible and rare books, you'll need to leave plenty of time to browse the aisles, and get recommendations from the highly-knowledgeable staff. Be sure to settle in for a read on the rare books floor, which is home to readings, signings and literary events as posted on www.strandbooks.com.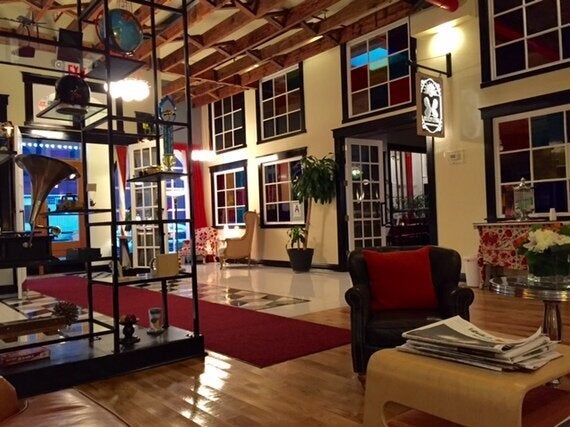 Whether you take the train or walk across the Brooklyn Bridge, a literary haven awaits you. Boasting book festivals, readings, workshops, and scores of cafes flush with scribes, this borough is a must-see on any NYC lit vacation. The tree-lined streets of Brooklyn Heights alone were once home to literary greats from Norman Mailer to Arthur Miller to Truman Capote. With so much to see and do, you may wish to stay a night or two so check out Booking.com's list of cool accommodations which includes B&Bs, apartments and guesthouses. Girls' Flight Out chose The Box House, a fab boutique hotel with a suite that offered us a full living area, kitchenette and a fun and funky vibe.
7. Go to the theatre, darling
Be it Broadway, Off Broadway or Off Off Broadway, your NYC Get Lit trip demands catching at least one page-to-stage adaptation. This summer, you can watch your favourite fictional characters come to life by taking in the musical, The Color Purple based on the book by Alice Walker; the play, The Curious Incident of the Dog at Night-time based on Mark Haddon's best seller; or Sense and Sensibility based on Jane Austen's classic. Check out nycgo.com before you go to check out what's on.
Disclaimer: Aspects of this trip were provided by nycgo.com and Porter Airlines. The author is a partner of booking.com