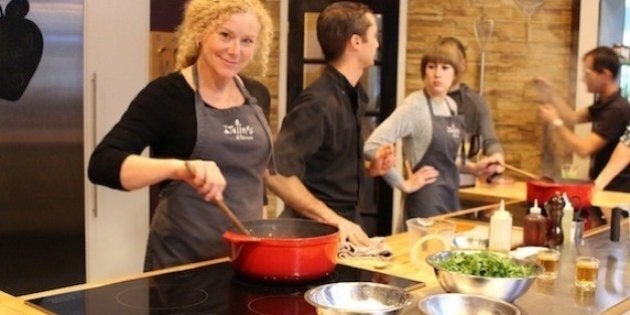 Rebecca Field Jager at a cooking class in Montréal, all photos by Samantha Gary
Call it culinary, gastronomic or food tourism but in simplest terms this wildly popular category of travel means heading to a destination with the goal of tasting your way through town. Your adventure should include everything from farmers' markets and food trucks to fine dining and dives. From wineries and brewpubs to iconic eateries and local gems. From cooking classes to tastings to food tours.
Recently, Girls' Flight Out indulged in a culinary treasure hunt in Montreal, the largest city in Quebec and home to one of Canada's most vibrant culinary scenes. Check out the video to follow along.
5 Fab Tips for Foodie Travel
1. Stay in the heart of it all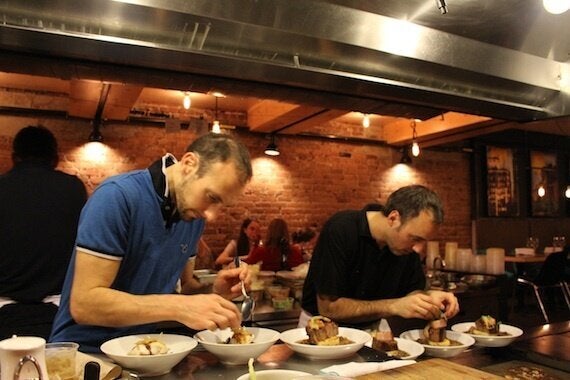 Although accommodations on the outskirts are usually cheaper, ladies, if you can swing it, stay close to the action. The whole idea of your trip is to pleasure your palette as much as possible and you don't want to waste precious nosh-time in transit. In Montreal, we stayed at the InterContinental situated within walking distance to the historic, culinary hotbed known as Old Montreal. It was easy then to pop out to a nearby café in the morning to pick-up croissants, or at the end of the day, to head out for an impromptu nightcap without worrying about how we'd get home.
By staying in the heart of one of Montreal's most happening culinary districts, we got to while away our days strolling the cobblestone streets, pausing to peruse menus posted outdoors, sipping and sampling, and poking our heads into gourmet boutiques.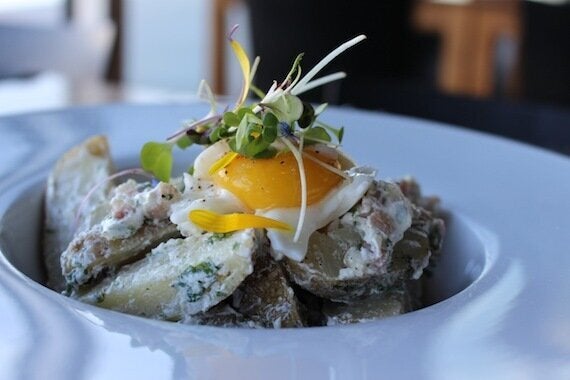 Potato salad with kale, bacon and soft boiled egg at Bota Bota Spa, Montréal
A good concierge holds the culinary keys to town. Josee Choquette, who helms the desk at the InterContinental, was all too willing to unlock a pantry of insider info concerning recent openings, "it" restaurants, and local haunts. When travelling with a group, know that tastes and needs vary. Your concierge will take into account everything from budget to dietary restrictions and point you to a place that will make everyone happy. Why do concierges know so much? Josee tells me that she and thirty or so other concierges in the area meet regularly to swap secrets, share updates and sample and schmooze with restaurateurs. Need a hard-to-come-by reservation? No guarantees, but your concierge has connections.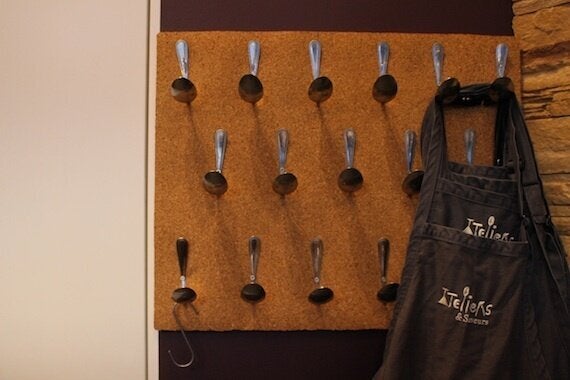 Having had the pleasure of learning how to make Cicero e Tria, a half-boiled, half-fried pasta with chickpeas at Cooking Experience, a culinary school in Puglia, Italy; tortillas from scratch taught by a local woman in Guatemala; and a slew of other dishes at classes around the world, Girls' Flight Out was chomping at the bit to attend Ateliers & Saveurs, a school in Old Montreal. There, in the company of about a dozen locals we learned how to make Barley Risotto with Feta, Chorizo and Arugula Pesto, chopping, talking and tasting the entire time.
Whether you're great in the kitchen (and perhaps especially if you are not) cooking classes are a must-do on any food vacation. Not only is the experience informative and inspiring, once you get home you can re-create authentic dishes for family and friends.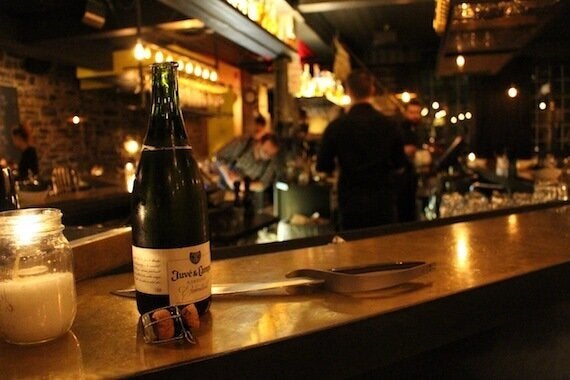 Culinary travel should always include exploring the various neighbourhoods and districts in search of authentic experiences. To meet and eat with the locals you must go to where they live. In Mile End, the hipster hood of Montreal, we visited St. Viateur Bagel, an iconic shop that rivals Fairmont Bagel (locals banter endlessly over which is better). We grabbed a coffee at Café Olimpico -- a neighbourhood greeting spot -- and later in the day popped into Dieu du Ciel, a local brewpub famous for its ever-changing roster of brews, and "where-everybody-knows-your-name" atmosphere.
5. Bring home edible souvenirs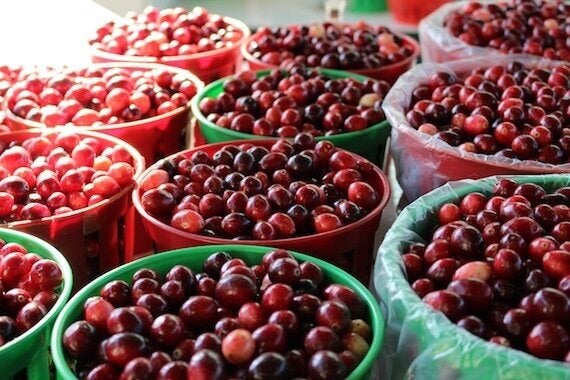 You can't run around telling everyone about your great culinary adventure and expect them to be happy with a T-shirt. It's just not nice to bring back anything but edible souvenirs. Markets, such as Marche Jean-Talon, located in Montreal's Little Italy district, are your best bet for local and regionally made fare. There, we found oils and spices, jams and jellies, condiments and confectionaries and of course, Quebec's claim-to-fame, maple syrup.
Charcuterie, cheeses, seafood and meats also make wonderful gifts but be aware of what you can bring into the country as well as onto a plane. Regarding the latter, carry-on limits you greatly given the rules around liquids so sometimes it's best to go check-in. Hard shell luggage or soft? Jean Beaudet, a spokesperson for shopbentley.com, tells us that hard shell luggage is generally more protective and many of the new designs are expandable, an advantage formerly offered only by soft cover suitcases. Whether you go hard or soft, remember that wine bottle protectors are a foodies best friend.